25 février 2008
Le blog a été primé "Site d'Or" par Marilyn online
après un sondage effectué au sein du forum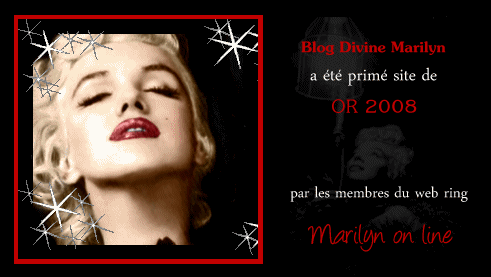 Clik sur l'image du prix ci-dessus pour aller sur le webring
Je remercie sincèrement tous ceux et celles qui ont voté pour mon blog. Je suis très touchée, honorée et heureuse de recevoir ce prix, qui semble peut être anodin car virtuel, mais cela m'encourage beaucoup à partager d'autant plus ma passion de Marilyn Monroe avec vous. Je remercie spécialement Miss Yria qui a lancé le sondage et qui est à l'initiative d'un regroupement de fans à travers son forum, son site et ses blogs. Merci Miss et Gros Bisoux :o)
28 janvier 2008
Un nouvel album photos est dispo
intitulé "Marilyn par Frank Powolny"
dans la colonne de gauche OU Clikez sur la bannière:

Album qui regroupe un best of des sessions de Powolny
(dont l'intégralité est à voir dans la Catégorie intitulée
"par Frank Powolny" dans la colonne de gauche)
04 janvier 2008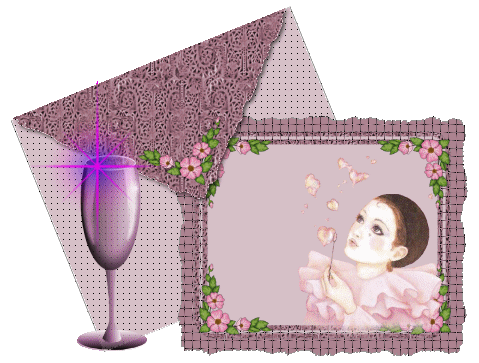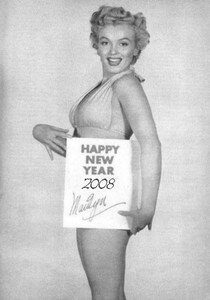 Je vous souhaite
à tous et toutes
une Bonne Année 2008
En vous souhaitant
le meilleur pour
l'amour, le travail, l'argent
et le plus important,
la santé !!!
23 décembre 2007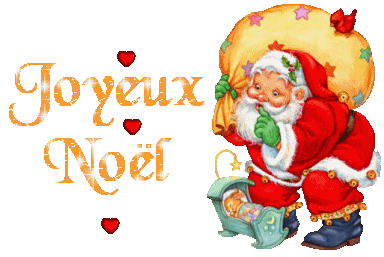 Je vous souhaite à tous et toutes
d'agréables fêtes de fin d'année et
un Joyeux Nöel 2007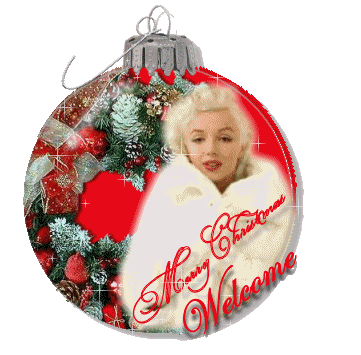 22 juillet 2007
Le premier design du blog: Création de ma première bannière pour le blog, ainsi que de l'image d'identité du blog. Je ne suis pas une experte des montages, et ne suis pas très satisfaite de la résolution de l'image ! Mais ça permet quand même d'égayer et de personnaliser le blog, sans doute j'en créerai d'autres plus tard et changerai souvent de bannière de présentation du blog.
Les photos utilisées sont de Milton H. Greene.
11 juin 2007
Bienvenue sur mon blog consacré à Marilyn Monroe
Welcome on my blog dedicated to Marilyn Monroe
Sur ce blog, retrouvez la divine Marilyn Monroe à travers des photographies classées par thèmes, par photographes, par années, par films etc... ainsi que sa biographie en détails et sa filmographie complète et illustrée, des interviews, ses chansons, des vidéos, wallpapers, gifs etc...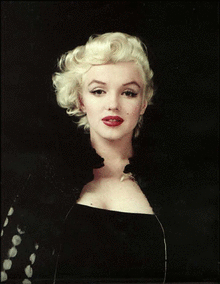 Ce blog est une sorte de complèment à mon petit site dédié à Marilyn : http://site.voila.fr/marilynmonroe
Bonne naviguation !