La jeune recrue des studios de la Fox Norma Jeane Dougherty vient d'être renommée officiellement sous le nom de scène Marilyn Monroe le 03 décembre 1946. Pendant le mois de décembre 1946, les studios de la 20th Century Fox envoient au moins trois de leurs jeunes actrices (Marilyn Monroe, June Haver et Peggy Ann Garner) pour participer au Noël des enfants et de leur distribuer des cadeaux avec un père-noël.

The young Fox Studios recruit Norma Jeane Dougherty had just been officially renamed under the stage name Marilyn Monroe on December 3, 1946. During the month of December 1946, 20th Century Fox Studios sent at least three of their young actresses (Marilyn Monroe, June Haver and Peggy Ann Garner) to participate in children's Christmas and distribute gifts to them with a Santa Claus.
---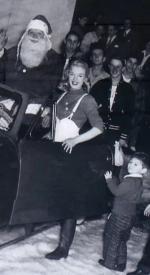 L'événement est sponsorisé par les voitures Darrin Kaiser Frazer - dont le modèle de voiture qui figure ici en image a été conçu et construit par Howard "Dutch" Darrin en 1945 et commercialisé pendant l'année 1946.
Le petit garçon se tenant à la portière de voiture à côté de Marilyn est Bob Darrin, le fils de Howard Darrin.

The event is sponsored by Darrin Kaiser Frazer Cars - whose model car pictured here was designed and built by Howard "Dutch" Darrin in 1945 and marketed through 1946.
The little boy standing at the car door next to Marilyn is Bob Darrin, Howard Darrin's son.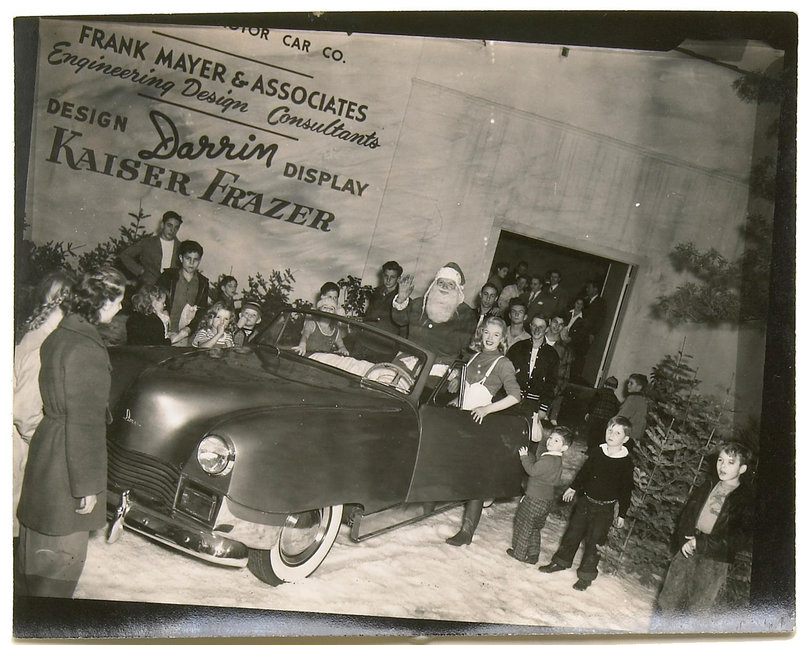 ---
Il y a de la neige au sol et les enfants lancent des boules de neige à Marilyn: ce n'est pas dans le nord des USA -notamment dans le Wisconsin, à Grafton, où se trouvait l'entreprise "Frank Mayer & Associates" dont le nom apparaît en forme publicitaire sur le mur du bâtiment en arrière-plan - que l'événement a eu lieu, mais bien à Los Angeles, où était situé l'entreprise de Darrin Kaiser Frazer. C'est Darrin qui a imaginé ce coup publicitaire en faisant amener de la fausse neige qui a beaucoup amusé les enfants.

There is snow on the ground and the children are throwing snowballs at Marilyn: it's not in the north of the USA -especially in Wisconsin, in Grafton, where the company "Frank Mayer & Associates" was located whose name appears in advertisement form on the wall of the building in the background - that the event took place, but in Los Angeles, where Darrin Kaiser Frazer's business was located. It was Darrin who came up with this publicity stunt by having fake snow brought in, which amused the children a lot.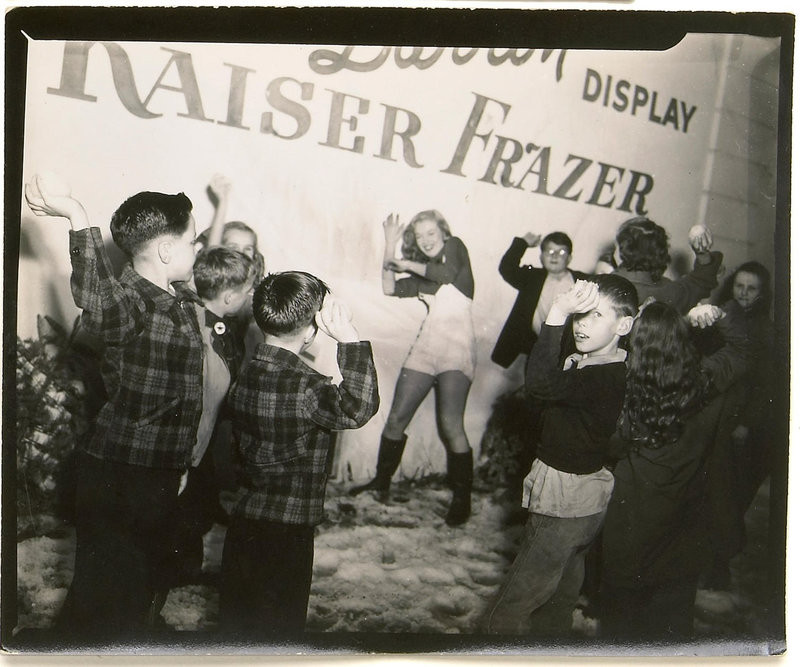 ---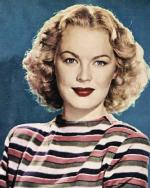 June Haver (née le 10 juin 1926, soit quelques jours après la naissance de Marilyn née le 01er juin) a signé en 1942 un contrat avec les studios de la Fox qui voulait en faire une nouvelle Betty Grable. June Haver donne d'ailleurs la réplique à Betty Grable en 1945 dans le film "Dolly Sisters".
En cette fin d'année 1946, elle a déjà 10 films à son actif, faisant d'elle une actrice confirmée et connue qui faisait la couverture des magazines. Elle tournera avec Marilyn Monroe en 1947 dans le film "Scudda Hoo ! Scudda Hay !" et en 1951 dans "Nid d'amour".
June Haver (born June 10, 1926, a few days after the birth of Marilyn born in June 01st) signed a contract in 1942 with Fox studios who wanted to make her a new Betty Grable. June Haver also gives the reply to Betty Grable in 1945 in the film "Dolly Sisters."
At the end of this year 1946, she already had 10 films to her credit, making her a confirmed and well-known actress who was on the cover of magazines. She will give the reply to Marilyn Monroe in 1947 film "Scudda Hoo! Scudda Hay!" and in 1951 in "Love Nest."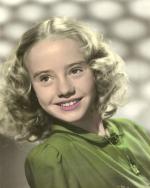 Peggy Ann Garner (née le 03 février 1932) est une enfant star qui a, dès l'âge de 5 ans, servi de modèle pour des photographies publicitaires, avant de tourner son premier film à l'âge de 7 ans. Elle a donné la réplique à la jeune Elizabeth Taylor en 1943 dans une version de "Jane Eyre".
Elle a donc 14 ans en 1946 et a déjà tourné dans une douzaine de films.
Peggy Ann Garner (born February 3, 1932) is a child star who, from the age of 5, served as a model for publicity photographs, before shooting her first film at the age of 7. She gave the reply to the young Elizabeth Taylor in 1943 in a version of "Jane Eyre".
She was 14 years old in 1946 and had already appeared in a dozen movies.
---
sources
article "It's Christmas Time For The 1946 Darrin Fiberglass Car" sur Undiscovered Classics
photos vendues aux enchères de Bonhams 07/06/2007 sur Entertainment Memorabilia including Property from the Estate of Carl Barks

---
© All images are copyright and protected by their respective owners, assignees or others.
copyright text by GinieLand.