14 juin 2007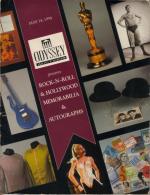 Catalogue de la vente aux enchères
"Rock N Roll & Hollywood Memorabilia and Autographs"
par Odyssey
du 14 mai 1994

Auction catalog
"Rock N Roll & Hollywood Memorabilia and Autographs"
by Odyssey
from May, 14, 1994
---
Catalogue qui présente une 30aine de lots consacrés à Marilyn Monroe: des photographies, dédicaces, effets personnels (robes, chapeaux, bijoux, chaussures, lunettes de soleil, épingles à cheveux, maquillage, étui à cigarettes), lettres (de Joe DiMaggio, des enfants d'Arthur Miller, de Marilyn à son psychiatre Greenson, de Jean Kennedy Smith, de Kay Gable, de sa mère Gladys), certificat de divorce d'avec DiMaggio, factures et chèques, permis de conduire, documents sur le chien Hugo, plan de la maison de Brentwood, carnet d'adresses, une collection de timbres qui appartenait à Marilyn, certificats d'awards.
Catalog which presents some 30 lots dedicated to Marilyn Monroe: photographs, dedications, personal effects (dresses, hats, jewelry, shoes, sunglasses, hairpins, make-up, cigarette case), letters (from Joe DiMaggio, children of Arthur Miller, of Marilyn to her psychiatrist Greenson, of Jean Kennedy Smith, of Kay Gable, of her mother Gladys), divorce certificate from DiMaggio, bills and checks, driver's license, documents on the dog Hugo, plan of the house in Brentwood, address book, a collection of stamps that belonged to Marilyn, certificates of awards.
---
- pages avec Marilyn -
---
© All images are copyright and protected by their respective owners, assignees or others.