02 août 2007
le 02/08/2007
La maison Profiles in History, spécialisée dans la dispersion d'objets vus dans des films ou ayant appartenu à des célébrités, propose 1000 objets au total, lors de cette vente à Los Angeles les 2 et 3 août 2007, diffusée en simultané sur internet. Ainsi, pour 30.000 à 50.000 dollars, les amateurs de mécanique pourront espérer enlever la grosse Chevrolet Suburban 1994 du mafioso Tony Soprano de la série télé Soprano, dédicacée par l'acteur James Gandolfini sur le pare-soleil.
Les médicaments de Marilyn Monroe, plus exactement des fioles ayant contenu des cachets destinés à la star, sont mis en vente aux enchères en Californie, ces 2 et 3 août. Les fioles, portant encore le nom de l'actrice américaine décédée le 5 août 1962, sont estimées à une somme de 2000 à 3000 dollars la pièce.

La voiture de course pilotée par Tom Cruise dans Jours de tonnerre est estimée entre 40.000 et 60.000 dollars. L'enchère de départ du pantalon de Rhett Butler, alias Clark Gable dans Autant en emporte le vent, est de 2500 dollars. Egalement attendus sous le marteau, un costume porté par le capitaine Kirk, alias William Shatner dans un film Star Trek, de même qu'un microphone utilisé par le roi du rock Elvis Presley et le chanteur country Johnny Cash. Les acheteurs se disputeront, enfin, des lunettes dorées du King et une de ses ceintures.
>> source: article sur tf1.lci.fr
Marilyn Monroe et son mari Arthur Miller parcourent New York en voiture en mai 1957; ils passent sous le pont de Brooklyn, ainsi que sur la 6ème avenue pour rejoindre leur appartement. Photos prises par Sam Shaw, pour le magazine Look.
Marilyn Monroe and her husband Arthur Miller drive in Manhattan, New York City, in May 1957; they pass under the Brooklyn Bridge, and on 6th Avenue to go on their apartment. Photos taken by Sam Shaw, for 'Look' magazine.
> planche contact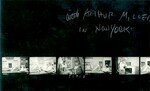 ---
© All images are copyright and protected by their respective owners, assignees or others.
copyright text by GinieLand.