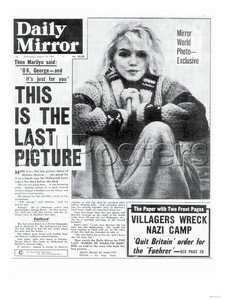 DAILY MIRROR
THIS IS THE LAST PICTURE
Here it is - the last picture taken of Marilyn Monroe ... she posed for it on a beach near her Hollywood home only a few days before she died.
The sun was going down. It was becomming chilly, Marilyn pulled on a thick knitted sweater, draped a blanket over her knees, and posed for a final picture.
She pursued her lips and blew a kiss at the cameraman.
"OK, George", said Marilyn, "and it's just for you".
George ? He is american writer and photograpgher George Barris. He flew to London yesterday with this picture and the intimate story of Marilyn's last days.
Talked
She had asked Barris to write her biography and to illustrate it. She had posed for him; she had talked to him for ten weeks about her past and the future...
She talked more freely and frankly than she had ever talked to anyone before.
Last night, After five hours in London, George Barris flew back to Hollywood for Marilyn's funeral today.
A coroner's inquiry is trying to discover whether or not she died by accident after taking sleeping pills. And yesterday police who are piecing together clues to Marilyn's final hours made an important dicovery.
They now know that the last phone call Marilyn received on the night of her death come from 20-year-old Joe Dimaggio, Joe son by a previous marriage of her second husband.
Barris says: "I am sure Marilyn did not take her life deliberately. She would not have worked so hard with me on the story of her life had she intended to take it.
"She still had a lot to live for, and I know she fekt that, too."