02 octobre 2007
Marilyn par Ted Baron
Ted Baron photographie Marilyn Monroe lors d'une unique séance en 1954, durant la période de son mariage avec Joe DiMaggio, le dernier jour du voyage du photographe à Hollywood. Avec l'accord du studio, il persuade Marilyn de se rendre à la maison de l'un de ses amis, Harry Crocker, au nord de Rodeo Drive à Palm Springs, et la séance a lieu dans son magnifique jardin. Comme prévu, Marilyn est en retard (moins d'une heure) ce qui permet à Baron de la photographier au coucher du soleil californien. Près de 50 photos sont prises. Le photographe, heureux, racontera plus tard: "Il y a quelques-unes des meilleures photos que je n'ai jamais prises." Baron a choisit deux tenues différentes appartenant à Marilyn pour la séance: une tenue décontractée (pantalon blanc à rayures fines rouges avec une chemise verte) et une tenue moderne et intemporelle (une robe ample rayée noir et blanc à col roulé); il semblerait que la troisième tenue a été choisie par Marilyn elle-même: un ensemble uni d'un rouge vif au décolleté profond.

---

.1954, été: en chemise verte , Palm Springs.
.1954, summer: green blouse , Palm Springs.
(> blog séance photos 1954, Palm Springs, en chemise verte -par Ted Baron )
---

.1954, été: en robe rayée , Palm Springs.
.1954; summer: striped dress , Palm Springs.
(> blog séance photos 1954, Palm Springs, en robe rayée -par Ted Baron )
---

.1954, été: en ensemble rouge , Palm Springs.
.1954, summer: dressed in red a, Palm Springs.
(> blog séance photos 1954, Palm Springs, en ensemble rouge -par Ted Baron )
---
Commentaires de Ted Baron sur Marilyn Monroe:
"Dans sa façon de bouger, Marilyn était comme un chat. Elle avait l'habileté de couler comme un liquide et de prendre des positions qu'aucun photographe n'aurait pu inventer."
Baron dit que Marilyn était la personne au plus fort sex-appeal qu'il n'avait jamais rencontré, mais plutôt sans défense et plutôt triste. Il dit qu'elle était unique et qu'elle était vraiment désireuse de plaire.
"Elle ne sait pas ni pourquoi elle est sexy. Elle est elle-même. Le succès de Monroe est un triomphe de la nature s'élevant au sommet. Elle fonctionne par l'instinct."
Marilyn semblait savoir instinctivement quand Baron n'était pas satisfait et en une fraction de seconde, par un simple mouvement, réajustait son humeur. Baron dit que le lien entre lui et son modèle était comme un fil électrique chargé de créativité et de rythme.

>> blog posts tag Marilyn par Ted Baron
---
Ted Baron
(1906 - 1956)
photographe anglais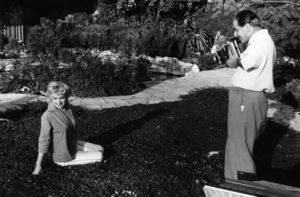 Marilyn Monroe photographiée par Ted Baron

De son vrai nom Nahum Baron, Ted Baron est né en Angleterre de parents juifs, il a un frère jumeau. Solitaire, il devient l'ami de tous: autant des danseuses de cabarets que de la famille royale britannique (Prince Philip, et Le Duc D'Edimbourg qui était l'un de ses amis les plus proches). Des années 1930 aux années 1950, Baron était le photographe attitré des ballets de danse (il prit d'innombrables clichés de danseuses qui fit notamment l'objet de sa première publication en 1950 "Baron at The Ballet"), des stars de cinéma (Vivien Leigh, Marlene Dietrich, Mae West), du théâtre, de la musique (chanteurs et chanteuses), de la royauté (il a couvert le reportage photos du mariage de la Princesse Elisabeth et du Prince Philip, et du baptême du Prince Charles et de la Princesse Anne, et du 25ème anniversaire de mariage du Roi George VI et la Reine Elisabeth) et d'autres personnalités célèbres (Winston Churchill, General Franco, Sir Edmund Hillary, Bernard Shaw).
En 1954, Baron voyage aux Etats-Unis; il arrive d'abord à New York dans le but de promouvoir son second livre sur les ballets "Baron Encore", travaillant pour les magazines London's Sunday Graphic puis pour Life; puis il se rend à Hollywood pour photographier les stars les plus glamours: en 17 jours, Baron photographia Elisabeth Taylor, Cyd Charisse, Pier Angeli, Kim Novak, Anita Ekberg, Leslie Caron et Marilyn Monroe.

---
>> source web:
biographie sur immortalmarilyn
---
© All images are copyright and protected by their respective owners, assignees or others.
copyright text by GinieLand.
Enregistrer
Montage réalisé par photoshop sur le site Intuitive Art