05 octobre 2007
Marilyn Monroe et Richard Widmarck sur le plateau du film Don't Bother to Knock (Troublez-moi ce soir).
Marilyn Monroe en robe rayée pendant l' été 1954
dans le jardin de la villa d'Harry Crocker,
à Palm Springs pendant l' été 1954
sous l'objectif du photographe Ted Baron
Marilyn Monroe wearing a green blouse
In the garden of the Harry Crocker's villa
in Palm Springs, in the summer of 1954
Under the lens of photographer Ted Baron
---
- sous un arbre
under a tree -
---
- appuyée contre une palissade
leaning against a fence -
---
- couverture de magazine -

---
All photos are copyright and protected by their respective owners.
Copyright text by GinieLand.

Enregistrer
Enregistrer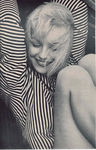 Cette image est souvent référencée sur des sites internet, comme étant une photographie représentant Marilyn Monroe lors de la session de Ted Baron en 1954, où Marilyn porte une robe à motif zèbrèe. Mais en fait, il s'agit d'une "fake picture of Marilyn" (= 'une fausse Marilyn représentée'). Même si le visage de cette jeune femme peut prêter à confusion, de par sa ressemblance avec Marilyn, on se rend compte par quelques détails qu'il ne s'agit pas de Marilyn.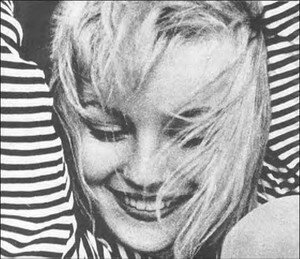 - D'une part, par sa coiffure: Marilyn n'a jamais eu de cheveux raides coupés de cette manière. Elle a toujours eu des cheveux courts coupés en dégradés (sauf quand elle était jeune, ses cheveux étaient longs, ondulés et châtain, puis elle s'est décolorée en blonde, puis les a ensuite coupé en carré lisse mais n'avait pas de frange, pour finalement ensuite les couper en dégradés courts avec des mèches ondulées au rouleau. Ce n'est qu'en 1961 que Marilyn relaisse pousser ses cheveux jusqu'aux épaules (voir le film Les Misfits) mais elle n'avait pas une frange comme celle représentée sur cette image !
- D'autre part, si cette photo se trouve classée comme faisant partie de la session de Ted Baron, cette affirmation est fausse car Marilyn avait les cheveux plus courts et ondulés en 1954 comme il vient d'être souligné, mais surtout, Marilyn porte pour cette session une robe sans manches à motif zèbrèe, et non comme on le voit sur cette photo, les bras sont levés en l'air et donc, il s'agit d'un vêtement (sweet ou robe) avec des manches longues !
Certains pensent qu'il s'agit de Drew Barrymore... et vous ?
Enregistrer