La rivière sans retour
Sur le tournage
Marilyn Monroe loin du monde des strass et paillettes d'Hollywood, au naturel, signant un autographe en 1953 pendant le tournage du film La Rivière sans retour, à Becker au Canada, où séjourna l'actrice.
> photographie de Alan Whitey Snyder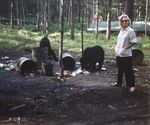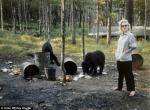 ---
> Marilyn avec Norm Charach, qui utilisait une cabine téléphonique pour contacter sa femme Evelyn qui était enceinte. Marilyn attendait son tour, pour appeler Joe DiMaggio, et Norm et Marilyn ont discuté ensemble.
Marilyn with Norm Charach, who was using a pay phone to phone his wife Evelyn, who was then pregnant. Marilyn was waiting her turn to use the pay phone to call Joe DiMaggio, and Norm and Marilyn struck up a conversation
(source: Blog poshtodd)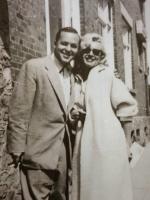 ---
---
> Marilyn à Jasper, Canada.