18 octobre 2007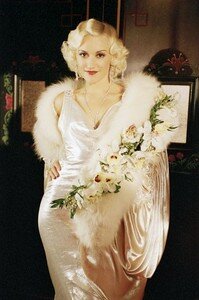 La chanteuse américaine Gwen Stefani interpréta le rôle de Jean Harlow dans le film Aviator de Martin Scorsese en 2004, qui retrace une partie de la vie d' Howard Hughes, interprété par Leonardo DiCaprio.
Jean Harlow était une actrice américaine des années 1930, décédée à l'âge de 26 ans; elle fut l'une des premières blondes platines stars hollywoodiennes, et inspira beaucoup Marilyn Monroe, qui lui portait d'ailleurs une très grande admiration. La carrière de Jean Harlow fut lancée par le film de Hughes "Hell's Angels" ("Les Ailes de l'Enfer") en 1930; elle fut aussi sa maîtresse dans la vie. Gwen Stefani qui interpète son rôle, ne fait qu'une brève apparition dans le film.
Enregistrer
Marilyn Monroe en visite à Bement (dans l'Illinois) le 9 août 1955
Cela se passa il y a plus de 50 ans, mais il est difficile de commencer l'histoire du village Piatt County à Bement sans parler de Marilyn Monroe. La star hollywoodienne visita la ville en 1955 pour en célébrer son centenaire. Elle avait choisi le père d'Harry Porter, Cotton Porter, comme le gagnant du concours de la plus grande barbe, elle l'embrassa et lui lança 15 minutes de gloire: une apparition à la télévision dans le programme populaire "I've Got a Secret" (= J'ai un secret).
Elle propulsa la ville de Bement dans les news nationales (...). Harry Porter raconte "Il n'y aura plus jamais de personne comme elle. Elle était spécialement jolie". Des politiciens de plusieurs états participèrent à l'événement (...). Tous ont témoigné dans "The Bement Story: the First 150 years" publié en 2005, le livre raconte aussi l'histoire de la venue de Marilyn: Elle et Carleton Smith (natif de Bement, il a su convaincre Marilyn d'y venir), se sont rencontrés dans un hôtel de New York où elle ne pouvait pas payer sa facture d'une somme considérable. Smith paya la note et fit promettre à Marilyn une contre partie: de participer à l'événement de Bement.

Extrait de l'article "A good place to call home" par Anne Cook
>> source article et photos sur The News Gazette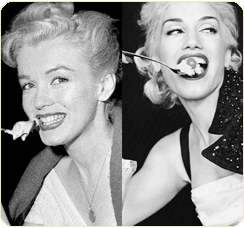 Dans le magazine américain Allure d' octobre 2005, la chanteuse américaine Gwen Stefani reprend des poses de Marilyn Monroe: assise à une table savourant une glace, et jouant au base-ball en mini short blanc et talons aiguilles.
Enregistrer