Dangerous Years

Les critiques
The reviews
---
- -
Hollywood Review, 01/12/1947 - USA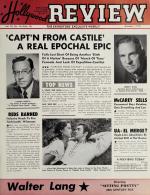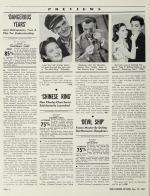 ---
Motion Picture Herald - December 20, 1947
(USA) source scan sur lantern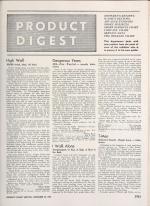 Dangerous Years
20th Fox - Wurtzel - Juvenile Melodrama
Some of the causes of juvenile delinquency, and some of the adult policies designed to offset them, are explored interestingly here in a melodrama forcefully directed by Arthur Pierson.
William Halop, gratuated now from Dead End Kids ranks and making a good job of this demandind assigment, heads a cast comprised mainly of young players but containing dependable regulars in all age brackets. The cause-and-effect phase of juvenile delinquency appears the exploitation asset offering best box office yield, and the treatment of the subject is of a kind to warrant soliciting cooperation of schoool and civic groups.
The script and story by Arnold Belgard casts Halop as leader of some 'teen-age boys who haunt a juke-box joint where the management permits poker in the back room and overlooks minor irregularities of deportment. Halop takes his gang out on a warehouse robbing junket and kills and educator, known to all of them, who surprises tham in the act. Himself of voting age, Halop is tried for murder, and the trial, in which his under-age friends try to shield him, turns up background histories explanatory of what has happened. Some plot surprises are added for purposes of impact.
Howard Sheehan served producer Sol M. Wurtzel as associate.
Previewed at the studio Reviewer's Rating: Good - William R Weaver.
Release date, not set. Running time, 61 min. PCA No 12637. General Audience classification.
Danny Jones... William Halop
Doris Martin... Ann E. Todd
Jerome Cowan, Anabel Shaw, Richard Gaines, Scotty Backett, Darryl Hickman, Harry Shannon, Dickie Moore, Donald Curtis, Harry Harvey Jr, Marilyn Monroe, Nana Bryant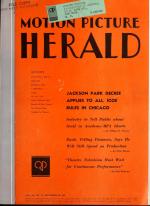 Dangerous Years
20th Fox - Wurtzel - Mélodrame juvénile
Certaines des causes de la délinquance juvénile et certaines des politiques destinées aux adultes conçues pour les compenser sont explorées de manière intéressante ici dans un mélodrame dirigé avec force par Arthur Pierson.
William Halop, maintenant diplômé des rangs de "Dead End Kids" et faisant un bon travail dans cette affectation exigeante, mène un casting composé principalement de jeunes acteurs mais contenant des habitués fiables dans toutes les tranches d'âge. La phase de cause à effet de la délinquance juvénile apparaît comme l'atout d'exploitation offrant le meilleur rendement au box-office, et le traitement du sujet est de nature à justifier la sollicitation de la coopération des groupes scolaires et civiques. Le scénario et l'histoire d'Arnold Belgard présentent Halop comme le leader de certains "adolescents qui hantent un juke-box où la direction autorise le poker dans l'arrière-salle et néglige les irrégularités mineures de comportement". Halop emmène son gang dans un entrepôt pour voler et tue un éducateur, connu de tous, qui le surprend en flagrant délit. Lui-même en âge de voter, Halop est jugé pour meurtre, et le procès, dans lequel ses amis mineurs tentent de le protéger, révèle des antécédents expliquant ce qui s'est passé. Quelques surprises d'intrigue sont ajoutées à des fins d'impact.
Howard Sheehan a servi le producteur Sol M. Wurtzel en tant qu'associé. Présenté en avant-première au studio Note du critique : Bon - William R Weaver.
---
Independent Exhibitors Film Bulletin - December 27, 1947
(USA) source scan sur lantern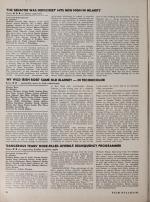 'DANGEROUS YEARS' HOKE-FILLED JUVENILE DELINQUENCY PROGRAMMER
Rates * * as supporting dualler in action spots
Twentieth Century-Fox
62 minutes
William Halop, Ann E. Todd, Jerome Cowan, Anabel Shaw, Richard Gaines, Scotty Beckett, Darryl Hickman, Harry Shannon, Dickie Moore, Donald Curtis, Harry Harvey Jr., Gil Stratton Jr., Joseph Vitale, Marilyn Monroe, Nana Bryant.
Directed by Arthur Pierson.
Despite its good intention to preach a moral this low-budget Sol Wurtzel programmer on juvenile delinquency is too incredible and full of obvious hokum for most audiences. Coupled with a lively musical or comedy, it will get by in neighborhood and action houses. Its direction and writing strongly reminiscent of a radio soap opera, "Dangerous Years" is played with the tremolo stop all the way out by a proficient and preponderantly-juvenile cast. Billy Halop, (ex-Dead-End Kid), Ann E. Todd, Jerome Cowan, Scotty Beckett and Darryl Hickman turn in commendable characterizations. Production quality is fair, photography and recording good.
EXPLOITATION: Take advantage of the film's topical theme, juvenile delinquency, by enlisting the cooperation of editors, pastors and child welfare organization heads.
Teaser: "If you're in your'teens, look out - these are the 'Dangerous Years'!" Have your local Inquiring Reporter ask: "What, and why, are the most 'Dangerous Years'?"
Welfare worker Donald Curtis' Boys Club curbs Middletown's juvenile delinquency in check until the arrival of flashy, well-heeled William Halop. Operating from the Gopher Hole, a roadside junk joint, Halop organizes the town's more adventurous youths into warehouse looters. In attempting to dissuade the lads from pilfering a warehouse, Curtis is shot and killed by Halop. Curtis' fiancee Anabel Shaw returns from an extended cruise as her father, District Attorney Richard Gaines, is trying with little chance of success to convict Halop, ably defended by Jerome Cowan. During a court recess Halop is visited in his ceil by Nana Bryant, former head of the orphanage wherein he and Anabel had been reared. Nana confesses having switched babies; thus he, not Anabel, is the D.A.'s child. Reluctant to bring further sorrow to Anabel and Gaines, Halop swears Nana to continued secrecy and is committed to life imprisonment.
"DANGEROUS YEARS" UN PROGRAMME DE DÉLINQUANCE JUVÉNILE
Malgré sa bonne intention de prêcher une morale, ce programme à petit budget de Sol Wurtzel sur la délinquance juvénile est trop incroyable et plein de baliverne évident pour la plupart des publics. Couplé à une comédie musicale ou humoristique entraînante, il se débrouillera dans les maisons de quartier et d'action. Sa mise en scène et son écriture rappellent fortement un feuilleton radiophonique, "Dangerous Years" est joué avec le trémolo jusqu'au bout par une distribution compétente et majoritairement juvénile. Billy Halop, (ex-Dead-End Kid), Ann E. Todd, Jerome Cowan, Scotty Beckett et Darryl Hickman se livrent à des caractérisations louables. La qualité de la production est correcte, la photographie et l'enregistrement sont bons.
EXPLOITATION : Profiter du thème d'actualité du film, la délinquance juvénile, en sollicitant la collaboration des monteurs, des pasteurs et des responsables d'organisations de protection de l'enfance.
L'accroche : "Si vous êtes adolescent, attention, ce sont les "années dangereuses" !" Votre journaliste enquêteur local de se demander : "Quelles sont les années les plus dangereuses et pourquoi ?"
L'assistant social Donald Curtis du Boys Club freine la délinquance juvénile de Middletown jusqu'à l'arrivée de William Halop, tape-à-l'œil et bien nanti. Opérant depuis le Gopher Hole, un tas de ferraille en bordure de route, Halop organise les jeunes les plus aventureux de la ville en pilleurs d'entrepôt. En tentant de dissuader les gars de voler un entrepôt, Curtis est abattu par Halop. La fiancée de Curtis, Anabel Shaw, revient d'une longue croisière alors que son père, le procureur de district Richard Gaines, tente avec peu de chances de succès de faire condamner Halop, habilement défendu par Jerome Cowan. Pendant une pause au tribunal, Halop reçoit la visite dans sa cellule de Nana Bryant, ancienne directrice de l'orphelinat où lui et Anabel avaient été élevés. Nana avoue avoir changé de bébé; donc lui, et non Anabel, est l'enfant du procureur. Réticent à apporter plus de chagrin à Anabel et Gaines, Halop jure à Nana de garder le secret et est condamné à la réclusion à perpétuité.

---
The Daily Plainsman - April, 25, 1948
(USA)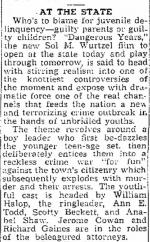 AT THE STATE
Who's to blame for juvenile delinquency - guilty parents or guilty children ? "Dangerous Years," the new Sol M. Wurtzel film to open at the state today and play through tomorrow, is said to bead with stirring realism into one of the knottiest controversies of the moment and expose with dramatic force one of the real charnels that feeds the nation a new and terrorizing crime outbreak in the hands of unbridled youths.
The theme revolves around a boy leader who first be-dazzles the younger teen-age set. then deliberately entices then into a reckless crime war "for fun" against the town's citizenry which subsequently explodes with murder and their arrests. The youthful cast is headed by William Halop, the ringleader, Ann E. Todd, Scotty Beckett, and Anabel Shaw. Jerome Cowan and Richard Gaines are in the roles of the beleagured attorneys.

À L'ÉTAT
Qui est responsable de la délinquance juvénile - parents coupables ou enfants coupables ? "Dangerous Years", le nouveau film de Sol M. Wurtzel qui sortira aujourd'hui et se jouera jusqu'à demain, perlera avec un réalisme émouvant dans l'une des controverses les plus nouées du moment et exposera avec une force dramatique l'un des véritables charniers qui nourrit la nation d'une nouvelle flambée de criminalité terrorisante aux mains de jeunes débridés.
Le thème tourne autour d'un garçon leader qui éblouit d'abord les jeunes adolescents, puis les attire délibérément dans une guerre criminelle imprudente "pour le plaisir" contre les citoyens de la ville qui explose par la suite avec des meurtres et leurs arrestations. Le jeune casting est dirigé par William Halop, le meneur, Ann E. Todd, Scotty Beckett et Anabel Shaw. Jerome Cowan et Richard Gaines sont dans les rôles des avocats assiégés.
---
The Anniston Star - September, 12, 1948
(USA) -
Drama Of Youth At Noble Today
"Dangerous Years," the startling film drama on juveline delinquency will be the feature attraction at the Noble Theatre today and Monday, starring William Halop, Ann E. Todd and Scotty Beckett.
"Dangerous Years" is a story of a group of average youngsters who are all too easily enticed through their hero-worship of a newcomer, who is older, more wordly and with easy money to flash, to engage in criminal assaults on the community. The local youngsters drop their juke box haunts and follow his tin whistle into bravado robberies, gaily conceived in a newly formed "night club". In the probings of Danny, the ring-leader, the film gathers momentum. He is brought to trial for a murder executed on one of these crime outings and the testomonies bring to light the scars of an unwanted, unloved babyhood which, despite later environment, compelled the urge for notice and resulted in the pitiful ruination of his young life.
Drame de la jeunesse chez Noble aujourd'hui
«Dangerous Years», le film dramatique surprenant sur la délinquance juvénile sera l'attraction principale au cinéma Noble aujourd'hui et lundi, avec William Halop, Ann E. Todd et Scotty Beckett.
"Dangerous Years" est l'histoire d'un groupe à peu près jeunes qui sont trop facilement attirés par leur culte du héros d'un nouveau venu, qui est plus âgé, plus mondain et avec de l'argent facile à flasher, pour se livrer à des agressions criminelles contre la communauté. Les jeunes locaux abandonnent leurs repaires de juke-box et suivent son sifflet en fer blanc dans des vols de bravade, gaiement conçus dans une "boîte de nuit" nouvellement formée. Dans les investigations de Danny, le meneur, le film prend de l'ampleur. Il est traduit en justice pour un meurtre exécuté lors de l'une de ces sorties criminelles et les témoignages mettent en lumière les cicatrices d'une enfance non désirée et mal aimée qui, malgré l'environnement ultérieur, a contraint l'envie de se faire remarquer et a entraîné la ruine pitoyable de sa jeune vie.
---
Motion Picture Herald - 1948
(USA) - par William A Weaver
Some of the causes of juvenile delinquency, and some of the adult policies designed to offset them, are explored interestingly here in a melodrama forcefully directed by Arthur Pierson.
Certaines causes de la délinquance juvéline et certains adultes policiers désignés pour les arrêter , sont explorés ici d'une façon intéressante avec vigueur dans ce mélodrame réalisé par Arthur Pierson.
---
Liste critiques et articles parus dans la presse d'époque
List of reviews and articles published in the period press
source liste sur AFI Catalog
Box Office - 20 December 1947
Film Daily - 19 December 1947
Hollywood Reporter - dates:
18 July 1947 (p.14)
25 July 1947 (p.18)
12 December 1947 (p.3)
Independent Film Journal - 2 August 1947 (p.39)
Variety - 17 December 1947 (p.8)
---
© All images are copyright and protected by their respective owners, assignees or others.