Dangerous Years

Les critiques
The reviews
---
The Daily Plainsman - April, 25, 1948
(USA)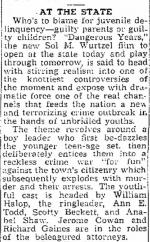 AT THE STATE
Who's to blame for juvenile delinquency - guilty parents or guilty children ? "Dangerous Years," the new Sol M. Wurtzel film to open at the state today and play through tomorrow, is said to bead with stirring realism into one of the knottiest controversies of the moment and expose with dramatic force one of the real charnels that feeds the nation a new and terrorizing crime outbreak in the hands of unbridled youths.
The theme revolves around a boy leader who first be-dazzles the younger teen-age set. then deliberately entices then into a reckless crime war "for fun" against the town's citizenry which subsequently explodes with murder and their arrests. The youthful cast is headed by William Halop, the ringleader, Ann E. Todd, Scotty Beckett, and Anabel Shaw. Jerome Cowan and Richard Gaines are in the roles of the beleagured attorneys.

À L'ÉTAT
Qui est responsable de la délinquance juvénile - parents coupables ou enfants coupables ? "Dangerous Years", le nouveau film de Sol M. Wurtzel qui sortira aujourd'hui et se jouera jusqu'à demain, perlera avec un réalisme émouvant dans l'une des controverses les plus nouées du moment et exposera avec une force dramatique l'un des véritables charniers qui nourrit la nation d'une nouvelle flambée de criminalité terrorisante aux mains de jeunes débridés.
Le thème tourne autour d'un garçon leader qui éblouit d'abord les jeunes adolescents, puis les attire délibérément dans une guerre criminelle imprudente "pour le plaisir" contre les citoyens de la ville qui explose par la suite avec des meurtres et leurs arrestations. Le jeune casting est dirigé par William Halop, le meneur, Ann E. Todd, Scotty Beckett et Anabel Shaw. Jerome Cowan et Richard Gaines sont dans les rôles des avocats assiégés.
---
The Anniston Star - September, 12, 1948
(USA) -
Drama Of Youth At Noble Today
"Dangerous Years," the startling film drama on juveline delinquency will be the feature attraction at the Noble Theatre today and Monday, starring William Halop, Ann E. Todd and Scotty Beckett.
"Dangerous Years" is a story of a group of average youngsters who are all too easily enticed through their hero-worship of a newcomer, who is older, more wordly and with easy money to flash, to engage in criminal assaults on the community. The local youngsters drop their juke box haunts and follow his tin whistle into bravado robberies, gaily conceived in a newly formed "night club". In the probings of Danny, the ring-leader, the film gathers momentum. He is brought to trial for a murder executed on one of these crime outings and the testomonies bring to light the scars of an unwanted, unloved babyhood which, despite later environment, compelled the urge for notice and resulted in the pitiful ruination of his young life.
Drame de la jeunesse chez Noble aujourd'hui
«Dangerous Years», le film dramatique surprenant sur la délinquance juvénile sera l'attraction principale au cinéma Noble aujourd'hui et lundi, avec William Halop, Ann E. Todd et Scotty Beckett.
"Dangerous Years" est l'histoire d'un groupe à peu près jeunes qui sont trop facilement attirés par leur culte du héros d'un nouveau venu, qui est plus âgé, plus mondain et avec de l'argent facile à flasher, pour se livrer à des agressions criminelles contre la communauté. Les jeunes locaux abandonnent leurs repaires de juke-box et suivent son sifflet en fer blanc dans des vols de bravade, gaiement conçus dans une "boîte de nuit" nouvellement formée. Dans les investigations de Danny, le meneur, le film prend de l'ampleur. Il est traduit en justice pour un meurtre exécuté lors de l'une de ces sorties criminelles et les témoignages mettent en lumière les cicatrices d'une enfance non désirée et mal aimée qui, malgré l'environnement ultérieur, a contraint l'envie de se faire remarquer et a entraîné la ruine pitoyable de sa jeune vie.
---
Motion Picture Herald - 1948
(USA) - par William A Weaver
Some of the causes of juvenile delinquency, and some of the adult policies designed to offset them, are explored interestingly here in a melodrama forcefully directed by Arthur Pierson.
Certaines causes de la délinquance juvéline et certains adultes policiers désignés pour les arrêter , sont explorés ici d'une façon intéressante avec vigueur dans ce mélodrame réalisé par Arthur Pierson.
---
Liste critiques et articles parus dans la presse d'époque
List of reviews and articles published in the period press
source liste sur AFI Catalog
Box Office - 20 December 1947
Film Daily - 19 December 1947
Hollywood Reporter - dates:
18 July 1947 (p.14)
25 July 1947 (p.18)
12 December 1947 (p.3)
Independent Film Journal - 2 August 1947 (p.39)
Variety - 17 December 1947 (p.8)
---
© All images are copyright and protected by their respective owners, assignees or others.