Portrait en studio de Norma Jeane Dougherty par le photographe Richard C. Miller pris le 23 mars 1946. Elle porte sa propre robe de mariée, portée à son premier mariage avec Jim Dougherty, et elle s'est maquillée elle-même; elle tient le missel de Margaret, l'épouse du photographe, intitulé "Margaret Dudley Miller" sur la couverture. Le photographe dira que le surnom de Norma Jeane était Nonny.

Studio portrait of Norma Jeane Dougherty by photographer Richard C. Miller taken on March 23, 1946. She wears her own bridal gown, to her first wedding to Jim Dougherty, and she also does her own make-up; she holds the prayer's book of Margaret, the photographer's wife, titled "Margaret Dudley Miller" on the cover. The photographer will say that the Norma Jeane's nickname was Nonny.

---
- Magazines -
Personal Romances - 06/1947 - USA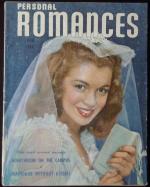 ---
All photos are copyright and protected by their respective owners.
copyright text by GinieLand.