14 novembre 2007
Scudda Hoo! Scudda Hay!
Sur le tournage
---
Marilyn Monroe, Diana Herbert, Colleen Townsend (derrière),
et une fille non identifiée (devant - peut être la soeur de Diana)
Marilyn Monroe, Diana Herbert, Colleen Townsend (behind),
and an unidentified girl (front - maybe the sister of Diana)

Diana Herbert, née le 25 décembre 1928, avait 18 ans et demie pendant le tournage du film. Fille du réalisateur et scénariste Frederick H Herbert, elle vient souvent sur le tournage du film et sympathise avec Marilyn Monroe, qui avait 20 ans et demie.
Elle racontera quelques anecdotes sur la personnalité de Marilyn ( dans le livre de J. Randy Taraborrelli The Secret Life of Marilyn Monroe ):
"C'était un lapin effrayé. En catimini, je l'ai fait entrer dans une salle de projection où mon père était installé en train de regarder pour le montage, et Marilyn a pu se voir dans la scène avant qu'elle ne soit coupée. Elle avait eu une ligne et m'avait chuchoté : « Est-ce que j'ai l'air si horrible ? »
Mon père, utilisant le vieil adage, m'a dit que Marilyn avait une telle photogénie qui valait un million de dollars. Il m'a dit qu'elle allait devenir une grande star."
Une fois le film terminé, Diana a organisé une fête au bord de la piscine dans la demeure de sa famille à Bel Air en présence de ses amis de l'université d'UCLA. Marilyn lui a dit qu'elle aimerait y assister, mais ce jour-là, elle avait un cours à l'Actor's Laboratory avec sa nouvelle amie, l'actrice Shelley Winters ; mais elle irait à la fête après. Le jour fixé, Marilyn arrive très en retard. "Elle est venue tranquillement avec son sac de plage. Je sors de la piscine pour l'amener au vestiaire. Beaucoup de temps passe... et pas de Marilyn. Alors je me suis inquiétée et je suis allée frapper à la porte pour l'appeler: "Tu vas bien ?" et elle a dit "Ouais", d'une voix à peine audible. "Je sors tout de suite, je dois juste me changer." Alors je suis retournée dans la piscine. Une heure s'est écoulée, et pas de Marilyn. Alors, encore une fois, je suis retournée au vestaire et j'ai frappé à la porte. "Je sors tout de suite ", a-t-elle dit. À ce moment-là, tout le monde sortait de la piscine, se séchait et rentrait chez soi. Le temps passe encore. Je suis de nouveau allée au vestiaire et j'ai frappé à la porte. Mais elle était partie. Elle n'est même jamais sortie du vestaire, sauf pour partir."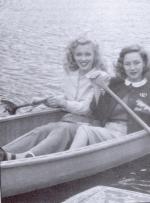 Diana Herbert, born December 25, 1928, was 18 and a half years old while the film was being made. Daughter of director and screenwriter Frederick H Herbert, she often comes on the set of the film and sympathizes with Marilyn Monroe, who was 20 and a half years old. She will tell some anecdotes about Marilyn's personality (in J. Randy Taraborrelli's book The Secret Life of Marilyn Monroe):
"She was a scared rabbit. On the sly, I snuck her into a screening room where my father was viewing for editing, and Marilyn got to see herself in the bit part before it was trimmed. She'd had one line and whispered to me, "Do I sound that awfull ?
My father, using the old adage, told me Marilyn photographed like a million dollars. He told me she was going to be a big star."
When the film was completed, Diana hosted a pool party at her family's mansion in Bel Air attended by her friends from university of UCLA. Marilyn said she would love to attend but that day, she had a class at the Actor's Laboratory with her new friend, actress Shelley Winters; but she would go to the party afterward.
On the appointed day, Marilyn arrived very late. "She came quietly with her beach bag. I go out of the pool to direct her to the dressing room. A lot of time passed... and no Marilyn. So I became concerned and went and knocked on the door to call out her: "Are you okay ?" and she said "Yeah", in a voice that was barely audible. "I'll be right out, I just have to change." So I went back in the pool. An hour went by, and no Marilyn. So, again, I went back to the dressing room and knocked on the door. "I'll be right out", she said.
By this time, everyone was getting out of the pool, drying off, and going home. More time passed. I again went to the dressing room and knocked on the door. But, she was gone. She never even came out of the dressing room except to leave."
---
© All images are copyright and protected by their respective owners, assignees or others.
copyright text by GinieLand.