16 novembre 2007
Scudda Hoo! Scudda Hay!

Scène 2
La deuxième scène dans laquelle joue Marilyn Monroe à la 52ème minute, succède directement à sa première apparition, lors du passage où June Haver, Lon Mc Callister, Natalie Wood et deux autres acteurs sont en maillot de bain au bord d'une rivière.
On ne peut que distinguer Marilyn Monroe et l'actrice Colleen Towsend qu'en silhouette au second plan, ramant dans un canöé qui s'éloigne lentement.

The second scene in which Marilyn Monroe plays in the 52nd minute, directly follows her first appearance, during the passage where June Haver, Lon Mc Callister, Natalie Wood and two other actors are in swimsuits by a river. We can only distinguish Marilyn Monroe and the actress Colleen Towsend only in silhouette in the background, rowing in a canoe which moves away slowly.
---
captures
---
video
---
Scène coupée
Cut Scene

En fait, la scène de dialogues avec les personnages interprétés par Marilyn Monroe (qui joue Betty) et Colleen Towsend (qui joue June) dans la barque a été coupée au montage. Elles échangent quelques mots avec Robert Karnes (qui interprète Stretch Dominy); le dialogue tel qu'il figurait dans le scénario original:
Betty (gaie) : Salut Stretch.
Stretch (traînant): Salut Betty – salut June.
June (timidement): Est-ce que ça te va si on nage depuis ton quai ?
Avec son pied, Stretch repousse le bout de la barque dans le ruisseau.
Stretch (souriant) : Non, ça ne me va pas.
Betty : Ah, Stretch, pourquoi pas ?
Stretch : Vous êtes trop jeune, revenez dans quelques années.
En riant, les deux gamines se retirent du quai.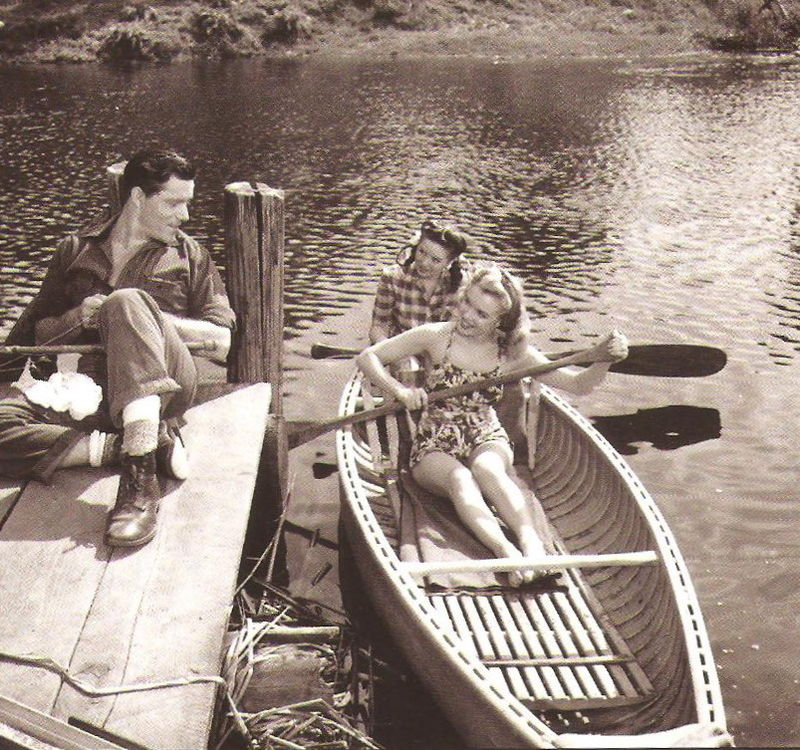 In fact, the dialogue scene with the characters played by Marilyn Monroe (who plays Betty) and Colleen Towsend (who plays June) in the boat was cut during the editing. They exchange a few words with Robert Karnes (who plays Stretch Dominy); the dialogue as it appeared in the original script:
Betty (gayly): Hi Stretch.
Stretch (drawling): Hi Betty– hi June.
June (coyly): Is it all right with you if we swim off your dock ?
With one bare foot, Stretch shoves the nose off the boat out into the stream again
Stretch (grinning): No—it ain't.
Betty: Ah, Stretch—why not?
Stretch: You're too young, Come back in a couple of years time.
Giggling, the two kids pull out of the shot.
---
© All images are copyright and protected by their respective owners, assignees or others.
copyright text by GinieLand.