Scudda Hoo! Scudda Hay!

Scène 1
---
Le seul passage furtif de Marilyn Monroe dans le film (6 secondes): elle apparaît à la 51ème minute, parmi les gens qui sortent de l'église, prononçant deux mots de dialogue "Hi Rad !" en s'adressant à Rad McGill (interprétée par June Haver) accompagnée de Bean McGill (jouée par Natalie Wood); bien que son passage est furtif, son personnage porte un prénom: elle joue Betty, une amie de Rad, qui lui répond "Hi Betty !".

The only stealthy passage of Marilyn Monroe in the film (6 seconds): she appears in the 51st minute, among people who get out from the church, uttering two words of dialogue "Hi Rad!" addressing to Rad McGille (played by June Haver) accompanied by Bean McGill (played by Natalie Wood); although her passage is furtive, her character has a first name: she plays Betty, a friend of Rad's, who replies "Hi Betty!".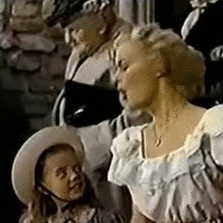 ---
captures
---
video
---
© All images are copyright and protected by their respective owners, assignees or others.
copyright text by GinieLand.