Scudda Hoo! Scudda Hay!



Les Dates de sorties dans le monde

Première: 10 mars 1948 à Sedalia, Missouri (USA)
USA: 14 avril 1948
Mexique: 23 septembre 1948
Suède: 27 septembre 1948
Portugal: 29 août 1950



Les titres du film à travers le monde

USA , Australie, Canada: Scudda Hoo! Scudda Hay!
Angleterre, Irelande: Summer Lightning
Argentine, Brésil, Chilie, Colombie, Mexique, Venezuela: Tormentas de odio
Belgique (titre francophone): Bagarre pour une blonde
Belgique (flammand), Pays-Bas: Twist om een blonde
France: Scudda Hoo! Scudda Hey!
Japon: 嵐の園
Portugal: Encanto da Mocidade
Russie: Скудда-у! Скудда-эй!
Suède: Tjo, vad vi har livat !



Fiche technique

Réalisateur : Frederick Hugh Herbert
Scénariste : F. Hugh Herbert
d'après un roman de George Agnew Chamberlain
Producteur : Walter Morosco
Image : Ernest Palmer
Musique : Cyril Mockridge
Son : Eugene Grossman et Roger Heman
Montage : Harmon Jones
Direction artistique : Albert Hogsett et Lyle Wheeler
Décorateur de plateau: Stanley Detlie et Thomas Little
Création des costumes : Bonnie Cashin
Maquillage : Ben Nye , Ernie Parks et Franz Prehoda
Coiffures: Myrtle Ford
Costumes direction : Charles Le Maire
Costumes superviseur : Sam Benson
Costumes design : Bonnie Cashin
Directeur de production : R.E. Goux
Assistants réalisateur : Bert Briskin et Eli Dunn
Production Pays : Etats-Unis
Société de production: 20th Century Fox [us]
Genre : comédie dramatique
Format: couleur technicolor
Durée : 95 min



Distribution

June Haver : Rad McGill
Lon McCallister : Snug Dominy
Walter Brennan : Tony Maule
Anne Revere : Judith Dominy
Natalie Wood : Bean McGill
Robert Karnes : Stretch Dominy
Henry Hull : Milt Dominy
Tom Tully : Roarer McGill

> reste de la distribution non mentionné dans le générique,
par ordre alphabétique:
Guy Beach : Elmer (non crédité)
Ken Christy : Sheriff Bursom (non crédité)
G. Pat Collins : Malone (non crédité)
Edward Gargan : Ted (non crédité)
Herbert Heywood : Dugan (non crédité)
Eugene Jackson : Stable Hand (non crédité)
Lee MacGregor : Ches (non crédité)
Matt McHugh : Jim (non crédité)
Marilyn Monroe : Betty, l'amie de Rad (non créditée)
Tom Moore : Judge Stillwell (non crédité)
Colleen Townsend : June (non crédité)
Charles Wagenheim : le barbier (non crédité)
Geraldine Wall : Mrs. McGill (non créditée)
Charles Woolf : Jeff (non crédité)
---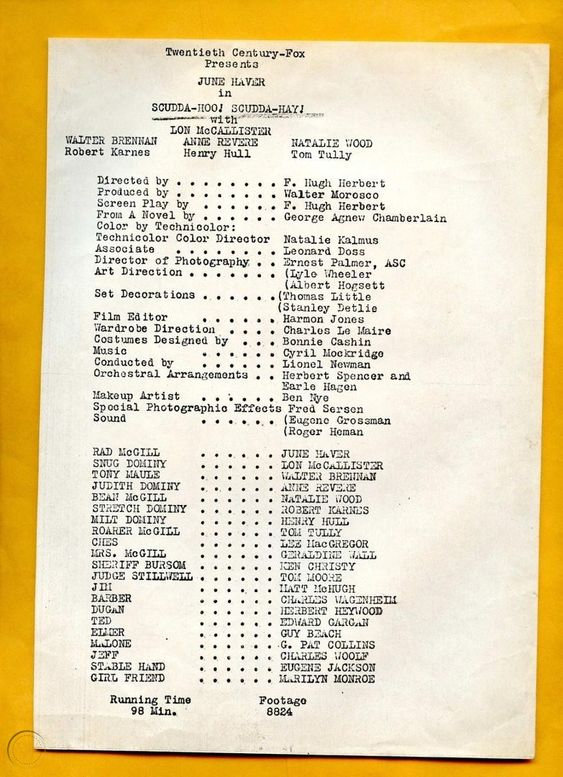 Synopsis
Le fermier Milt Dominy et son fils Daniel, qui s'appelle "Snug", se plaignent l'un et l'autre de leur aversion pour Judith, la deuxième épouse de Milt, et son fils brutal Stretch. Incapable de supporter les sarcasmes de Judith, Milt décide de retourner à la mer et, en présence des voisins Robert "Roarer" McGill et Tony Maule, établit un testament désignant Snug comme son bénéficiaire.
Snug accepte de travailler pour Roarer, malgré ses manières bruyantes et autoritaires, et le lendemain, l'accompagne pour examiner deux mules à vendre. Alors que Roarer négocie avec le propriétaire, un homme d'écurie confie à Snug que les mules, nommées Crowder et Moonbeam, "conduiront" pour un seul homme, qui est toujours dans l'armée. Cependant, Snug est impressionné par les beaux animaux et, le lendemain, propose de les acheter lui-même lorsque Roarer ne peut pas les contrôler. Roarer accepte mais avertit Snug que la propriété des mules lui reviendra si Snug manque un seul paiement. Snug emmène ensuite Crowder et Moonbeam à la ferme de Tony, qui était autrefois un muletier dévoué avant de devenir alcoolique, qui en est ravi.
Tout en découvrant les mules, Snug traite également avec Judith et Stretch, qui tentent de reprendre la ferme de Dominy, et se rapproche de la fille coquette de Roarer, Rad, qui incite Snug et Stretch à rivaliser pour ses affections. Désireux d'aider Snug, Tony lui présente le contremaître forestier Mike Malone, qui lui propose un travail bien rémunéré, qui commencera lorsque Snug apprendra à mener les mules. Tony enseigne à Snug les commandes "scudda hoo" et "scudda hay", qui signifient "gee" et "haw", l'argot country pour "gauche" et "droite", et une nuit, Snug conduit les animaux pendant qu'ils tirent une lourde bûche .
Peu de temps après, Rad, qui est contrarié que Snug ait passé autant de temps avec les mules, dit à Stretch que Snug peut guider les animaux et travaillera bientôt au camp de bûcherons. Espérant blesser Snug et gagner de l'argent, Stretch informe Roarer de la situation et propose de battre Snug, après quoi Roarer peut le renvoyer et reprendre le contrôle des mules. La fille cadette de Roarer, Bean, surprend la discussion et avertit Snug du stratagème vicieux, et peu de temps après, Snug affronte Stretch quand il le voit tenter un baiser forcé sur Rad. Stretch semble gagner la bagarre qui s'ensuit, mais Snug l'emporte sur son demi-frère plus fort et lui donne une bonne raclée. Cette nuit-là, Rad s'excuse auprès de Snug pour son comportement, et le couple affirme leur amour avec un baiser.
Le lendemain, l'insolence délibérée de Snug incite Roarer à le renvoyer, et Snug va travailler au camp de bûcherons. Snug a l'intention d'utiliser le salaire de sa première semaine pour un autre versement sur les mules et est dévasté lorsque Tony, qui détenait l'argent, rentre chez lui ivre et fauché. Snug supplie Roarer d'accepter un double paiement dans quelques jours, mais Roarer refuse et demande au shérif Tod Bursom de faire valoir son droit de récupérer les mules. Voyant cela, la femme de Roarer, Lucy, tient finalement tête à son mari autoritaire et prête l'argent à Rad, qui le donne à Roarer et le réprimande pour son avarice. Honteux par la réaction de sa famille, Roarer dit à Stretch que leur accord est annulé, mais Stretch jure que s'il ne peut pas avoir les mules, Snug non plus.
Pendant ce temps, Snug apprend que son père est décédé, lui laissant la ferme Dominy, et Tony promet de consulter le juge Stillwell au sujet de l'expulsion de Stretch et Judith. Peu de temps après, Stretch place un piège métallique dans le décrochage de Crowder et Moonbeam pour tenter de les paralyser. Snug et Rad, qui ont un rendez-vous galant, sont forcés par la pluie de retourner chez Tony et sauvent Stretch pendant que la mule Crowder l'écrase contre le mur de la grange. Snug jette ensuite Stectch hors de la propriété de Tony. Plus tard, le juge Stillwell et le shérif Bursom expulsent Stretch et sa mère de la ferme Dominy.
Alors que Snug, Rad et Tony retournent chez Tony, ils passent devant Roarer, dont le tracteur est coincé dans la boue. Snug parie à Roarer que si Moonbeam et Crowder peuvent libérer le tracteur, Roarer oubliera la dette de Snug, mais s'ils échouent, Roarer en reprendra possession. Snug demande également à Roarer la bénédiction de son mariage avec Rad s'il réussit, et Roarer accepte à contrecœur. Snug conduit habilement les animaux et bientôt le tracteur est libre. Enfin, alors qu'une Rad heureuse rejoint Snug, Roarer concède qu'au moins les mules seront toujours dans la famille.
Farmer Milt Dominy and his son Daniel, who is called "Snug," commiserate with each other about their loathing of Judith, Milt's second wife, and her brutish son Stretch. Unable to endure Judith's sarcasm, Milt decides to return to the sea and, in the presence of neighbors Robert "Roarer" McGill and Tony Maule, makes out a will designating Snug as his beneficiary.
Snug agrees to work for Roarer, despite his loud, overbearing manner, and the next day, accompanies him to examine two mules for sale. While Roarer negotiates with the owner, a stablehand confides in Snug that the mules, named Crowder and Moonbeam, will "drive" for only one man, and he still in the Army. Snug is impressed by the handsome animals, however, and the next day, offers to buy them himself when Roarer cannot control them. Roarer agrees but warns Snug that ownership of the mules will revert to him if Snug misses even one payment. Snug then takes Crowder and Moonbeam to Tony's farm, and Tony, who was once a dedicated mule driver before falling down on his luck and becoming an alcoholic, is thrilled by them.
While learning about the mules, Snug also deals with Judith and Stretch, who are trying to take over the Dominy farm, and Roarer's flirtatious daughter Rad, who entices Snug and Stretch to compete for her affections. Eager to help Snug, Tony introduces him to logging foreman Mike Malone, who offers him a well-paying job, that will start when Snug learns how to drive the mules. Tony teaches Snug the commands "scudda hoo" and "scudda hay," which mean "gee" and "haw," country slang for "left" and "right," and one night, Snug drives the animals as they pull a heavy log.
Soon after, Rad, who is upset that Snug has been spending so much time with the mules, tells Stretch that Snug can guide the animals and will soon be working at the lumber camp. Hoping to hurt Snug and make money, Stretch apprises Roarer of the situation and offers to beat Snug, after which Roarer can fire him and regain control of the mules. Roarer's younger daughter, Bean, overhears the discussion and warns Snug about the vicious scheme, and soon after, Snug confronts Stretch when he sees him try to force a kiss on Rad. Stretch appears to be winning the ensuing fistfight, but Snug prevails over his stronger stepbrother and gives him a sound beating. That night, Rad apologizes to Snug for her behavior, and the couple affirm their love with a kiss.
The next day, Snug's deliberate insolence prompts Roarer to fire him, and Snug goes to work at the lumber camp. Snug intends to use his first week's pay for another installment on the mules and is devastated when Tony, who was holding the money, returns home drunk and broke. Snug begs Roarer to accept a double payment in a few days, but Roarer refuses and asks Sheriff Tod Bursom to enforce his right to reclaim the mules. Seeing this, Roarer's wife Lucy finally stands up to her over-bearing husband and loans the money to Rad, who gives it to Roarer and chastises him for his avarice. Shamed by his family's reaction, Roarer tells Stretch that their deal is off, but Stretch vows that if he cannot have the mules, then neither can Snug.
Meanwhile, Snug learns that his father has died, leaving him the Dominy farm, and Tony promises to consult Judge Stillwell about evicting Stretch and Judith. Soon after, Stretch places a wire snare in Crowder and Moonbeam's stall in an attempt to cripple them. Snug and Rad, who are out on a date, are forced by rain to return to Tony's house and there catch Stretch as Crowder is crushing him against the barn wall. Snug rescues Stretch from Crowder then throws him off Tony's property.
Later, Judge Stillwell and Sheriff Bursom evict Stretch and his mother from the Dominy farm. As Snug, Rad and Tony are riding back to Tony's, they pass Roarer, whose tractor is stuck in the mud. Snug bets Roarer that if Moonbeam and Crowder can pull the tractor free, Roarer will forget Snug's debt, but if they fail, Roarer will reassume possession of them. Snug also asks for Roarer's blessing of his marriage to Rad if he succeeds, and Roarer reluctantly agrees. Snug expertly drives the animals and soon the tractor is free. Finally, as a happy Rad joins Snug, Roarer concedes that at least the mules will still be in the family.
---
DVD

- sur le blog: Scudda Hoo! Scudda Hay! en DVD
---
Sur le web
- le film sur imdb (français / anglais)
- le film sur AFI Catalog (anglais)
- le film sur wikipedia (français)
- le film sur Rotten Tomatoes (anglais)
---
© All images are copyright and protected by their respective owners, assignees or others.
copyright text by GinieLand.