19 novembre 2007
Scudda Hoo! Scudda Hay!
Photos Publicitaires
---
June Haver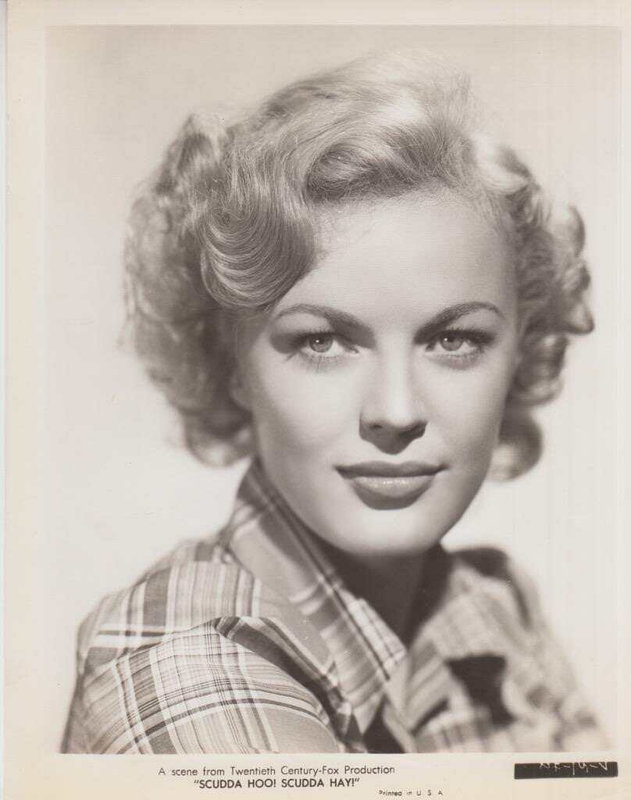 ---
Lon McCallister
---
June Haver & Lon McCallister
---
Natalie Wood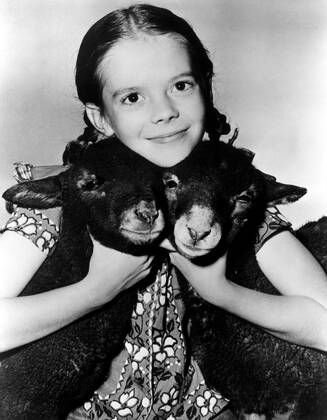 ---
Walter Brennan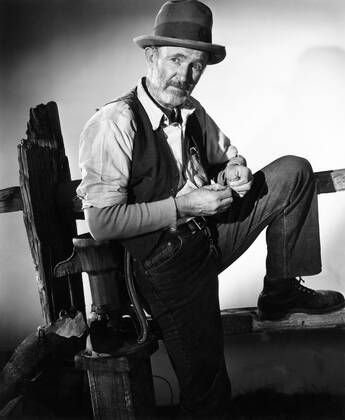 ---
Marilyn Monroe en maillot de bain deux pièces à fleurs - une création du couturier de la Fox, Charles Le Maire - en février / mars 1947; bien qu'elle ne porte pas ce maillot dans le film, le but de cette séance est d'en faire des portraits publicitaires pour son premier film Scudda Hoo ! Scudda Hay ! dans lequel elle tient un rôle de figuration. La 20th Century Fox utilise ses jeunes starlettes pour les faire photographier dans le style des pin-up afin de s'assurer que les photographies soient publiées dans la presse (dès début avril 1947 pour cette séance) et ainsi, de promouvoir leurs films plutôt mineurs à l'affiche.
La séance aurait eu lieu dans la villa à Beverly Hills de Artie Stebbins, scénariste et producteur à Hollywood et neveu de Joseph Schenck.
Blog article Février / Mars 1947, Marilyn en maillot de bain pour Scudda Hoo !

Marilyn Monroe in a two-piece floral swimsuit - a creation by Fox designer Charles Le Maire - in February / March 1947; although she doesn't wear this swimsuit in the film, the goal of this photos sitting is to make publicity portraits for her first film Scudda Hoo! Scudda Hay! in which she plays a figurative role. The 20th Century Fox uses its young starlets to have them photographed in pin-up style to ensure that the photographs will be published in the press (from the beginning of April 1947 for that session) and thus to promote their rather minor films on the screens.
The shoot was reportedly held in the Beverly Hills villa of Artie Stebbins, Hollywood screenwriter and producer and nephew of Joseph Schenck.

Esquisse du maillot de bain par Charles Le Maire
Sketch of the swimsuit by Charles Le Maire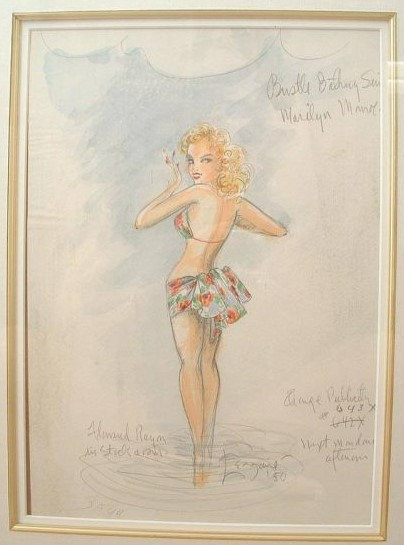 ---
© All images are copyright and protected by their respective owners, assignees or others.
copyright text by GinieLand.