Le 11 octobre 1953 se tient la première du film Les 5000 Doigts du Dr. T avec Tommy Rettig, à Los Angeles, Californie. Marilyn Monroe s'y rend en compagnie du jeune Tommy Rettig, le jeune garçon joue à ses côtés dans Rivière sans Retour.
Un photographe demande à Marilyn d'ôter son manteau pour la photographier, mais Marilyn refuse, répondant que ce serait mal perçu de s'afficher ainsi avec un petit garçon âgé seulement de 10 ans à ses côtés !
Marilyn s'est rendue à cette première avec Joe DiMaggio, qui préfère rester en coulisses.

On October 11, 1953, is held the premiere of the movie The 5,000 Fingers of Dr. T. with Tommy Rettig, in Los Angeles, California. Marilyn Monroe is accompanied by young actor Tommy Rettig, the young boy playing with her in River of no return.
A photographer asks to Marilyn to take off her coat to photograph her, but Marilyn refuses, answering that it would be badly perceived to be exhibited like that with a little boy aged only 10 years by her side!
Marilyn goes to this premiere with Joe DiMaggio, who prefers to stay behind the scenes.

> Marilyn avec Joe DiMaggio et le journaliste Walter Winchell
Marilyn with Joe DiMaggio and journalist Walter Winchell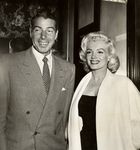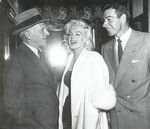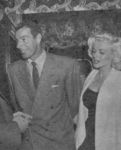 ---
> photographies collection Frieda Hull

---
© All images are copyright and protected by their respective owners, assignees or others.
copyright text by GinieLand.
Enregistrer