Les looks de Marilyn au cinéma
Marilyn's looks at the cinema

---
Scudda Hoo! Scudda Hay!

Les costumes de la paysanne Betty
The costumes of the peasant girl Betty

Dans les crédits officiels du film, il est indiqué que les costumes sont de Charles Le Maire, un créateur et styliste de la 20th Century Fox - sous la supervision de Sam Benson et l'assistance en design de Bonnie Cashin.

In the official film credits, it is stated that the costumes are by Charles Le Maire, a 20th Century Fox designer - supervised by Sam Benson and design assistance by Bonnie Cashin.
---
Dans le film
Betty, interprétée par Marilyn Monroe, porte deux tenues:

In the movie
Betty, played by Marilyn Monroe, wears two outfits:
Une robe tablier sans manche de couleur bleue ciel, sur un chemisier blanc.
A sleeveless pinafore dress in sky blue, over a white blouse.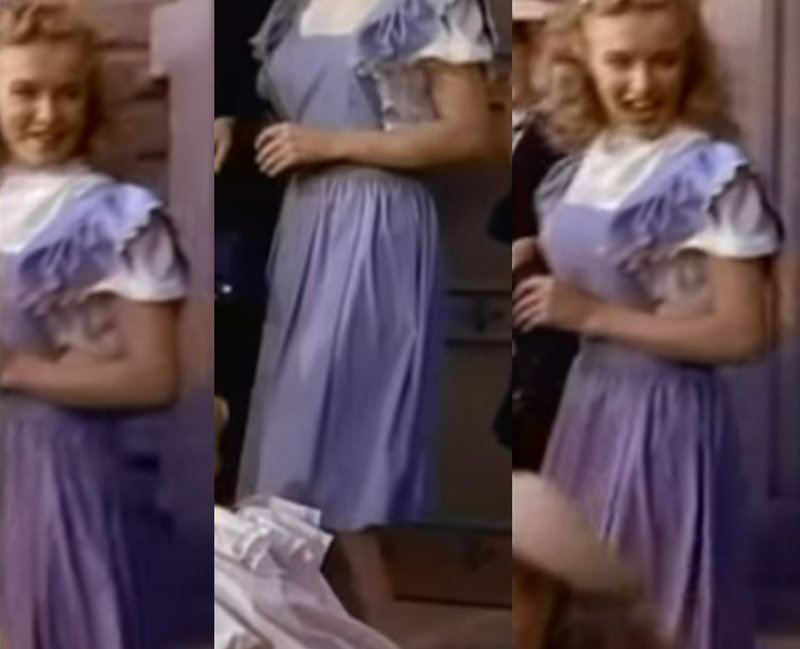 Elle porte à nouveau la robe pour des poses publicitaires
où elle joue à la baby-sitter en mai 1947
She wears the dress again for publicity portraits
where she plays the babysitter in May 1947
( sur le blog: article 05/1947 - Baby-Sitter Sitting - Marilyn par Dave Cicero )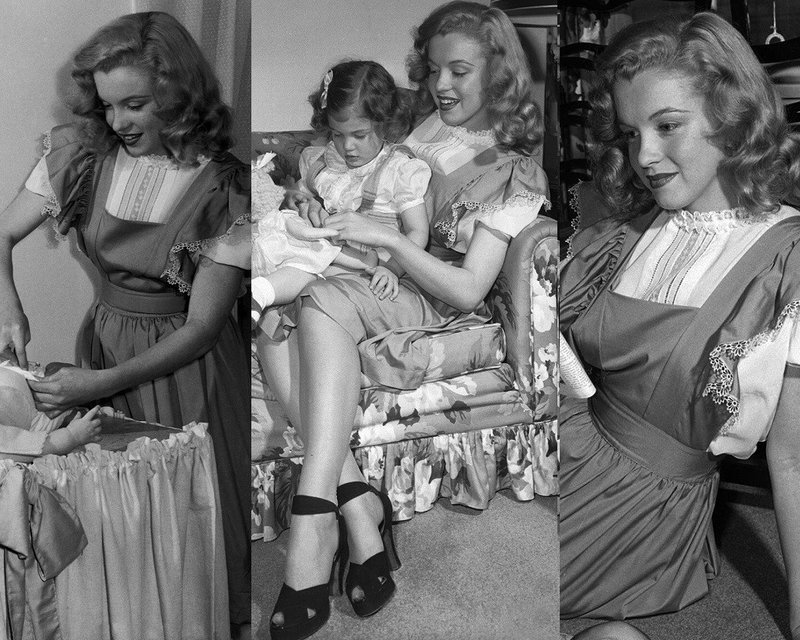 Un maillot de bain une pièce au motif floral,
création du costumier styliste de la Fox, Charles Le Maire.
A one-piece swimsuit with a floral pattern,
creation of the costume designer of the Fox, Charles Le Maire.

---
Pour sa coiffure, ses cheveux sont maintenus sur la tête
par un bandeau en tissu,
laissant les cheveux relâchés librement.
For her hairstyle, her hair is kept on the head
by a fabric band, leaving the hair loose.

---
Sur le tournage
On the set filming

Elle apparaît dans diverses tenues
She appears in various outfits
Un gilet mohair et un pantacourt à carreau;
Un chemisier blanc à manches longues avec un large pantalon;
Un maillot de bain une pièce noir
A mohair waistcoat and checkered capri pants;
A white long-sleeved blouse with wide pants;
A black one-piece swimsuit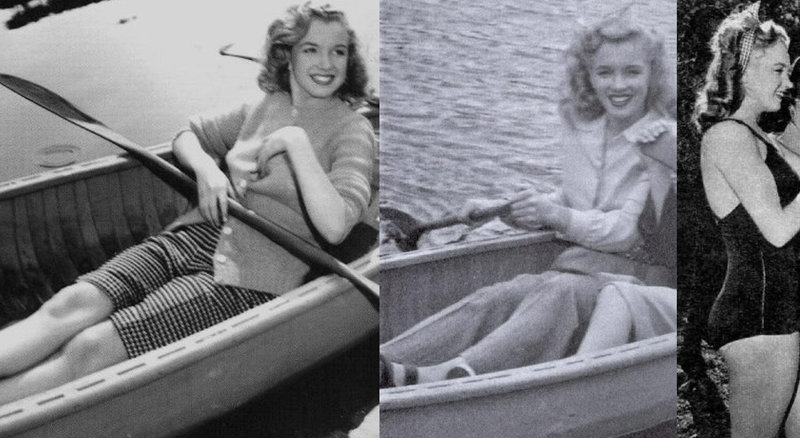 ---
Pour la séance des portraits publicitaires
For the publicity portraits session

Marilyn Monroe porte un maillot de bain deux pièces au motif de fleurs rouge et vertes sur fond blanc, une création de Charles Le Maire.
Le haut soutien gorge est en forme de triangle, qui passe par une lanière dans le cou; et la lanière de fermeture se trouve devant, sur le buste, sous la poitrine, fermé par une cocarde en noeud.
La culotte du maillot est doublée par un tissu de même motif, en forme de large ruban, qui se noue par un gros noeud derrière, au niveau des fesses.
Marilyn Monroe wears a two-piece swimsuit with a pattern of red and green flowers on a white background, a creation by Charles Le Maire.
The top bra is in the shape of a triangle, which passes through a thong in the neck; and the closing strap is in front, on the bust, under the chest, closed by a cockade in knot.
The bikini bottom is lined with a fabric of the same pattern, in the form of a large ribbon, which is tied with a large knot behind, at the buttocks.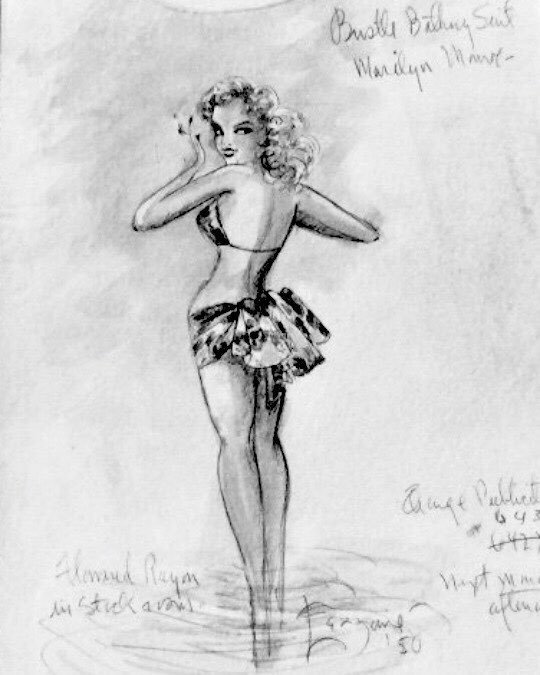 Esquisse du maillot de bain de Charles Le Maire
Sketch of the swimsuit by Charles Le Maire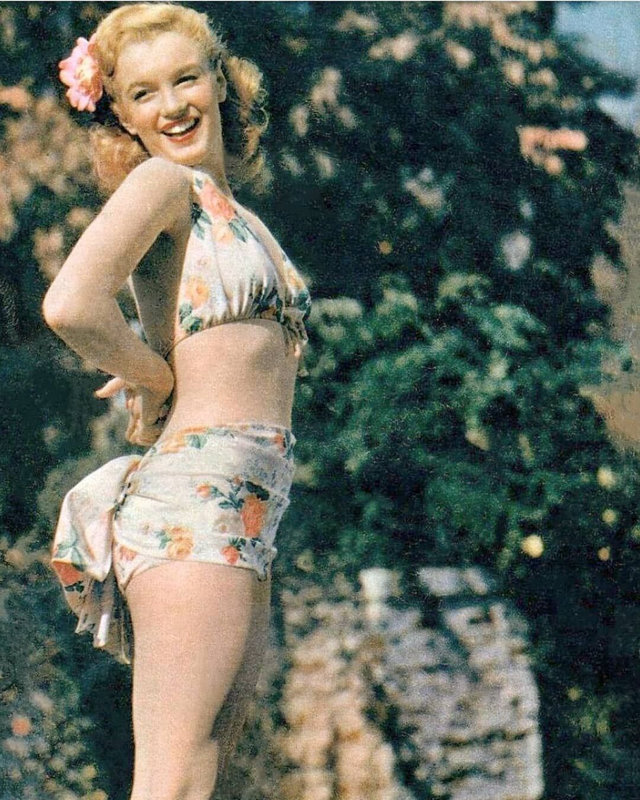 Les chaussures sont des sortes de plateformes, à sandales compensées, dont la semelle blanche semble être en bois, et les sandales rouges fermées par une lanière et ouvertes sur le dessus du pied, aux doigts de pieds et au talon.
Elle porte aussi ces chaussures pour une autre séance photos en 1947.
The shoes are a kind of platform, with wedge sandals, which the white sole seems to be made of wood, and the red sandals closed by a thong and open on the top of the foot, at the toes and at the heel.
She also wears these shoes for another photoshoot in 1947.
Pour sa coiffure, Marilyn a les cheveux attachés sur le côté droit par une grosse fleur rose (peut être un Gerbera), coiffant sa raie à gauche, faisant ainsi retomber ses cheveux sur le côté droit de son visage.
For her hairstyle, Marilyn has her hair tied on the right side by a big pink flower (maybe a Gerbera), styling her part on the left, thus making her hair fall on the right side of her face.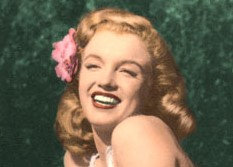 ---
© All images are copyright and protected by their respective owners, assignees or others.
copyright text by GinieLand.