27 novembre 2007
deux sublimes portraits de Marilyn Monroe par Aurélia
visitez son site en cliquant sur la bannière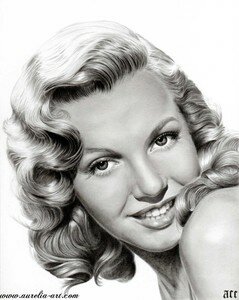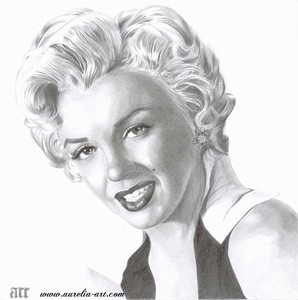 Dans de nombreux sites dédiés à Marilyn Monroe, ainsi que dans les sites de vidéos en ligne (tels youtube ou encore dailymotion), on retrouve souvent le titre "Teach Me Tiger" faisant parti de la discographie de Marilyn. Or, ce n'est pas Marilyn qui chante, même si la voix ressemble beaucoup, de par certaines intonations (qui rappellent un peu "Do It Again" interprété par Marilyn).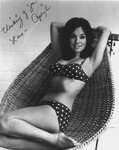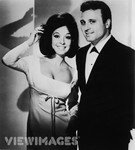 C'est en fait la chanteuse américaine April Stevens qui interprète ce titre enregistré en 1959, et aux intonations sexuelles très suggestives, qui causa d'ailleurs un tollé à l'époque.
April Stevens est née sous le nom de Carol LoTempio, le 29 avril 1936 à Niagara Falls, New York. Elle a enregistré ses premiers disques dès l'âge de 16 ans, et a connu quelques succés avec l'orchestre de Henri Rene dans les années 1950. Mais c'est en 1963, qu'elle sera propulsé grâce au titre "Deep Purple" interprété en duo avec son frère Antonino LoTempio (connu sous le nom de scène Nino Tempo) et qui les mena No.1 aux charts américains du réputé Billboard. La chanson gagna ainsi un Grammy Award en 1964 du Meilleur Titre Rock and Roll.
>> le site officiel Nino & April
>> Vidéo montage images d'April Stevens & chanson Teach Me Tiger
Paroles de la chanson Teach me Tiger
interprétée par April Stevens en 1959
Hi Tiger
Teach me tiger how to kiss you.. wah wah wah wah wah
Show me tiger how to kiss you.. wah wah wah wah wah
Take my lips, they belong to you..
But teach me first, teach me what to do..
Touch me tiger when I'm close to you wah wah wah wah wah
Help me tiger I don't know what to do wah wah wah wah wah
I know that you could love me to
But show me first, show me what to do
This is the first love, that I have ever known
What must I do to make you my very own.. ?
Teach me tiger how to tease you wah wah wah wah wah
Tiger, tiger I wanna squeeze you wah wah wah wah wah
All of my love I will give to you
But teach me TIGER.. or I'll teach you
Tiger .. Tiger.. Tiger..
Caricature de Marilyn Monroe par Val Bochkov