La pêche au trésor
---
Le flipbook, ou en français « folioscope » est un petit livre qui se lit en faisant défiler les images. Inventé par le français Pierre-Hubert Desvignes en 1860, le folioscope est un précurseur des films d'animations car les images prennent vie et se mettent en mouvement, telle une animation, en faisant défiler les pages en continu très rapidement.
Les images sont soit intégrées dans un petit livret que l'on fait défiler manuellement avec le pouce; ou les images sont présentées en vignettes que l'on intègre dans un petit appareil (le mutoscope) permettant ainsi de visionner l'animation produite par le défilement des images.
Avec l'arrivée du cinéma, les flipbooks deviennent des supports publicitaires des longs métrages, vendus comme de petits livres ou jouets. Le film "Love Happy" lance plusieurs flipbook: trois sous la série de « Flip-O-Vision » produit par Topps Production sous les deux formats (en petits livres et en planche à vignettes à découper) et un produit par Movette, American Cinefoto Corp.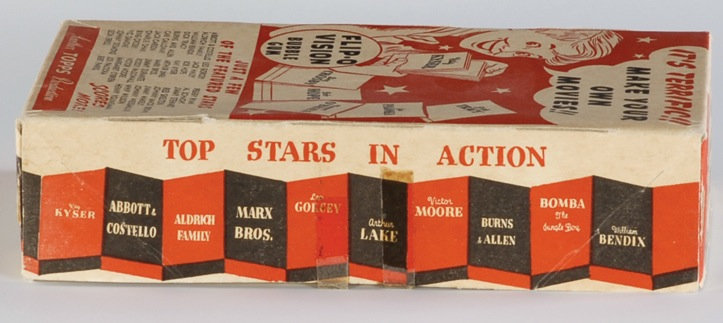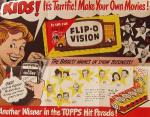 The flipbook, or in French "folioscope" is a small book that is read by scrolling through the images. Invented by Frenchman Pierre-Hubert Desvignes in 1860, the flipbook is a precursor of animated films because the images come to life and move, like an animation, by scrolling the pages continuously very quickly.
The images are either integrated into a small booklet that is scrolled manually with the thumb; or the images are presented in thumbnails that are integrated into a small device (the mutoscope) thus making it possible to view the animation produced by the scrolling of the images.
With the arrival of the cinema, flipbooks became advertising media for feature films, sold as little books or toys. The film "Love Happy" launches several flipbooks: three under the series of "Flip-O-Vision" produced by Topps Production in both formats (in small books and in cutting boards) and one produced by Movette, American Cinefoto Corp.

- publicité avril 1949 / advertising April 1949 -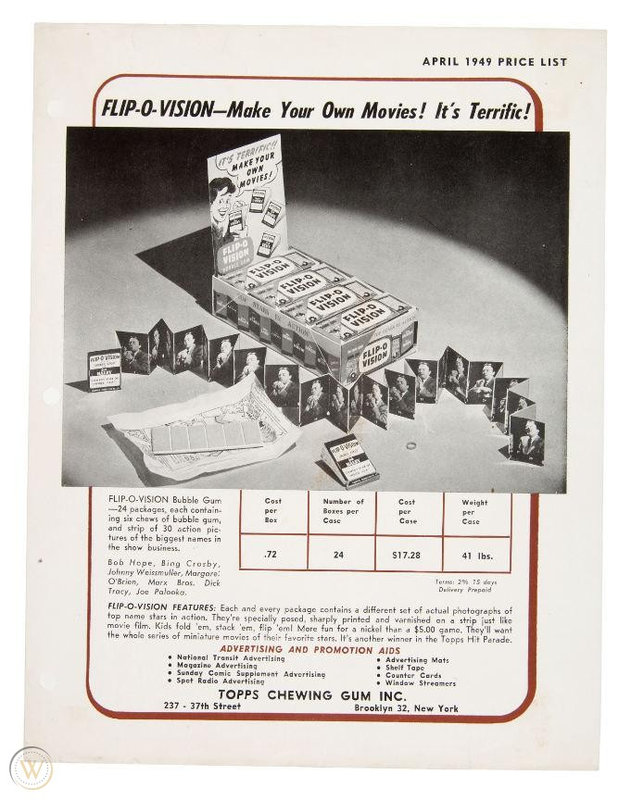 ---
FlipBook Flip-O-Vision "Love Happy with Harpo"
Harpo Marx & Marilyn Monroe

---
FlipBook Flip-O-Vision "Mr Missed Her Kisser with The Marx Bros."
Chico Marx, Marilyn Monroe & Harpo Marx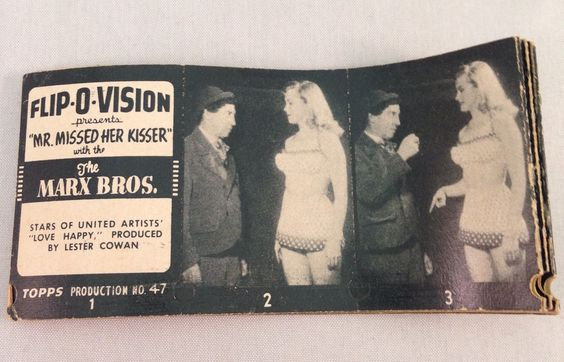 30 vignettes / 30 thumbnails
planche de 42 vignettes / board of 42 thumbnails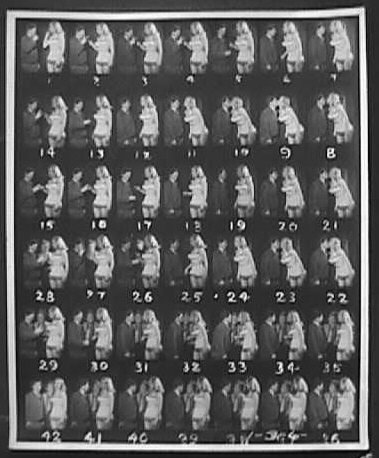 ---
En coulisse des prises de vue
Behind the scenes
---
FlipBook Flip-O-Vision "Bubble Smoke with Harpo Marx"
Harpo Marx
---
FlipBook Movette
Marilyn Monroe & Harpo Marx
---
Sur le web
site entièrement consacré au Flipbook sur flipbook.info
Flipbook Flip-O-Vision sur Drew Friedman Blog

---
© All images are copyright and protected by their respective owners, assignees or others.
copyright text by GinieLand.