Nicole Scherzinger copie Marilyn Monroe
lors d'une prestation live aux Music Rocks
Nicole Scherzinger, la chanteuse du groupe Pussycat Dolls, s'est produite sur scène le 2 décembre 2007 dans le show Music Rocks! , au Kodak Theatre de Hollywood, qui est un véritable show de programme télévisé musical américain mettant en scène les artistes du monde de la musique d'aujourd'hui qui performent sur scène des chansons des plus grands films. Nicole Scherzinger a ainsi produit la performance de Marilyn Monroe en 1953 dans Gentlemen Prefer Blonds, en reprenant sur scène la fameuse scène du film de la chanson Diamonds Are A Girls Best Friend.
Vidéo - La performance live:

>> source photos et article sur JustJarred
Enregistrer
Le célèbre caricaturiste et peintre expressionniste Sebastien Krueger représenta la star Marilyn en caricature, mais aussi dans un sublime grand portrait (dimension humaine). Pour découvrir l'étendu de son talent de ses portraits de personnalités, visitez son blog skrueger et son site skrueger (site pour le moment en construction).
Portraits de Marilyn Monroe d'inspiration Pop-Art par Marco Toro
>> source: en vente sur villagegallery
Eve
Photos Studio
Photos studio de Marilyn Monroe pour le film All About Eve en 1950
Marilyn en robe lamée dorée

Studio portraits of Marilyn Monroe for the movie All About Eve in 1950
Marilyn in gold dress
---
Seance 1- Photographies de Frank Powolny / Eugene Kornmann -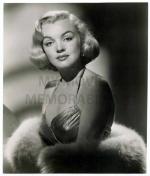 ---
Seance 2- Photographies de Frank Powolny / George Hurrell

---
© All images are copyright and protected by their respective owners, assignees or others.
copyright text by GinieLand.
Enregistrer
Enregistrer
Portrait de Marilyn réalisé en 2007 par Carlos Bottelho