30 décembre 2007
Pour égayer votre email,
montage d'une photo de Marilyn par Bachrach
avec des lumières - par MandyB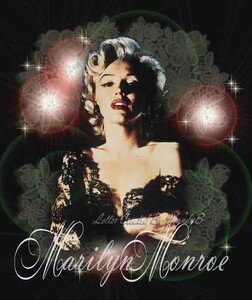 Marilyn et Arthur le jour de leur mariage civil - le 29/06/56
Gif du blog de Chantal MarilynM tags animés
Lorsque la date ou l'événement sont écrits en couleur et soulignés, il vous suffit de cliquer dessus pour avoir plus d'informations et des photos.
/ Attention la chronologie est incomplète. J'ajouterai plus tard les dates concernant son tournage de River of no Return au Canada /
1er janvier 1953 - Marilyn et Joe Di Maggio fêtent la nouvelle année au Cinerama Coconut.
21 janvier 1953 - Première du film Niagara à New York.
24 févirer 1953 - Marilyn joue un sketch dans l'émission télé "The Martin and Lewis Show", où elle y recoit le prix Red Book en tant que "Meilleure jeune personnalité du Box Office".
9 mars 1953 - Marilyn reçoit le prix du magazine Photoplay de "L'étoile montée le plus rapidement dans le ciel d'Hollywood en 1952".
13 mai 1953 - Marilyn et Betty Grable, sa partenaire dans How to marry a Millionaire, se rendent à une soirée d'anniversaire du chroniqueur Walter Winchell au Ciro's à Hollywood.
26 juin 1953 - Marilyn et Jane Russell posent leurs empreintes de mains et de pieds dans le ciment du trottoir devant le Grauman's Chinese Theater.
10 juillet 1953 - Marilyn participe à une action caricative au Hollywood Bowl, où les bénéfices seront reversés à l'hôpital Saint Jude.
30 juillet 1953 - Marilyn est à Seattle.
13 septembre 1953 - Marilyn joue dans un sketch de l'émission télé The Jack Benny Show, qui sera sa première apparition télé. (Voir aussi les photos en backstage et les captures 1ère partie et 2ème partie.)
Début octobre 1953 - Elle rencontre le photographe Milton Greene durant une soirée organisée par Gene Kelly.
Toujours en octobre, elle signe un contrat d'enregistrement avec la maison de disque RCA.
11 octobre 1953 - Marilyn et Tommy Rettig, le petit garçon de River of No Return, se rendent à la première du film 5000 Fingers of Dr.T.
28 octobre 1953 - Grace Goddard tente de se suicider par overdose de barbituriques. Marilyn est sous le choc.
11 novembre 1953 - Première américaine du film How to Marry a Millionaire., Marilyn s'y rend accompagnée de Lauren Bacall, sa partenaire dans le film, et Humphrey Boggart, le mari de celle-ci.
17 novembre 1953 - Neuf photos de Marilyn prises par Milton sont publiées dans le magazine Look.
15 décembre 1953 - Début du tournage de "The Girl in Pink Tights", au côté de Frank Sinatra, après que Darryl Zanuck avait refusé à Marilyn le premier rôle dans "The Egyptian". Sinatra touche 5000 dollars par semaine alors que Marilyn n'en perçoit que 1500. Pour protester, elle refuse de se rendre au tournage.
>> A voir aussi dans l'année 1953 - événements non datés: