05 janvier 2008
What a forward young man you are

Musique: John Read
Paroles: Ken Darby
Chant: Dan Dailey, Marilyn Monroe,
Marion Marshall, Joyce MacKenzie et Barbara Smith
Les voix des actrices sont doublées
Date: 1949
Contexte: pour le film A Ticket To Tomahawk

---
- Chanson extraite du film -
---
Bonus Infos
C'est le seul numéro musical du film (avec le titre "Pat Works on the Railway" interprété par Dan Dailey qui s'accompagne à la mandoline). Cette mise en scène réunissant les quatre actrices (Marilyn Monroe, Marion Marshall, Joyce MacKenzie et Barbara Smith) qui tiennent des rôles secondaires de danseuses de la troupe de Mme Adelaide (interprétée par Connie Gilchrist), avec l'acteur Dan Dailey qui offre tout son talent comique et d'acteur facétieux. La chorégraphie des danses est de Kenny Williams.
La chanson débute par les quatres filles en choeur, puis chacune enchaîne avec un couplet (une phrase) en solo: une oreille avisée permet de déterminer d'emblée que la voix chantée de Marilyn n'est pas la sienne. Les actrices sont doublées pour le chant.
It is the only musical number of the film (with the title "Pat Works on the Railway" interpreted by Dan Dailey which is accompanied on the mandolin). This staging bringing together the four actresses (Marilyn Monroe, Marion Marshall, Joyce MacKenzie and Barbara Smith) who hold secondary roles as dancers in the troupe of Mrs. Adelaide (played by Connie Gilchrist), with actor Dan Dailey who offers everything his talent for comedy and facetious acting. Dance choreography is by Kenny Williams.
The song begins with the four girls in chorus, then each goes on with a solo verse (a sentence): a shrewd ear allows you to determine right away that Marilyn's singing voice is not her own. The actresses are dubbed for singing.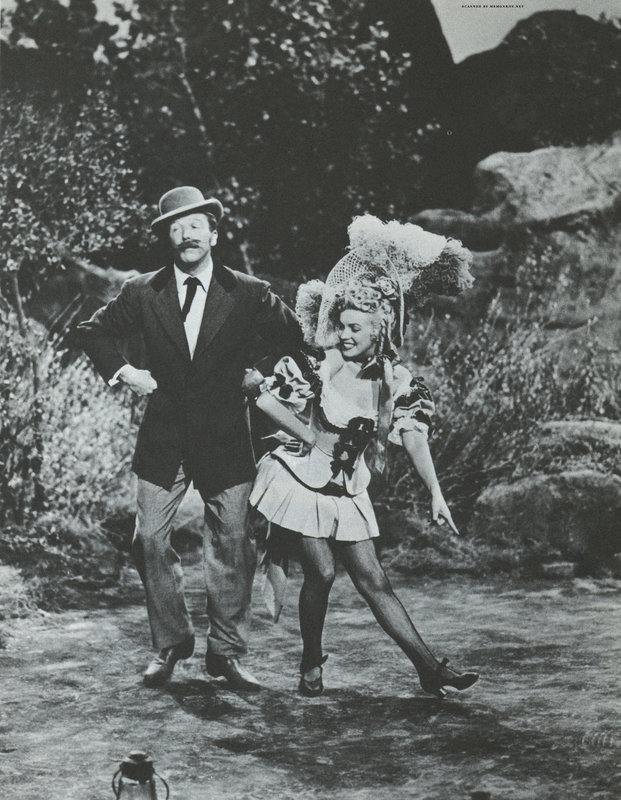 - sur le blog: "Le petit train du Far-West" - scène 05 de Marilyn
---
© All images are copyright and protected by their respective owners, assignees or others.
copyright text by GinieLand.