Le 15 avril 1954, une séance de chant est organisée devant la presse dans la loge de Marilyn aux studios de la Fox à Hollywood pour célébrer le retour de Marilyn Monroe à la 20th Century Fox. Marilyn répète avec son professeur (et amant) Hal Schaefer avec qui elle collabora pour ses chansons dans Les Hommes préfèrent les blondes en 1952, La Rivière sans retour en 1954 puis pour La Joyeuse Parade en 1954.
In April 15, 1954, a song session is organized in front of the press in the dressing room of Marilyn at Fox Studios in Hollywood to celebrate the return of Marilyn Monroe at the 20th Century Fox. Marilyn rehearses with her professor (and lover) Hal Schaefer, with whom she collaborated for her songs in Gentlemen Prefer Blondes in 1952, The River of No Return in 1954 and then for There's no business like show business in 1954.
---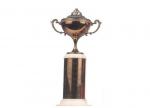 Après la prestation, Marilyn reçoit un trophée: le "National Movie Poll Award" de "l'actrice préférée de l'année 1953", Canton, dans l'Ohio; des mains de William R. Wilkerson, représentant le "Hollywood reporter".
After the performance, Marilyn receives a trophy: the "National Movie Poll Award" of the 'Favorite Actress of 1953', Canton, Ohio; from the hands of William R. Wilkerson, representing the "Hollywood reporter".
---
Lors de cette séance de chant organisée avec la presse, Marilyn annonca qu'elle et son époux Joe DiMaggio souhaitaient fonder une famille "aussi vite que possible". "Je ne le suis pas encore, mais je le veux, être enceinte je veux dire". Elle déclara qu'avec Joe , ils vivaient à San Fransisco et qu'ils loueraient une maison à Hollywood lorsqu'elle sera en tournage.
Certaines photos ont été prises par John Florea.
During this press conference, Marilyn announced that with her husband Joe DiMaggio, they wanted to start a family "as soon as possible." "I am not yet, but I want to be it, I mean pregnant." She said that with Joe, they lived in San Francisco and they would rent a house in Hollywood whenshe will be in shooting movies.
Some photos were taken by John Florea.
---
---
© All images are copyright and protected by their respective owners, assignees or others.
copyright text by GinieLand.