05 février 2008
Février 1962 - Marilyn Monroe sur le plateau de tournage de "L'Ange exterminateur", un film de Luis Bunuel, tourné dans les studios Churubusco, à Mexico. Marilyn va ensuite se rendre chez Luis Bunuel et sa femme Jeanne Rucar.
L'actrice Jacqueline Andere raconta que: "L'arrivée de Marilyn Monroe était une autre chose énorme. Elle rendit visite à Bunuel. Nous la vîmes arriver un verre de champagne à la main."
February 1962 - Marilyn Monroe on the set of the movie "El ángel exterminador", directed by Luis Bunuel, shot in the Churubusco Studios in Mexico City. Marilyn will then go to Luis Bunuel and his wife Jeanne Rucar ' home.
The actress Jacqueline Andere told that: "Marilyn Monroe's arrival was another big thing. She visited Bunuel. We saw her come in with a glass of champagne".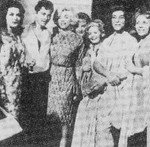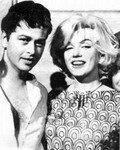 > Marilyn avec l'acteur de l'Actor's Studio Xavier (Javier) Loyà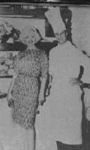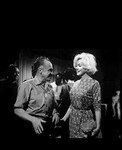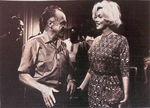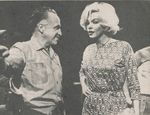 > Marilyn avec le photographe Gabriel Figueroa
Une partie de l'aspect d'effroi, de terreur induite du film provient de son extraordinaire photographie en noir et blanc. Le caméraman était Gabriel Figueroa, qui avait tiré les plus grandes photos mexicaines de Buñuel. Figueroa était le plus vénéré, et probablement le meilleur, de tous les directeurs de la photographie mexicains. Il a travaillé au Mexique et à Hollywood, pour John Ford et John Huston et "El Indio" Fernández. Le gars était tellement froid, Marilyn Monroe est venu lui rendre visite sur le tournage de "L'ange exterminateur!"; Monroe a demandé à Figueroa pourquoi il était si coincé. Alors que Buñuel attendait, Figueroa lui a raconté l'histoire du film. "- Alex Cox.
Part of the awe-inspiring, terror-inducing aspect of the film comes from its extraordinary black-and-white photography. The cameraman was Gabriel Figueroa, who had shot most of Buñuel's great Mexican pictures. Figueroa was the most revered, and probably the best, of all Mexican cinematographers. He worked in Mexico and Hollywood, for John Ford and John Huston and "El Indio" Fernández. The guy was so chill, Marilyn Monroe came to visit him on the set of The Exterminating Angel! Monroe asked Figueroa why it was so cramped. While Buñuel waited, Figueroa told her the story of the film." - Alex Cox.
---
> Article Cahiers du Cinéma, juillet-août 2002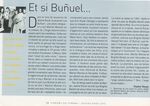 ---
/!/ merci à Emma pour le scan de l'article.
source: site gabrielfigueroa.net

© All images are copyright and protected by their respective owners, assignees or others.
copyright text by GinieLand.
Enregistrer