Lors de son séjour au Mexique fin février 1962, Marilyn Monroe se rend à l'orphelinat "National Institute for the Protection of Children" de Mexico, où elle fera un don de 10 000$ et se fera interviewée par Eva Samano, l'épouse du Président Adolfo Lopez Mateos (de 1958 à 1964) et très engagée dans la protection de l'enfance, elle était surnommée "Mère nationale". Marilyn, qui rencontra des difficultés pour avoir un enfant, notamment lors de son mariage avec Arthur Miller (elle subit plusieurs fausses couches), avait le projet d'adopter un enfant. Son attaché de presse Patricia Newcomb l'accompagne.
Pour info: Marilyn porte sa robe verte bariolée signée Pucci, qu'elle remettra lors de la séance photo avec Bert Stern en juin.
During her trip in Mexico in late February 1962, Marilyn Monroe goes to the orphanage "National Institute for the Protection of Children" in Mexico City, where she will donate $ 10 000; and she will be interviewed by Eva Samano, the wife of President Adolfo Lopez Mateos (1958 to 1964) and very committed to the protection of children, she was called "National Mother". Marilyn, who had difficulties in having a child, especially during her marriage with Arthur Miller (she suffered several miscarriages), was planning to adopt a child. Patrica Newcomn, her press officer, accompanied her.
For information: Marilyn wears her particolored green dress by Pucci, that she will wear at the setting shoot with Bert Stern in June.

> Marilyn remet un chèque à Eva (Samano) Lopez Mateos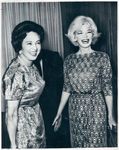 > Marilyn dans un restaurant

---
© All images are copyright and protected by their respective owners, assignees or others.
copyright text by GinieLand.