27 février 2008
Pour son édition du 18 février 2008, le magazine américain New York consacre sa Une à l'actrice people Lindsay Lohan qui s'est glissée dans la peau de Marilyn Monroe.
Pour cette séance photo, la jeune femme de 21 ans reprend l'une des dernières séance de photographies de la star mythique, la célèbre séance "The Last Sitting" réalisée en juin 1962 au Bel Air Hotel sous l'objectif du photographe Bert Stern, qui reprend en charge cette séance avec Lindsay Lohan !
Linsay a déclaré avoir été «à l'aise» de se dévêtir, bien que la veille de la séance photos, elle a avoué avoir paniqué en faisant près de 250 redressements assis afin de s'assurer que son ventre était le plus plat possible ! Elle a accepté cette séance car elle avait toujours été admiratrice de la belle blonde: «Si vous voyez ma maison, j'ai plein de trucs à l'effigie de Marilyn. J'ai une peinture d'elle chez moi. Elle est sinistre et a l'air d'un dessin animé, et il y a une grosse bouteille de pilules renversée près d'elle.» Elle a aussi confié: «Je n'y ai pas pensé longtemps. C' était un honneur de travailler avec Bert Stern et de reproduire Marilyn Monroe. Quand est-ce qu'une chance pareille se reproduira? ... Je voulais lui ressembler le plus possible et lui donner un second souffle. J'étais à l'aise avec ça, le truc de la nudité et tout.» Bert Stern, qui avait photographié Marilyn il y a 46 ans, a ajouté: «C'était assez semblable. Un peu comme du déjà vu ou comme lorsqu'on déambule dans une rue que l'on connaît.» Dans les photos, Lindsay porte une perruque blonde platine et du crayon pour les yeux. Elle pose avec une série de foulards transparents, un collier à diamants, nue sur un lit. Lindsay a également parlé de la mort de son ami Heath Ledger, qui a été victime d'une surdose le mois passé, faisant une comparaison avec la mort de Marilyn Monroe, en confiant: «C'est effroyable ce qui vient d'arriver. Marilyn et Heath sont tous deux des exemples de ce à quoi notre industrie peut nous mener. Mais c'est certain que je ne me laisserai pas emporter comme ça.»
>> Source article & photos:
article du new york mag et photos sur nymag
article et photos sur ActualitéDeStars
articles sur canoe et sur tf1.lci
photos sur lindsayimages et sur justjared
Enregistrer
Portraits de la jeune Marilyn Monroe pour l'agence Blue Book à à l'Ambassador Hotel de Palos Verdes (Californie) - par les studios Steinie (du nom du photographe Erwin / Edwin Steinmeyer, dit "Steinie").
Portraits of the young Marilyn Monroe for the Blue Book Model agency at the Ambassador Hotel in Palos Verdes (California) - by Steinie Studios (named by the photographer Erwin / Edwin Steinmeyer, known as "Steinie").
---
- En chemisier à volants -
In a ruffled blouse
---
- En haut de bikini -
In bikini top

---
- En robe à ceinture noire -
In dress with black belt

---
- En robe blanche -
In white dress

---
- Photos prises par Hal Bloom pour les studios Steinie
Photos taken by Hal Bloom for Steinie Studios
---
© All images are copyright and protected by their respective owners, assignees or others.
copyright text by GinieLand.
Je m'appelle Marilyn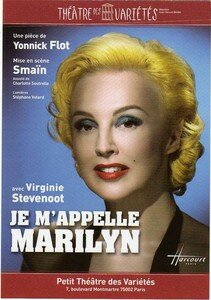 Pièce de Yannick Flot
Mise en scène par Smaïn
Avec Virginie Stevenoot
La première a lieu le mercredi 27 février 2008.
Dates: Du 27 février au 13 Mars inclus.
Horaires: à 21H30 du mercredi au samedi et le dimanche à 16H00.
Lieu: Petit Théâtre des Variétés, 7 boulevard Montmartre à Paris
Contact Location : 01 42 33 09 92
Sur le web: site theatre des varietes
L'Histoire: Une jeune femme blonde raconte qu'elle est la célèbre star hollywoodienne. Vérité ou mensonge ? Vraie ou fausse Marilyn ?
Un face à face entre deux femmes qui n'en sont peut-être qu'une...
Amours, carrière artistique, rêve et émotion sont au rendez-vous.
A lire: la documentation relative à la pièce de Théâtre "je m'appelle Marilyn" en pichier pdf: infoMarilyn