Arthur Miller accompagne sa femme Marilyn Monroe à l'aéroport de New York le 8 juillet 1958; Marilyn s'envole pour Los Angeles afin de préparer le tournage de son prochain film Some Like It Hot, qui marque son grand retour au cinéma, et Arthur reste à Amagansett pour plancher sur le scénario de The Misfits qu'il commence à préparer. Paula Strasberg, sa coach, et May Reis, sa secrétaire, l'accompagnent. Sur le tarmac de l'aéroport de New York, quelques photographes sont présents, mais surtout des fans, photographes amateurs (tel que James Haspiel) et des employés de l'aéroport.

> Départ de Marilyn à New York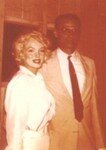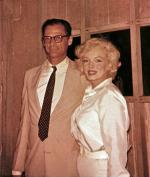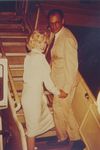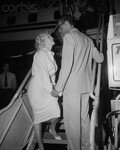 ---
> photographie de James Haspiel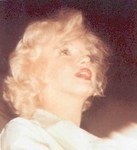 ---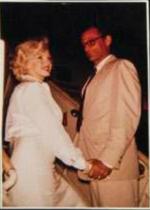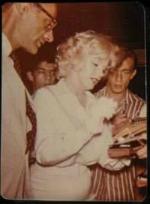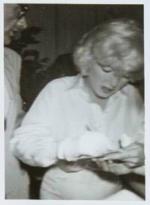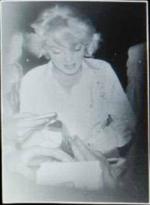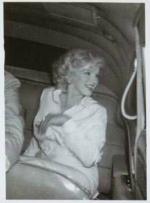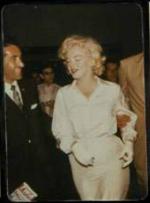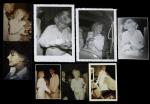 - de la collection de Frieda Hull, une fan des Monroe Six
-from the personal collection of Frieda Hull, one of the 'Monroe Six'
---
Comme Marilyn n'avait plus tourné depuis deux ans (depuis "Bus Stop") et se faisait rare à Hollywood, les journalistes se sont rendus en force à l'aéroport de Los Angeles. Une fois l'avion posé, les passagers descendent et c'est après 30 minutes que Marilyn fait son apparition en haut de la passerelle.
Un reporter du Los Angeles Times écrivit: "Une apparition blanche se matérialisa à la porte; cheveux blancs agités par le déplacement d'air que provoquait un autre avion; chemisier de soie blanc ouvert sur une gorge poudrée de blanc; jupe étroite de soie blanche; souliers blancs; gants blancs. Marilyn Monroe regarda le monde en cligant des yeux... puis elle se mit à descendre lentement, avec un air malicieux. 'Excusez-moi', dit-elle, 'je dormais.'"
Les journalistes ont remarqué qu'elle portait trois livres sous le bras:
- L'importance de vivre, de Lin Yutang.
- La vie parmi les sauvages, de Shirley Jackson.
- A l'acteur - de ichael Chekhov.
Elle monte dans une voiture qui l'emmène à son hôtel: le Bel Air Hotel, qui a été redécoré tout en blanc pour elle.
> Arrivée de Marilyn à Los Angeles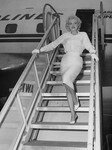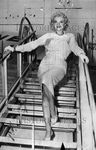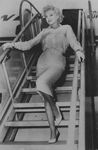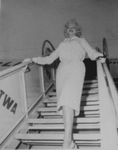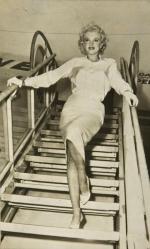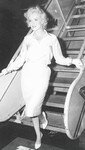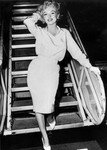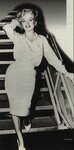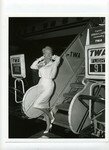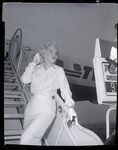 > Article du Los Angles Times, du 9 juillet 1958

> Article du TWA Skyliner employee publication, du 10 juillet 1958

---
> video


---
> source: Les vies secrètes de Marilyn Monroe, d'Anthony Summers.
---
© All images are copyright and protected by their respective owners, assignees or others.
copyright text by GinieLand.

Enregistrer