22 juin 2008
Art contemporain par Gery Luger
>> source: visitez son site GeryLuger.at
>> tableau cartonné décoration sur art.com
Marilyn Monroe photographiée par Alfred Eisenstaedt
chez elle, dans la cour de son appartement de Doheny Drive
en Mai 1953 - reportage photographique pour le magazine Life
"When I photographed Marilyn Monroe, I mixed up my cameras - one had black-and-white film, the other color. I took many pictures. Only two color ones came out all right. My favorite picture of Marilyn hangs always on the wall in my office. It was taken on the little patio of her Hollywood house." - Alfred Eisenstaedt.
> Marilyn Monroe et Alfred Eisenstaedt

---
Voici un petit "jeu" sympa d'illusion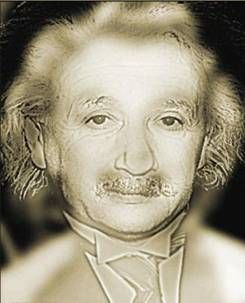 Regardez bien cette photographie de près: vous identifiez tous Albert Einstein.
Maintenant, levez-vous et reculez d'un minimum de 5 mètres de distance: qui reconnaissez vous ?! ... cherchez bien... mais c'est Marilyn Monroe bien sûr !
Ne vous inquiétez pas, vous n'avez pas de problème de vision -héhé- c'est juste un effet d'optique plutôt insolite et sympathique, non ?!