04 août 2008
En ce 4 août 2008, ayons une pensée pour Marilyn Monroe qui nous a quitté dans la nuit du 4 au 5 août 1962 à l'âge de 36 ans seulement, emportant pour toujours le mystère de sa tragique disparition, entrant ainsi dans la légende des icônes éternelles qui ne vieilliront jamais. Déjà 46 ans qu'elle nous a quitté, et pourtant elle continue à vivre dans nos coeurs. Il nous reste sa grâce, sa beauté et son talent, qui encore aujoud'hui, continuent à émouvoir toutes les générations au delà des frontières.
Repose en paix, Norma Jeane.
But That's Another Story:
A Photographic Retrospective
of Milton H. Greene
Livre de photographies
Auteurs: Joshua Greene, Amy Greene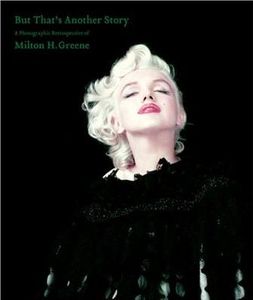 Prix éditeur: 50,61 Euros
Date de sortie: 4/12/2008
Relié 268 pages
220 photos couleur et
noir et blanc
Dimension 11,25cm x 14,25cm
Langue: anglais
Edition: PowerHouse Books
Auteurs et Editeurs: Joshua
et Amy Greene
Photos: Milton H. Greene
ISBN-10: 1576874540
ISBN-13: 978-1576874547
Ou le trouver ? sur amazon
et édition powerHouse Books

Description (traduction d'après le site de la maison d'édition powerHouse Books):
Témoin privilégié de l'esprit glamour des années 1950 et 60, Milton H. Greene photographia les plus grand artistes, acteurs et personnalités du 20ème siècle, dont Marilyn Monroe, Frank Sinatra, Grace Kelly, Marlene Dietrich, Sammy Davis Jr., Elizabeth Taylor, Cary Grant, Sophia Loren, Groucho Marx, Audrey Hepburn, Andy Warhol, Judy Garland, Alberto Giacometti, Lauren Hutton, Alfred Hitchcock, Sir Laurence Olivier, Ava Gardner, Steve McQueen, Claudia Cardinale, Paul Newman, Lauren Bacall, Dizzy Gillespie, et Catherine Deneuve, parmi tant d'autres. Renommé pour ses photographies de mode, Greene capta à la perfection la fantaisie, l'élégance et la beauté de ses modèles.
"But That's Another Story: A Photographic Retrospective of Milton H. Greene" reproduit, dans sa clareté et intégrité originelles, les images qui furent pour la plupart indisponibles depuis le décès de Greene en 1985. Organisé en thèmatiques, le livre montre autant les séries de célébrités et de la mode largement publiées, que des instantanés intimes pris en backstage. Un chapitre entier est dédié aux photos de Marilyn Monroe, avec certains de ses portraits les plus emblématiques mêlés à des moments intimes de sa vie privée.
en Bref... Un livre très attendu, où, vous l'aurez compris, figure plusieurs personnalités, mais avec tout de même un chapitre entier consacré à Marilyn, avec publication de clichés rares. A savoir: c'est Joshua Greene et Amy Greene, respectivement le fils et la veuve du photographe, qui en sont les auteurs. Il n'y a plus qu'à attendre le 4 décembre, date prévue de sortie du livre, apparemment disponible qu'en version anglaise. Petite astuce: livre en précommande sur amazon, au prix de 43 euros (frais de port gratuits).
Enregistrer
Enregistrer
Le 04 avril 1952, Marilyn Monroe se rend à la boutique Owl Drug Store de Los Angeles. Cette promotion a été lancée par le magazine Life, afin que Marilyn puisse signer le magazine dont elle fait la couverture pour l'édition du 7 avril.
In April, 04, 1952, Marilyn Monroe goes to the Owl Drug Store in Los Angeles. This publicity event was sponsored by Life magazine, in order to Marilyn could sign copies of the magazine on which she is on cover of the April, 7 issue.

> Marilyn avec le journaliste George Fisher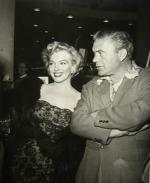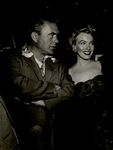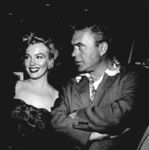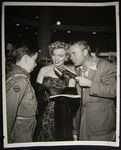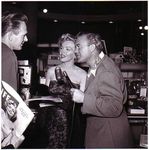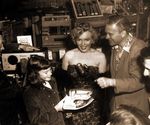 ---
© All images are copyright and protected by their respective owners, assignees or others.
copyright text by GinieLand.

Enregistrer