La joyeuse parade
Sur le tournage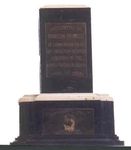 Le 19 juin 1954, Marilyn Monroe reçoit un trophée "Testimonial Appreciation" décerné par "The American Legion", à Morningside Park dans la ville d'Inglewood (en Californie), pour son soutien des troupes américaines en Corée où la star se produisit sur scène devant les GIs en février de la même année. Marilyn étant en tournage du film There's no business like show business ("La Joyeuse Parade"), elle porte une des tenues du film.
On 1954 June 19, Marilyn Monroe is presented with a trophy and plaque of "Testimonial Appreciation", by Lewis K. Gough past National Commander of the American Legion, at Idlewood, California, for her Morale building activities on behalf of the armed forces in Korea in February. Miss Monroe is currently starring in 'There's No Business Like Show Business'.

Discours de Marilyn:
"Merci. Je remercie tous les membres de la légion américaine."

> De gauche à droite:
Charles Sharitt, E.L. Gualano, Gough, Joe Koller,
Marilyn Monroe, Robert B. Jahn,George McCormack et James L. Hughes.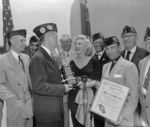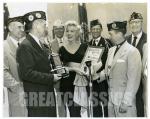 ---
---
>> Vidéo: la remise du prix à Marilyn

---
© All images are copyright and protected by their respective owners, assignees or others.
copyright text by GinieLand.