Le 8 mars 1960, Marilyn Monroe reçoit le "Golden Globe" de "La meilleure actrice dans une comédie de l'année 1959" pour son rôle dans Certains l'aiment chaud à la 17ème cérémonie des Golden Globes Awards. Marilyn était accompagnée de Rupert Allan, son attaché de presse. La cérémonie a lieu au Cocoanut Grove de l'Ambassador Hotel, à Los Angeles. Les Golden Globes sont des trophées remis chaque année par "l'association hollywoodienne de la presse étrangère" depuis 1944. Ils récompensent les meilleurs films, les meilleures œuvres de fiction télévisuelles et les meilleurs professionnels du cinéma et de la télévision. Les récompenses attribuées sont souvent considérées comme les prémisses des Oscars.
On March 8, 1960, Marilyn Monroe receives the "Golden Globe" of the "Best actress in a comedy in 1959" for her part in "Some Like It Hot" at the 17th Annual Golden Globes Awards. Marilyn is accompanied by Rupert Allan, her press secretary. The ceremony takes place at the Cocoanut Grove at the Ambassador Hotel in Los Angeles. The Golden Globes Awards are presented annually by "The Hollywood Foreign Press Association" since 1944. They honor the best films, the best fiction television and the best professional film and television. The rewards are often considered as the pre-Oscar ceremony.
> L'acteur Glenn Ford remit le trophée à Marilyn sur scène.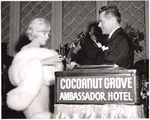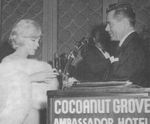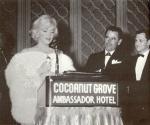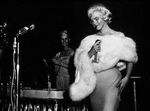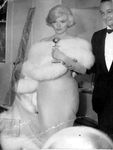 > Marilyn était très fière d'avoir remporté ce prix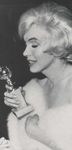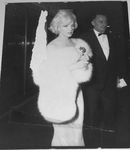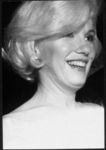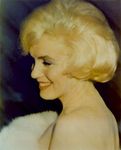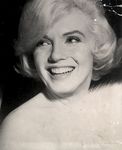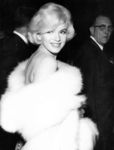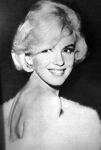 > Marilyn signe des autographes
(avec Rupert Allan, son attaché de presse, à droite)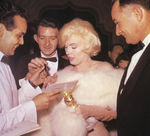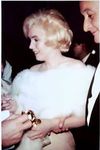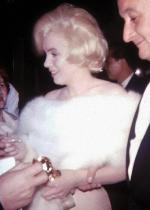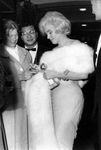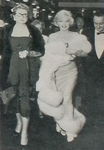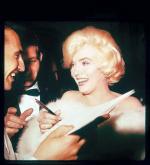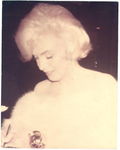 > Au cours du dîner de gala qui suivi la cérémonie,
l'actrice Shelley Winters, amie de Marilyn, la félicita.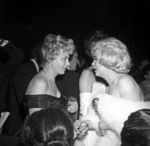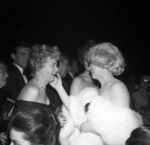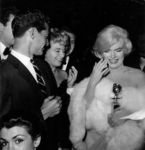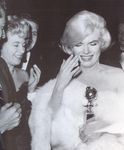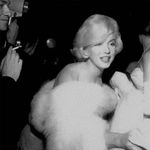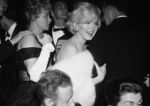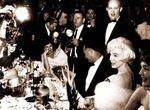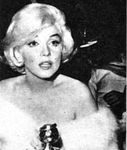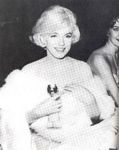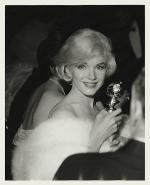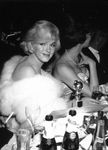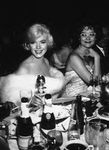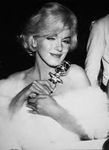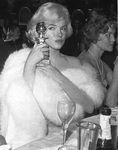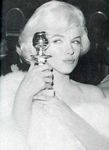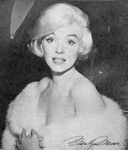 ---
>> Vidéo: séquence muette

>> Vidéo: séquence muette en couleur


---
© All images are copyright and protected by their respective owners, assignees or others.
copyright text by GinieLand.
Enregistrer