04 avril 2009
Exposition Marilyn Monroe inédite
à l'île de Jersey

Clik sur la bannière ci-dessus pour aller sur le site Jersey Heritage

Du 25 mars au 31 décembre 2009, une exposition unique : la plus grande collection de costumes originaux de Marilyn Monroe jamais constituée à ce jour sera exposée pour la première fois, au Musée de Jersey à Saint-Hélier, la capitale de l'île de Jersey.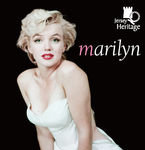 Au total, dix-neuf pièces, toutes portées par Marilyn, étiquetées du label du studio, sont la propriété de David Gainsborogh-Roberts, collectionneur invétéré de Jersey à qui il a souhaité réserver la primeur. Des tenues (costumes, toges, maillots de bain), bijoux et autres accessoires émouvants issus de films comme The Fireball, Niagara, Les Hommes préfèrent les Blondes, Comment épouser un millionnaire, La Joyeuse parade, Sept ans de réflexion, Bus Stop, Le Prince et la danseuse, Certains l'aiment chaud, ou encore The Misfits, pour découvrir Marilyn sous un autre jour, avec beaucoup de nostalgie.
Il sera aussi exposé, la plupart pour la première fois, des affaires personnelles tels que des dessins, vêtements, lettres, bijoux et prix (awards) ayant appartenus à l'icône de cinéma Marilyn Monroe.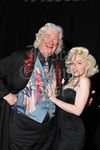 Pour info: le sosie de Marilyn - Suzie Kennedy - et le fils du photographe Milton Greene - Joshua Greene - ont participé à la soirée d'ouverture. (voir info sur Jersey Evening Post )
ci-contre: David Gainsborogh-Roberts -le propriétaire de la collection- et Suzie Kennedy -sosie de Marilyn.
En détails: (d'après le site vacances pratiques )
L'exposition présente accessoires et robes portés dans les films suivants :
- The Fireball (1950).
- Niagara (1952), son premier gros succès dans lequel tous ses costumes ont été dessinés dans le but d'accentuer ses courbes. Robe rose et négligé en soie noire.
- Les Hommes préfèrent les Blondes (1953) Justaucorps en soie noire et chapeau assorti.
- Comment Epouser un Millionnaire (1953) Une paire de faux diamants et de boucles d'oreilles.
- La Joyeuse Parade (1954) Une robe très élaborée et très sexy, garnie d'un panneau pour recouvrir la jambe de Marilyn pour les scènes tournées à destination des pays où la nudité est interdite. Un costume de bain des années 1950s et un bonnet de bain en forme de fleur.
- Sept ans de réflexion (1955) Une paire de longs gants noirs.
- Bus Stop (1956) Costume en satin vert et une blouse à lacets noire.
- Le Prince et la Danseuse (1957) Fourrure et robe de soirée en soie blanche.
- Certains l'aiment chaud (1959) Une robe de cocktail noire dessinée par Orry-Kelly, célèbre styliste qui a travaillé pour les plus grand studios. Sa robe était si serrée qu'elle était obligée de se faire soulever pour s'asseoir sur le piano.
- Le Milliardaire (1960) Une blouse en soie rose.
- Les Désaxés (1961) Le bikini blanc porté par Marilyn dans le film.
- Un costume porté pour Life magazine en 1958 pour une photo réalisée par Richard Avedon.
- La collection compte également une robe de soirée personnelle dessinée par Lanvin et Castillo.
>> Source: plus d'infos sur le site Jersey.com