10 juillet 2009
Le site Linternaute dresse un panorama des 101 plus grands sex-symbols féminins du cinéma avec Marilyn Monroe en 5ème position, après Brigitte Bardot (n°1), Sharon Stone (n°2°), Emmanuelle Béart (n°3), et Sophia Loren (n°4). Pour info: Lauren Bacall est 21ème, Marlene Dietrich 23ème, Liz Taylor 25ème, Betty Grable 39ème, Jean Harlow 44ème, Jayne Mansfield 46ème, Jane Russel 47ème, et c'est Fanny Ardant qui occupe la 101ème place!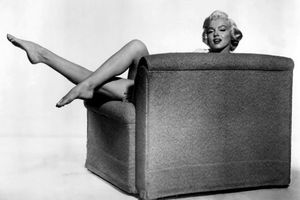 Comment ne pas fondre au son d'un "poupoupidou" suave et envoûtant de la belle Marilyn. Car si certains l'aiment chaud, elle le leur rend bien... Un destin tragique mais hors du commun, qui l'a relayé au rang de mythe. © 20th Century Fox
Le site FemmePlus dresse un petit historique des femme les plus célèbres ayant posé pour Playboy, avec Marilyn Monroe en 1953 (en 1ère position dans la galerie).
1953, Marylin Monroe (1926-1962)

La légende veut que Hugh Hefner ait emprunté 600 dollars pour lancer son projet de magazine "Playboy". Premier numéro en 1953 et première couv' magistrale avec Marylin Monroe (1926-1962)...
La petite histoire veut encore qu'Hefner ne misait pas sur une seconde édition, d'ailleurs cet exemplaire ne portait pas de numéro...
Marilyn y fut surnommée Sweetheart of the Month, on ne parlera de "playmate" qu'à compter du n° 2...