22 juillet 2009
Le célèbre magazine américain LIFE édite un numéro hors série entièrement consacré à Marilyn Monroe intitulé "Remembering Marilyn". Composé de 128 pages, il s'apparente davantage comme un livre qu'un simple magazine, publiant de nombreuses photographies, certaines en pleines pages, et d'éléments biographiques, répartis par chapitres:
Candle in the Wind /
Introduction: Marilyn and Myth /
Norma Jeane / Marilyn /
The Fall /
Goodbye, Norma Jeane.
Paru en juillet 2009.
Les plus chanceux pourront le trouver éventuellement dans les grandes enseignes de librairies; si vous ne le trouvez nul part, je vous conseille plutôt de le commander sur amazon français au prix de 14,20 Euros ou directement sur le site de Life.
>> extraits d'images (source: the glam guide )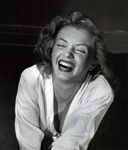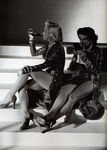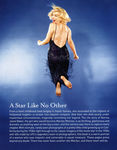 >> extraits de pages (source: ebay)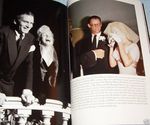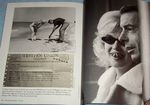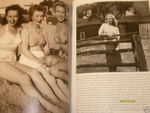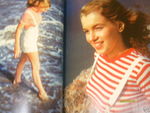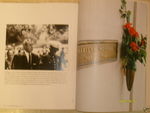 ---
* Mon Avis en Bref... 9/10
Excellent petit livre qui revient sur toute la vie de Marilyn avec de nombreuses photographies, toutes contextualiées, en excellentes qualités (papier glacé). Beaucoup de clichés peu publiés de Marilyn: dans sa vie privée (enfance, adolescence, avec ses maris) et des séances photos (Eisenstaedt, Arnold...). Bon rapport qualité /prix ! Par contre le livre n'existe qu'en anglais (mais très simple à lire, peu de mots compliqués)

---
Vous avez le livre ?
Apportez votre critique, votre avis ou votre note (/10)
en cliquant sur commentaires...
Cette semaine, quelque soit votre magazine de programme tv, vous n'échapperez pas à un article sur Marilyn Monroe dans les progs de la semaine du 25 au 31 juillet. La raison ? tout simplement pour la soirée spéciale consacrée entièrement à Marilyn le mercredi 29 juillet sur France 2 (voir plus d'infos ici ) avec la diffusion d'un documentaire inédit suivi du film Sept ans de reflexion; Marilyn en prime time sur une chaîne nationale, c'est très rare, et on se serait attendu à des articles plus riches dans les magazines... dommage ! Voici un petit aperçu de ce qu'on peut trouver dans les progs tv (captures des pages réalisées à partir du site journaux.fr )