The Secret Life of
Marilyn Monroe
Biographie
Auteur: J. Randy Taraborrelli
Version 1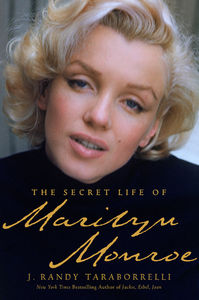 Prix éditeur: 19,18 Euros
Date de sortie: août 2009
Relié 576 pages
Langue: anglais
Éditeur: Grand Central Publishing
ISBN-10: 0446580821
ISBN-13: 978-0446580823
Ou le trouver ? en commande amazon
Petit plus: lire le début du livre sur amazon américain
Description: Biographie de Marilyn Monroe, où l'auteur, Taraborrelli, interviewa des centaines de personnes liées à la vie de la star, formant ainsi des sources fiables pour relater la vie du mythe: sur plus de 30 pages, on retrouve notamment des interviews du premier mari de Marilyn, James Dougherty, à son dernier mari, Arthur Miller.
Figure aussi trois pages de documents des dossiers du FBI réalisés en 2006 lors de l'ouverture publique des dossiers au nom de la liberté d'information, où un agent du FBI décrit les relations entre Marilyn et Robert Kennedy.
Quelques photos sont publiées en préambule.
---
Version 2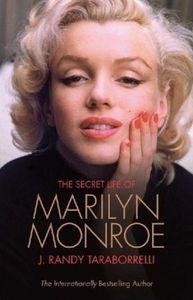 Prix éditeur: 15,27 Euros
Date de sortie: 18 septembre 2009
Relié 512 pages
Langue: anglais
Éditeur: Sidgwick & Jackson Ltd
Edition: Export ed
ISBN-10: 0283071001
ISBN-13: 978-0283071003
Ou le trouver ? en commande amazon

Description: Même livre que celui ci-dessus ("Version 1"), excepté le nombre de pages; la raison: les caractères d'imprimeries sont différents.
---
Liste des personnes consultées par J. Randy Taraborrelli (par ordre alphabétique):
A- Bernie Abramson (JFK gala photographer), Louise Adams (mother knew Della, Gladys, Ida), Agnews Hospital representatives, Mary Robin Alexander (father knew Atkinsons), Helena Albert (student of Natasha), Rupert Allan (publicist), Rose Marie Armocida (Springer's secretary);
B- Edward Barnes (parking attendant at Lawford house-party), Stacy Baron (Cal-Neva guest), Magda Bernard (step-brother was in orphanage with Marilyn), Walter Bernstein (SGTG screenwriter), Joey Bishop (comedian, Rat Packer), Joan Braden (attended party at Lawford home alongside Marilyn), Pat Brennan (friend of Pat Kennedy Lawford), Norman Brokaw (Johnny Hyde's nephew, knew Joe D);
C- Diahann Carroll (performed at JFK gala), Charles Casillo (Marilyn Diaries author), Cyd Charisse, Cohen family (Gladys worked for them in Kentucky), Marybeth Cooke (worked for Jerry Geisler), Rose Anne Cooper (worked at Rock Haven Sanatorium, where Gladys lived), Tony Curtis;
D- Don Dandero (worked at Cal-Neva), Debbie Dandero (Don's daughter), Bill Davis (worked with Johnny), Sammy Davis Jr, Anna DeCarlo (mother worked at Radioplane with Marilyn), Tommy DiBella (accessed FBI files), James Dougherty, Joe Dougherty (policeman, re Wrong Door Raid);
E- Employees of Eagle Rock hospital (where Gladys worked), Milt Ebbins, Stacy Edwards (knew Joe), Jerry Eidelman (Marilyn's actor friend and neighbour circa 1950), Dr Hyman Engelberg, Jack Entratter (Sands manager, memos used), Martin Evans (knew Jim);
F- Matthew Fox (knew Kennedys, Lawfords), Colleagues of lawyer Aaron Frosch;
G- Mitzi Gaynor, Charles Stanley Gifford Jr (Gifford's son), John Gilmore (actor/writer), Hildi Greenson, Psychiatrist colleagues of Greenson, Sydney Guilaroff, Ed Guthman (RFK's press secretary);
H- James Haspiel, Diana Herbert (father wrote Scudda Hoo), Alexander Howell (Chester's nephew), Marybeth Hughes (dated Johnny);
K- Douglas Kirkland, Richard Kollmar (Dorothy Kilgallen's husband, donated papers to Lincoln Center), Beverly Kramer (father knew Grace & Doc);
L- Peter Lawford, Janet Leigh, John Leonard (father knew Gladys), Peter Levathes, Nunziata Lisi (knew Jackie Kennedy's sister), Edward Lovitz (knew Arthur), Carol Lynley (Selsman's actress wife);
M- Dean Martin, Jeanne Martin, Susan Martinson (ditto), Arthur Miller, Barbara Miller (daughter of a friend of Dr Kris), Wesley Miller (worked for lawyers Wright, Green & Wright), Marybeth Miller-Donovan (aunt knew Ana), John Miner, Yves Montand, Evelyn Moriarty;
N- Dia Nanouris (mother worked with Grace), Larry Newman;
O- Fred Otash, Joseph D'Orazio (knew Sinatra, Hank Sanicola, Mannie Sachs);
P- Joseph Paolella (& all 3 were secret service agents),
R- Eleanor Ray (mother knew Grace), Maryanne Reed (MM collector), Susan Reimer (Gifford's niece), Ralph Roberts (interview transcripts provided by Bruce Abner), Elliott Ross (provided orphanage material), Stanley Rubin (produced RONR), Mickey Rudin, Jane Russell;
S- Hal Schaeffer, Michael Selsman (publicist), Michael Shaw (acting coach and friend of Marilyn), Anthony Sherman, George Smathers (US senator), Mickey Song (JFK gala hairdresser), Gary Springer (John's son), Maureen Stapleton, Melissa Steinberg (daughter of Dr Steinberg, gynaecologist), Diane Stevens (John Springer's assistant), Susan Strasberg;
T- Bea Thomas (knew Grace), Mary Thomas-Strong (her mother knew Ida),
V/W- Mort Viner (Dean Marin's manager), Henry Weinstein, Dr Milton Wexler (worked with Greenson), Jimmy Whiting (knew Sinatra), Mable Whittington (worked at Parkside), Billy Wilder, Andy Williams (singer, knew RFK), Esther Williams, Marvina Williams (worked at Rock Haven), James Wright (Sinatra's chauffeur).
Ainsi que la consultation des archives de l'UCLA, université du Texas, des magazines Photoplay et Look, de RFK Oral History Project, de Justice Department files on Giancana, des Kennedys (Transcripts of wiretaps), de Milton Greene, de Natasha Lytess (her unpublished memoirs), de Charles Feldman, de Joseph Rauh (Miller's lawyer), de John Huston, de Sidney Skolsky, de Lee Strasberg (legal files at Fox), de Greenson, de Hedda Hopper.

---
* A Savoir...
Le livre n'est disponible qu'en version originale: c'est à dire en anglais ! aucun éditeur français n'a pour le moment, pas l'intention de le sortir en France. Dommage !...
Enregistrer
Enregistrer