09 février 2010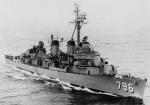 Le navire destroyer de la marine américainé Benham (le DD796, la troisième version du navire après la destruction des deux premiers pendant la guerre) est construit en 1943 et participe à la seconde guerre mondiale contre les Japonais. Désarmé en 1946, le navire est stationné pendant cinq ans à Long Beach, jusqu'en 1951 et la guerre de Corée.
Le 19 juin 1951, Marilyn Monroe est invitée sur le navire USS Benham, juste avant le départ du navire sur la côte Est. Marilyn visite le navire et une projection du film "The Frogmen" ("Les Hommes-grenouilles") sur le thème des équipes UDT de la Marine avec Richard Widmark, est organisé à bord. Pour couvrir l'événement et en faire un reportage photographique, le photographe John Florea accompagne Marilyn.
Marilyn a emprunté sa tenue aux studios de la Fox, une robe en satin noir de la costumière Renié, qu'elle porte dans le film Rendez-moi ma femme - qui sortira sur les écrans de cinéma aux USA le 02 août 1951.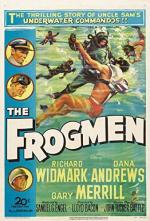 The American navy destroyer Benham (the DD796, the third version of the ship after the destruction of the first two during the war) was built in 1943 and participated to the Second World War against the Japanese. Decommissioned in 1946, the ship was stationed for five years at Long Beach, until 1951 and the Korean War.
On June 19, 1951, Marilyn Monroe is invited to the USS Benham, just before the ship left for the East coast. Marilyn visits the ship and a screening of the film "The Frogmen" on the theme of the UDT teams of the Navy with Richard Widmark, is organized on board. To cover the event and make a photographic report, photographer John Florea accompanies Marilyn.
Marilyn borrowed her outfit from the Fox studios, a black satin dress by costume designer Renié, which she wears in the film "As young as you feel" - which will be released on cinema screens in the USA on August 02, 1951.
---
- Dans la presse -
article de presse du 19/06/1951 - USA

---
> Source Web
article "Warship Marilyn's Tin Cans" sur le blog laststandonzombieisland.com
---
© All images are copyright and protected by their respective owners, assignees or others.
copyright text by GinieLand.
Séance "Maurice Chevalier"
Maurice Chevalier Sitting
---
Marilyn Monroe et Maurice Chevalier photographiés par Milton H Greene, l'après-midi du 30 septembre 1955 dans le studio de Milton Greene de Lexington Avenue, New York, avec Arthur Rothstein, un photographe assistant de Greene. Pendant que le pianiste joue, Chevalier enchaîne les chansons à Marilyn.
Séance pour le magazine "Look", destiné à l'article «Voleurs de scène: vêtements de théâtre à la mode de tous les jours».

Marilyn Monroe and Maurice Chevalier photographied by Milton H Greene, on the afternoon of September, 30, 1955 in Milton Greene' studio in Lexington Avenue, New York, with Arthur Rothstein, Greene's photographer assistant. While the pianist is playing, Chevalier sings songs after songs to Marilyn.
Sitting for "Look" magazine, article "Scene Stealers: Theatrical Clothes in Everyday Fashion."
---
"MCH": "The Maurice Chevalier Sitting"
---
- En coulisses -
- In Backstage -
---
- tirage photo -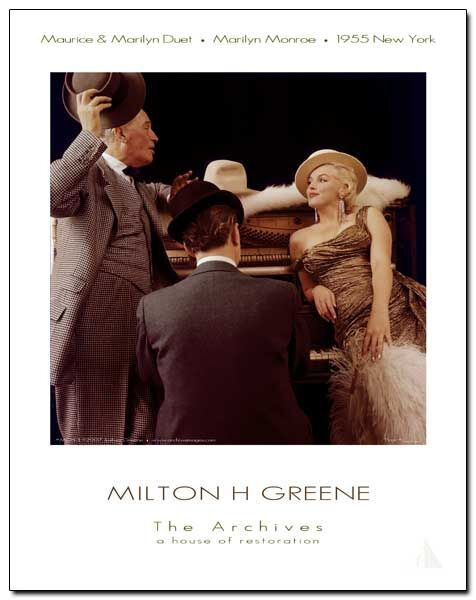 ---
- planches contact -
contact sheets
---
- Magazines -
Look , 13/12/1955 - USA

---
All photos are copyright and protected by their respective owners.
copyright text by GinieLand.
Enregistrer