Séance "Rouge"
Red Sitting
---
Le 27 janvier 1957, c'est dans son studio au 480 Lexington Avenue, à New York que Milton H Greene réalise ce qui restera sa dernière séance avec Marilyn Monroe. Commande pour le magazine" Life", les clichés serviront de support publicitaire pour le film "Le Prince et la Danseuse". Marilyn y apparaît tour à tour mutine et sensuelle, et bien qu'il s'agisse de leur dernière collaboration, il en ressort néanmoins la complicité qui a toujours lié le photographe et la star.

---
On January 27, 1957, it is in his studio at 480 Lexington Avenue in New York that Milton H Greene performs what would be his last sitting with Marilyn Monroe. Realized for the magazine "Life", the pictures will serve as advertising medium for the film "The Prince and the Showgirl". Marilyn appears in turn mutineer and sensual, and although this is their last collaboration, it nevertheless shows the complicity that has always linked the photographer and the star.
---
- "RS": "Red Sitting"
---
> la robe: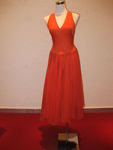 ---
---
All photos are copyright and protected by their respective owners.
copyright text by GinieLand.