Le 12 juin 1951, fête chez Herman Hover, dans sa villa à Beverly Hills, propriétaire du restaurant Ciro's, avec quelques jeunes premiers du cinéma: Nick Savano, Craig Hill, Marilyn Monroe et Mala Powers. La soirée se termina au Ciro's.
Reportage photographique mis en scène pour le magazine Modern Screen (septembre 1951).
In 1951, June, 12, party at Herman Hoover's home, in his villa in Beverly Hills; he is the owner of the Ciro's restaurant. Here, few young film stars: Nick Savano, Craig Hill, Marilyn Monroe and Mala Powers. Marilyn Monroe wears the swimsuit of the movie Let's make it legal. The evening party ended at Ciro's.
Photographic report for Modern Screen magazine (issue 1951, September).

---
Villa Herman Hover

---
Marilyn Monroe dans une rue près du Beverly Carlton Hotel où elle habite, vêtue de la robe blanche du film "Chéri divorçons". Elle porte un genre de vanity case: peut être contient-il son maquillage, maillot de bain et paire de chaussures qu'elle va porter pour la séance photos.
Photographies publiées dans le magazine Look du 23 octobre 1951, sous le crédit du photographe Earl Theisen.
Marilyn Monroe in a street near the Beverly Carlton Hotel where she lives, dressed with the white dress of the movie "Let's Make it Legal". She helds a sort of vanity case: maybe it contains her makeup, swimsuit and pair of shoes that she will wear for the photoshoot.
Photographs published in Look magazine for October 23, 1951, with the credit of photographer Earl Theisen.

- - - - Dans la presse - - - -

1 - photographie de Look, 23/10/1951 - USA
2 -photographie de Filmland, 04/1952 - USA
---
Herman Hover accueille Mala Powers, Craig Hill, Marilyn Monroe et Nick Savano, à la porte de sa villa. C'est la journaliste Beverly Ott, qui écrit l'article pour le magazine Modern Screen, qui a réuni ces quatre invités chez Hover.
Photographie de Bob Beerman.
Herman Hover welcomes Mala Powers, Craig Hill, Marilyn Monroe and Nick Savano at the door of his villa. It's the journalist Beverly Ott, who writes the article for Modern Screen magazine, who reunites these four guests together at Hover's.
Photograph by Bob Beerman.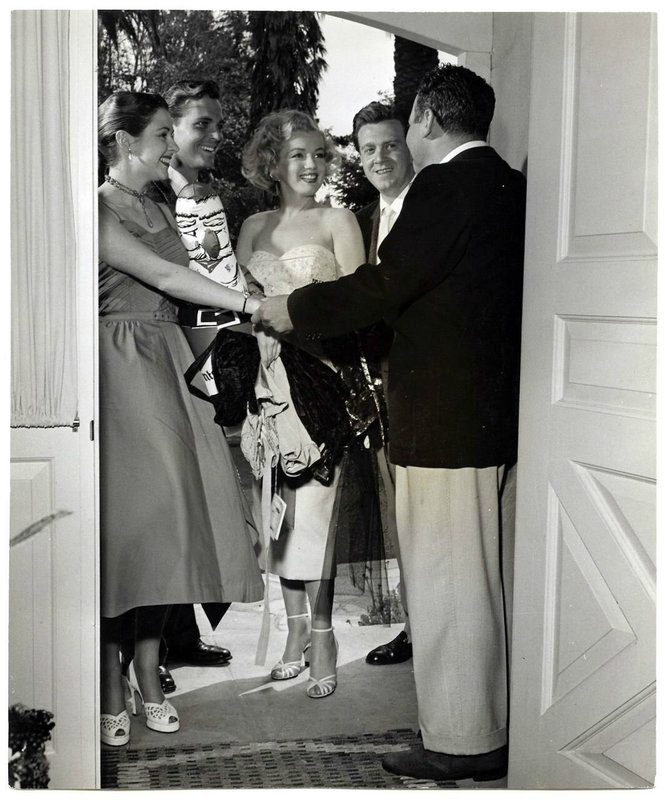 ---
Les quatre invités vont se changer pour aller mettre leur maillot de bain. Marilyn Monroe porte un maillot de bain de la styliste Rose Marie Reid.
The four guests are going to change clothes to wear their swimsuits. Marilyn Monroe wears a swimsuit by designer Rose Marie Reid.
---
Quand Marilyn met son doigt de pied dans l'eau de la piscine, elle frissonne en trouvant l'eau trop froide. Craig Hill et Nick Savano décident alors de mettre les filles à l'eau. Beverly Ott rapporte dans l'article que Marilyn nage très bien; Marilyn explique qu'elle a pris des leçons de natation, car elle avait une "peur bleue" car tombée dans une piscine quand elle était petite, elle avait failli se noyer.
Photographies de Bob Beerman.

When Marilyn puts her toe in the pool water, she shivers cause she finds the water too cold. Craig Hill and Nick Savano then decide to put the girls in the water. Beverly Ott reports in the article that Marilyn swims very well; Marilyn explains that she took swimming lessons because she was "scared silly" because she fells into a swimming pool when she was little, and she almost drowned.
Photographs by Bob Beerman.

---
Les invités s'amusent plusieurs activités:
ils jouent aux cartes, les garçons font la course et boxent.
The guests enjoy several activities:
they play cards, the boys race and box.
---
Herman Hover offre un trophée à Marla et Marilyn: un pot de fleurs !
Herman Hover offers a trophy to Marla and Marilyn: a flower pot !
---
Au milieu de l'après-midi, c'est la pause goûter.
Herman Hover leur sert du coca, des sandwichs et des oranges.
In the middle of the afternoon, it's the snack break.
Herman Hover serves them coke, sandwiches and oranges.
---
Marilyn est allongée dans une chaise longue incurvée en skaï rouge
Marilyn is lying in a curved red leatherette lounge chair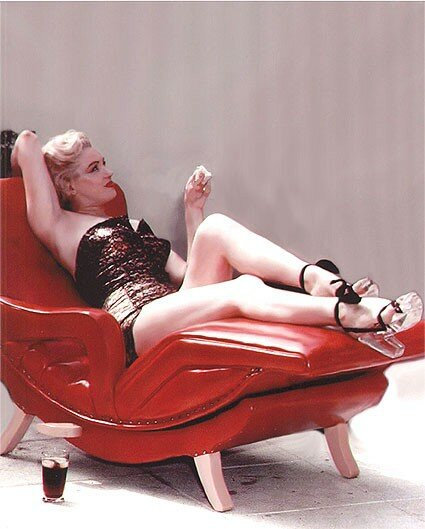 Sur cette série de photos de Earl Theisen
Marilyn est entourée de photographes (dont Frank Powolny)
Cette "séance" a-t-elle été prise en même temps ?
photo publiée dans le Look du 23/10/1951

On this series of photos by Earl Theisen
Marilyn is surrounded by photographers (including Frank Powolny)
Was this "session" taken at the same time?
photo published in the Look of 1951, October, 23
---
Marilyn au téléphone
photographie créditée Bob Beerman / Earl Theisen
publiée dans le Modern Screen de Septembre 1951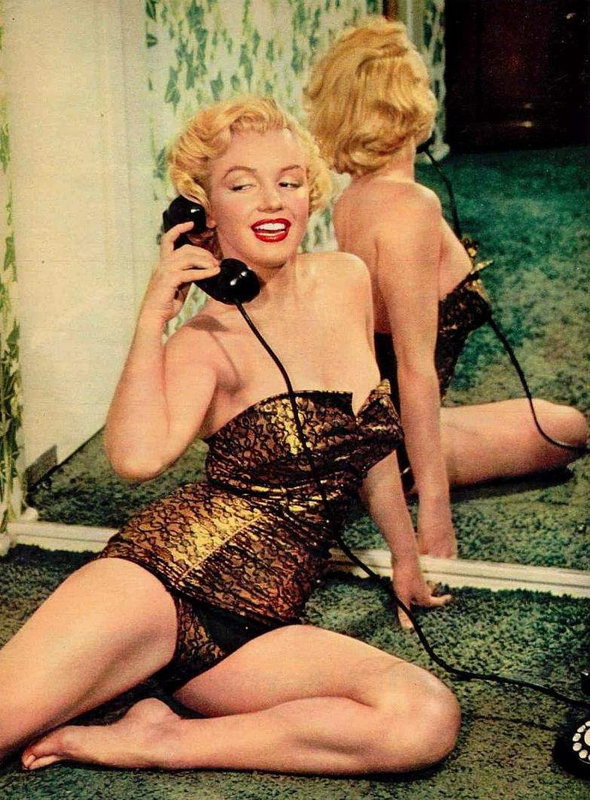 Marilyn on the phone
photo credit Bob Beerman / Earl Theisen
published in the Modern Screen of September 1951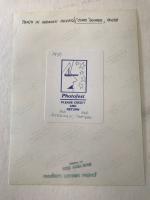 - Magazines -
---
Ciro's Party

---
Soirée au Ciro's, le club de Herman Hover, où deux autres invités rejoignent Marilyn, Marla, Craig et Nick: l'actrice Corinne Calvet et son mari (acteur) John Broomfield. Ils n'ont pas pu venir à la villa de Hover l'après-midi car Broomfield était en tournage.
Marilyn a emprunté la robe noire de Renié qu'elle porte dans le film As young as you feel (Rendez-moi ma femme).
Photographies de Bob Beerman.
Evening at Ciro's, Herman Hover's club, where two other guests join Marilyn, Marla, Craig and Nick: actress Corinne Calvet and her husband (actor) John Broomfield. They couldn't come to Hover's villa in the afternoon because Broomfield was on location.
Marilyn borrows the black dress from Renié that she wears in the movie As young as you feel.
Photographs by Bob Beerman.

Dans les toilettes du Ciro's: beaucoup de miroirs
In the toilets of Ciro's: a lot of mirrors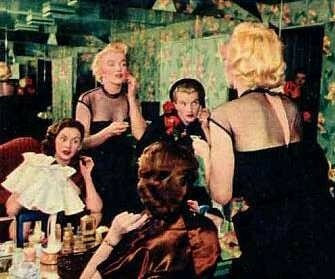 Marilyn passe la soirée à danser avec Craig Hill
Corinne Calvet danse avec son mari John Broomfield
Marilyn spends the evening dancing with Craig Hill
Corinne Calvet dances with her husband John Broomfield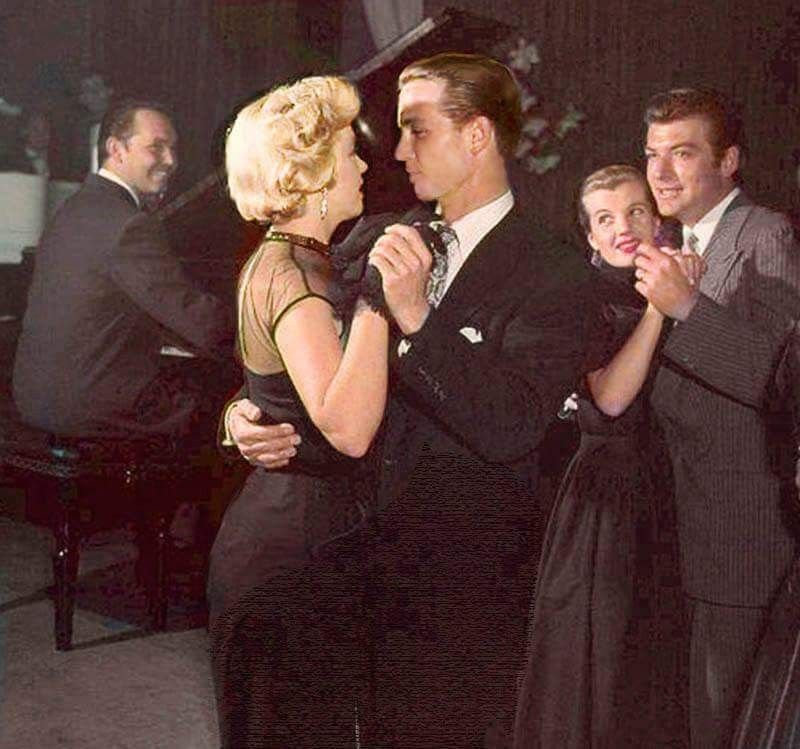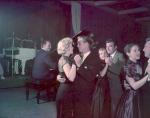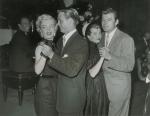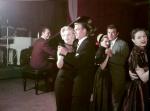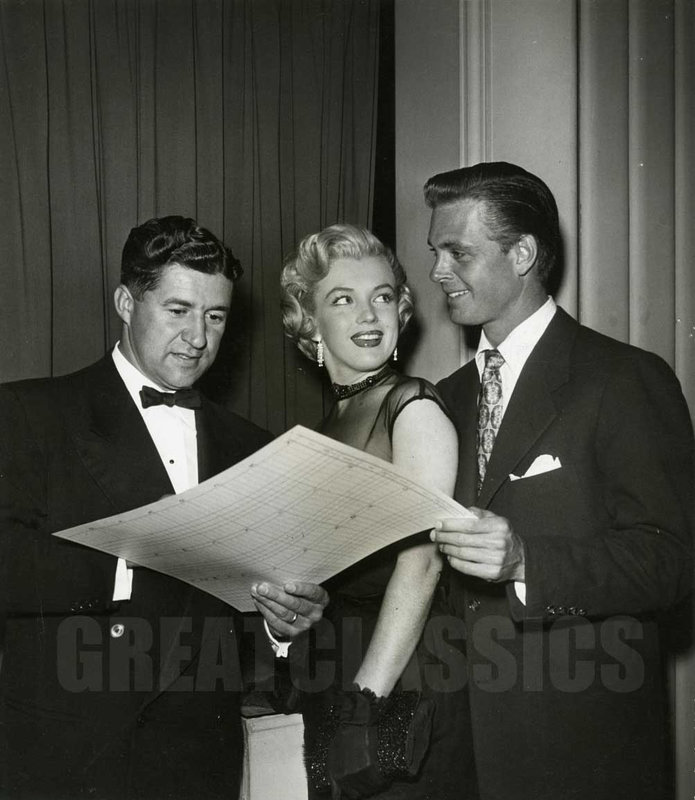 Dans l'article de Modern Screen, on apprend que Marilyn quitte la soirée plus tôt que les autres invités car elle doit se rendre à une lecture de script le lendemain. Et c'est Craig Hill qui la raccompagne avec sa voiture chez elle (au Beverly Carlton Hotel).
In the Modern Screen article, we learn that Marilyn leaves the party earlier than the other guests because she has to go to a script reading the next day. And it is Craig Hill who drives her with his car at her home (at the Beverly Carlton Hotel).
---
© All images are copyright and protected by their respective owners, assignees or others.
copyright text by GinieLand.
Enregistrer