Marilyn par Aarons
Slim Aarons photographia Marilyn Monroe en 1952, en séance studio où Marilyn porte des déshabillés.
Slim Aarons photographed Marilyn Monroe in 1952, in studio session where Marilyn wears lingerie.
---

.1952: Lettres de fans - Portraits en lingerie rouge dans son studio au Beverly Carlton Hotel, au milieu des lettres de fans.
.1952: Fans Mails - Portraits in red negligee in her Beverly Carlton Hotel studio, in the middle of her fans letters.
(> blog 1952, Beverly Carlton Hotel - Lettres de fans par Aarons )

---
.1952: Séance en Lingerie - Portraits en studio de Marilyn en déshabillé noir.
.1952: Sitting in Lingerie - Studio portraits of Marilyn in a neglected black lingerie.
(> blog 1952 - Séance en studio par Slim Aarons )
---

.1952: Lingerie Noire - Marilyn en longue nuisette transparente noire (une tenue non retenue pour le film "Niagara").
- /!/ pas de crédit photographique pour cette séance: selon les sources: Bruno Bernard, Slim Aarons, Dave Preston.
.1952: Black Lingerie - Marilyn wearing a long black transparente nightie, (outfit not chosen for the movie "Niagara")
/!/ No photographic credit for this session: according to various sources: names of Bruno Bernard, Slim Aarons, Dave Preston.
(> blog 1952 - Marilyn en lingerie noire )
---
> Voir les posts de Marilyn par Slim Aarons
---
Slim Aarons
(1916 - 2006)
photographe américain
Slim Aarons, né George Allen Aarons est un photographe américain connu pour ses photographies de la jet set et de la haute société dans les années 1950, 60 et 70.
Né le 29 octobre 1916 à Manhattan, Slim Aarons s'enrôle dans l'armée américaine (Eighth Army Division) à l'âge de 18 ans et travaille comme photographe à l'académie militaire de West Point avant de devenir reporter de guerre lors de la Seconde Guerre mondiale où il est décoré de la Purple Heart. Aarons disait que les combats lui avaient enseigné que la seule plage qui valait la peine qu'on y débarque était celle qui était «ornée de ravissantes jeunes femmes dénudées, bronzant sous un soleil tranquille.»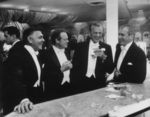 Après la guerre, Aarons rejoint la Californie et commence à photographier des célébrités idéalisées, dans des endroits magnifiques, à la manière de natures mortes. C'est là qu'il prend la photographie la plus admirée, "Kings of Hollywood", une photo du nouvel an 1957 représentant Clark Gable, Van Heflin, Gary Cooper et Jimmy Stewart se détendant dans un bar en tenue de ville.
Aarons n'a jamais eu recours aux artifices pour ses photographies: pas de styliste ou maquilleur, mais simplement la lumière naturelle. Son travail représente le Hollywood glamour et doré: des femmes jolies et gracieuses, des hommes élégants, dans des décors luxueux tels que les immenses villas hollywoodiennes avec piscines, terrasses et jardins, des voitures décapotables, sous un ciel bleu azur, et des palmiers... Les photographies d'Aarons apparaissent dans Life, Town & Country, Holiday, Travel and Leisure. Parmi ses sujets célèbres photographiés, citons Jackie Kennedy, John Fitzgerald Kennedy, Howard Hughes, Esther Williams, Truman Capote, Dolores Del Rio, Diana Dors, Humphrey Bogart, Lauren Bacall, Marilyn Monroe, Melina Mercouri, Joan Collins, Capucine, George Hamilton, Man Ray, John Huston, Louis Jourdan, Peter Sellers, Britt Ekland, Ursula Andress, Marianne Faithfull, Mick Jagger etc...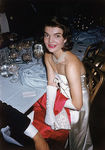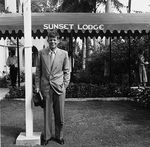 Jackie Kennedy ; John Fitzgerald Kennedy ; Howard Hughes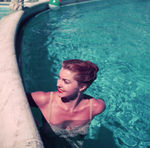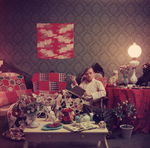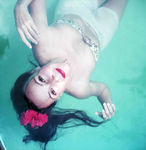 Esther Willimas ; Truman Capote ; Dolores Del Rio


Diana Dors ; Joan Collins ; Melina Mercouri

Aarons a bâti sa carrière sur ce qu'il appelle «photographier des gens attirants faisant des choses attirantes dans des endroits attirants». Au cours d'un entretien donné à The Independent en 2002, il déclare: «Je connaissais tout le monde, ils m'invitaient à leur fêtes car ils savaient que je ne leur ferais pas de mal. J'étais l'un d'entre eux». Le film d'Alfred Hitchcock, Fenêtre sur cour, dont le personnage principal est un photographe interprété par Jimmy Stewart, se déroule dans un appartement, inspiré de celui d'Aarons.
Slim Aarons meurt le 30 mai 2006 à Montrose, New York, à l'âge de 89 ans.

---
> sources web:
Biographie sur wikipedia français
Photos sur photographersgallery
Photos sur staleywise
Photos sur gettyimages
---
© All images are copyright and protected by their respective owners, assignees or others.
copyright text by GinieLand.
Enregistrer