23 mai 2010
1951, Los Angeles chez Natasha Lytess - Marilyn Monroe et sa professeure d'art dramatique Natasha Lytess.
L'une des photographies est publiée dans le magazine Look du 23 octobre 1951, sous le crédit du photographe Earl Theisen.

1951, Los Angeles at Natasha Lytess home - Marilyn Monroe and her drama teacher Natasha Lytess.
One of the photographs is published in Look magazine of October 23, 1951, with the credit of photographer Earl Theisen.

---
- Dans la presse -
1- photographie de Look, 23/10/1951 - USA
- magazine Look 23/10/1951 -
2- photographie de Tempo, 27/10/1951 - ITALIE
3- photographie de Filmland, 04/1952 - USA
- magazine Filmland 04/1952 -
---
© All images are copyright and protected by their respective owners, assignees or others.
copyright text by GinieLand.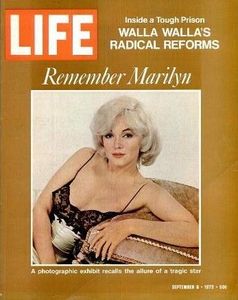 Le magazine américain Life du 8 septembre 1972 (volume 73, numéro 10) consacrait sa couverture à Marilyn Monroe au titre "Remember Marilyn", à l'occasion des 10 années de la disparition de la star, une exposition (nommée "Marilyn Monroe: The Legend and the Truth") de 185 photographies prises par 15 photographes était organisée à Los Angeles par Larry Schiller (qui photographia aussi Marilyn) et un article intérieur de 4 pages, intitulé "For Marilyn, a look back in adoration" publie certaines de ces photographies.