28 mai 2010
Tournée promo pour "Love Happy"
"Love Happy" Tour Promo
Partie en train pour sillonner les grandes villes américaines afin de faire la promotion du film "La pêche au trésor", Marilyn Monroe arrive à Rockford, dans l'Illinois, le 12 juin 1949 et n'y reste que quatre jours: elle rencontre la presse locale, se rend à la piscine, se promène sous la pluie en mini short... Elle saisit la moindre occasion pour se faire photographier.
Leaving by train to travel through major American cities to promote the movie "Love Happy", Marilyn Monroe arrives in Rockford, Illinois, on June 12, 1949 and stays there only four days: she meets the local press, goes to the swimming pool, walks in the rain in mini shorts ... She takes every opportunity to be photographed.
---
Elle arrive à Rockford le dimanche 12 juin 1949 en début de soirée; un buffet est organisé pour son arrivée à l'hôtel Faust, lui permettant de rencontrer les journalistes de la presse locale (comme Charlie Ayres qui l'interviewera). Elle y boit un chocolat chaud avec du lait.

She arrives in Rockford on Sunday June 12, 1949 in the early evening; a buffet is organized for her arrival at the Faust hotel, allowing her to meet the journalists of the local press (as Charlie Ayres who will interview her). There she drinks hot chocolate with milk.
---
Le 13 juin, elle se rend à la piscine. Vêtue d'un maillot de bain deux pièces, elle discute avec les sauveteurs (Ruth Perkins et Don Casey).
On June 13, she goes to the swimming pool. Dressed in a two-piece swimsuit, she chats with the lifeguards (Ruth Perkins and Don Casey).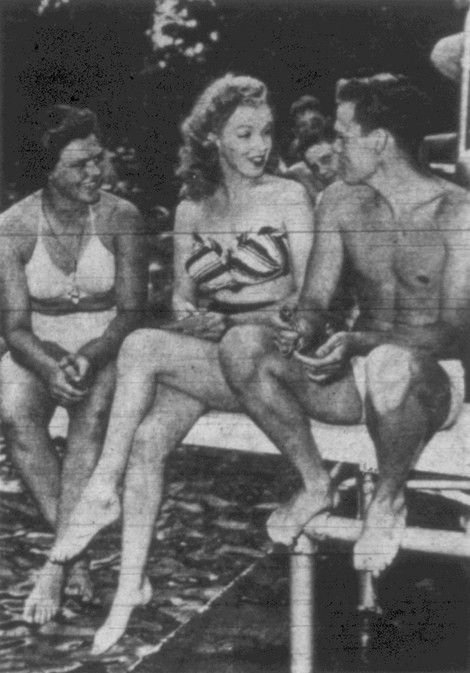 Le maillot de bain est de / The swimsuit is by Rose Marie Reid

- Bonus sur le blog -
Plus d'informations sur le maillot de bain:
More information about the swimsuit:
article Maillot de bain en taffetas à carreaux de Rose Marie Reid
---
- Dans la presse -
Rockford Register, 13/06/1949 - USA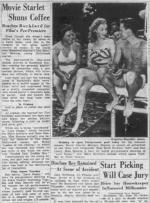 ---
- Publicité pour les maillots de bain de chez Owens Inc
Publicity for Owens Inc swimsuit

Rockford Register, 19/06/1949 - USA

---
Toujours le 13 juin,
elle est photographiée vêtue d'un petit short et tee-shirt blancs à son hôtel...
Also on June 13,
she is pictured wearing little shorts and white t-shirt at her hotel ...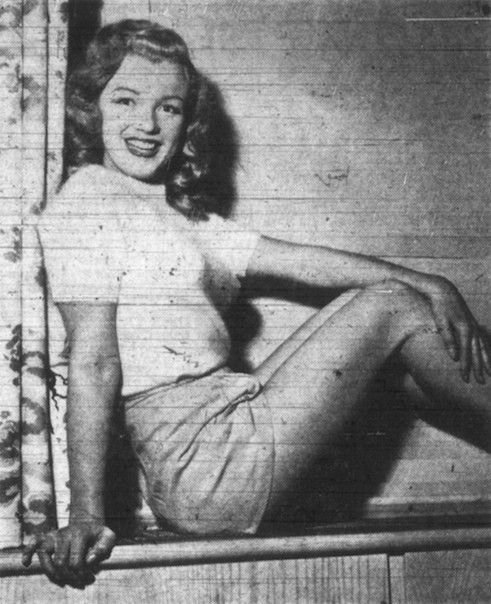 ...et dans une rue sous la pluie, avec un sosie de Harpo Marx lui tenant un parapluie.
... and in a rainy street, with a Harpo Marx lookalike holding her an umbrella.
- Dans la presse -
Rockford Register, 14/06/1949 - USA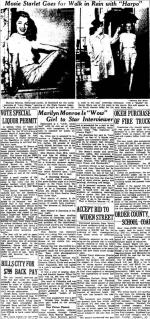 Elle ne fume pas et ne boit jamais de café
Ses acteurs préférés sont Laurence Olivier et Joan Crawford
Elle aimerait tourner avec Montgomery Clift
Elle aime écrire des histoires courtes, de la poésie,
mais aussi dessiner et peindre.
She doesn't smoke and never drinks coffee
Her favorite actors/ actress are Laurence Olivier and Joan Crawford
She would like to make a movie with Montgomery Clift
She likes to write short stories, poetry,
but also draw and paint.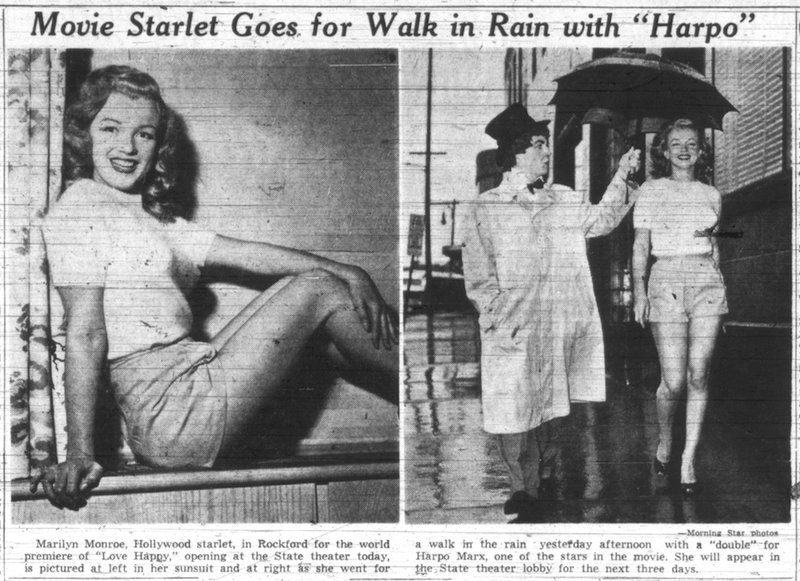 ---
Le 14 juin, elle participe au "Jour du drapeau" dans les rues de la ville, accompagnée de représentants de l'armée.
Aux États-Unis, le jour du drapeau (anglais : Flag Day), célébré le 14 juin, commémore l'adoption du drapeau des États-Unis qui s'est déroulée à cette date à la suite d'une résolution du Second Congrès continental en 1777.

On June 14, she participates to the "Flag Day" in the streets of the city, accompanied by representatives of the army.
In the United States, Flag Day, celebrated on June 14, commemorates the adoption of the flag of the United States which took place on that date following a resolution of the Second Continental Congress in 1777.
- Dans la presse -
Rockford Register, 14/06/1949 - USA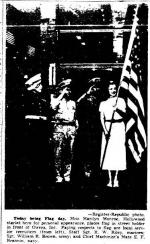 ---
La même journée du 14 juin, de sa propre initiative, elle visite un orphelinat.

The same day of June, 14, on his own initiative, she visits an orphenage.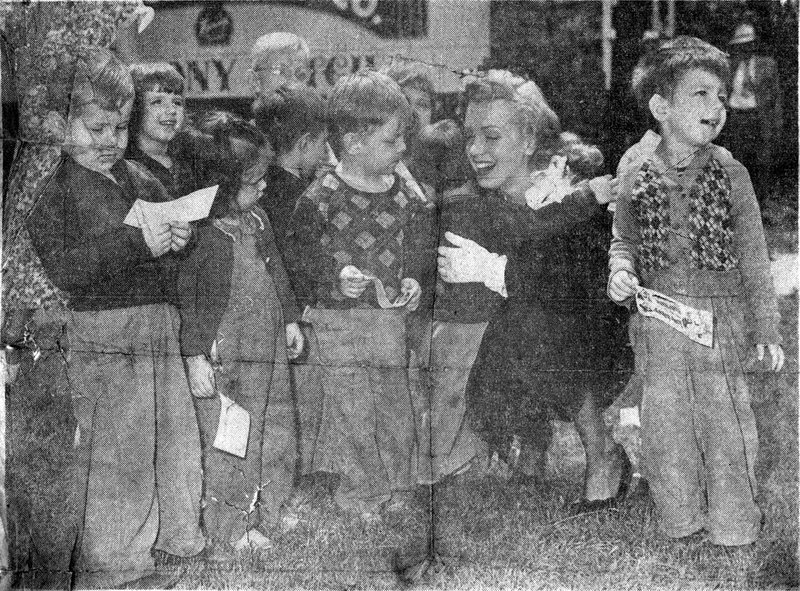 - Dans la presse -
Rockford Register Republic, 15/06/1949 - USA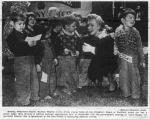 ---
Dans l'après-midi du 14 juin, se tient la première du film "Love Happy" au State Theatre. Sur le trottoir devant le théâtre, de gros travaux d'aménagement sont en cours; des ouvriers vont installer à la hâte un pont flottant avec un petit panneau où ils y ont inscrit: "Pour les pieds de Marilyn, seulement !"
Au théâtre, Marilyn va signer plusieurs autographes aux spectateurs, au dos des tickets d'entrée.
Témoignage d'un jeune habitant de l'époque, Tom Hallden:
"C'était le jour du drapeau, le 14 juin 1949, l'école était fermée et avec l'un de mes oncles, nous avons décidé d'aller au cinéma. J'ai entendu sa voix à la radio, et il s'est avéré que c'était celle de Marilyn Monroe. Cet après-midi-là, elle se produirait au State Theatre dans le bloc 100 de West State Street. Elle a joué un rôle dans le film des Marx Brothers, "Love Happy". Nous avons acheté nos billets, sommes entrés et elle était là, dans le hall arrière, derrière un comptoir. Nous nous sommes approchés d'elle. J'avais mon livre d'autographes et je le lui ai présenté et j'ai demandé son autographe. Elle l'a pris, m'a demandé mon nom et a écrit: "Bonne chance pour toujours, Tom, Marilyn Monroe". Je l'ai encore aujourd'hui parmi d'autres: Ronald Reagan, Hank Aaron, Mickey Rooney, Peter Graves, Roger Whitaker, Lee Grant et bien d'autres. C'était vraiment une belle jeune femme."
On the afternoon of June 14, the premiere of the movie "Love Happy" is held at the State Theater. On the sidewalk in front of the theater, major development work is underway; workers are going to hastily install a pontoon bridge with a small sign on which they have written: "For Marilyn's little feet, only!"
At the theater, Marilyn will sign several autographs for the spectators, on the back of the entrance tickets.
Testimony of a young resident of the time, Tom Hallden:
"It was Flag Day, June 14, 1949, school was out and an uncle of mine and I decided to go to a movie. I heard her voice on the radio, and it turned out to be that of Marilyn Monroe. That afternoon, she would be appearing at the State Theater in the 100 block of West State Street. She had a walk-on part in the Marx Brothers movie, "Love Happy." We bought our tickets, went in and there she was, in the back lobby behind a counter. We walked up to her. I had my autograph book and presented it to her and asked for her autograph. She took it, asked my name and wrote, "Best of Luck Always, Tom," Marilyn Monroe. I still have this today along with others: Ronald Reagan, Hank Aaron, Mickey Rooney, Peter Graves, Roger Whitaker and Lee Grant and others. She was truly a beautiful young lady."
- Dans la presse -
Rockford Register, 15/06/1949 - USA

Rockford Register, 20/06/1949 - USA

Rockford Morning Star, 11/01/1952 - USA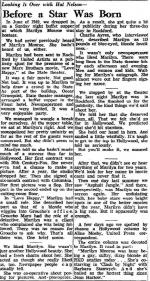 ---
Des séances de représentation du film ont lieu les jours suivants toujours au cinéma State Theatre: Marilyn est présente dans le hall du cinéma les mercredi 15 juin, et jeudi 16 juin - les actrices principales du film -Ilona Massey, Vera-Ellen et Marion Hutton- ainsi que la venue d'un des frères Marx avaient été annoncés dans la presse.
Screenings of the film take place the following days, always at the State Theater cinema: Marilyn is present in the lobby of the theatre on Wednesday, June 15, and Thursday, June 16 - the main actresses of the film -Ilona Massey, Vera-Ellen and Marion Hutton- as well as the arrival of one of the Marx brothers had been announced in the press.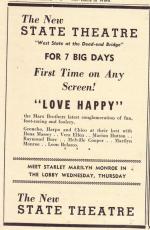 The Freeport Journal Standard, 24/05/1949 - USA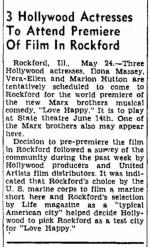 ---
Sources:
photos et histoire de Laird Scott, enfant en 1949 sur Flickr Laird Scott
Coupures de presse + citation de Hallden du Forum Everlasting Star (thanks to the forum ES)
---
© All images are copyright and protected by their respective owners, assignees or others.
copyright text by GinieLand.