30 mai 2010
En 1943 sur l'île de Santa Catalina, devant le zoo (parc de Wrigley): Norma Jeane et son mari James Dougherty avec un couple d'amis (les Gaddis, dont Jim était le parrain de leur bébé James Edward Gaddis).
In 1943 on Santa Catalina Island, in front of the zoo (Wrigley Park): Norma Jeane and her husband James Dougherty with friends' couple (the Gaddis, of whom Jim was godfather to their baby James Edward Gaddis).
---
© All images are copyright and protected by their respective owners, assignees or others.
copyright text by GinieLand.
Photographies de Norma Jeane en 1945, sans doute une commande de l'agence Blue Book, peut être destinée au catalogue de vente par correspondance "Montgomery Ward Catalogue". Elle porte deux maillots de bain deux pièces de la marque Catalina qui doivent lui appartenir (un à rayures et un bicolore avec un motif d'oiseau) car elle les portera à nouveau dans plusieurs autres séances photos.
Photographs by Norma Jeane in 1945, probably commissioned by the Blue Book agency, maybe for the "Montgomery Ward Catalog" a mail order catalog. She wears two two-piece swimsuits of brand Catalina that must be her own (one in stripes and one in two-tone with a bird motif) as she will be wearing them again in several more photoshoots.

---
Studio Farr-Hueth
Pico Boulevard, Los Angeles
Photographe: Potter Hueth

---
Studio H.Maier
---
- Bonus sur le blog -
Plus d'informations sur les maillots de bain Catalina:
More information about the Catalina swimsuits:
- Dressing - Maillot de bain deux pièces rayé de Catalina
- Dressing - Maillot de bain deux pièces motif de L'Oiseau de Catalina

---
All photos are copyright and protected by their respective owners.
copyright text by GinieLand.
Portraits d'identité de Norma Jeane Dougherty chez un photographe vers 1944
Identity portraits of Norma Jeane Dougherty taken at a photographer's - circa 1944
---
- Portrait dédicacé pour Berniece Miracle, sa soeur:
- Portrait signed for Berniece Miracle, her sister:
"To my Dear Sister,
Love,
Norma Jeane"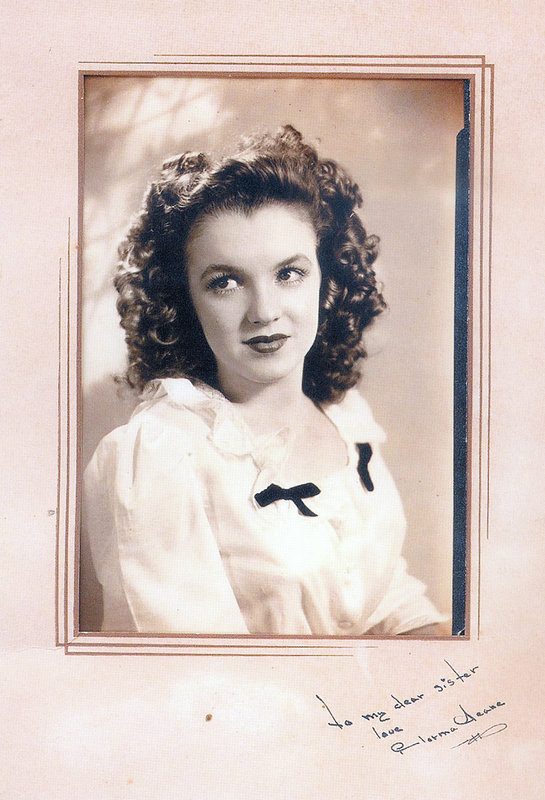 Portrait vendu aux enchères en mars 2001 par Sotheby's
[ Catalogue "Personal Property of Marilyn Monroe: The Berniece & Mona Miracle Collection", Sotheby's, 02/2001 ]
- Portrait dédicacé pour James Dougherty, son mari:
- Portrait signed for James Dougherty, her husband:
"To the most wonderful hubby in the whole wide world,
Love,
Norma Jeane"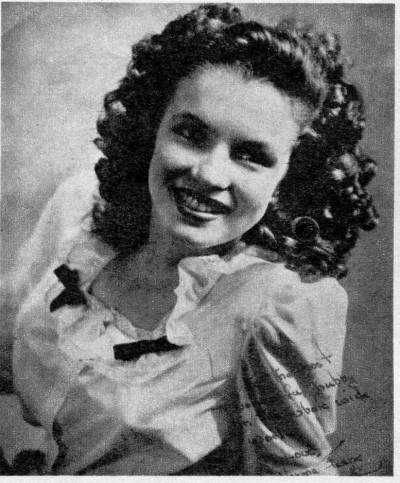 ---
Portrait figurant dans sa fiche d'identification de l'usine Radioplane.
(voir: 18/04/1944 - Fiche de l'usine Radio Plane )
Grâce à ce portrait, elle remporte le titre de "Reine de beauté" de Radioplane
(voir: 08/1944, Fête Radioplane - Marilyn élue "Reine de beauté" )
Portrait appearing in her identification employment record from the Radioplane factory.
Thanks to this portrait, she won the title of "Beauty Queen" of Radioplane.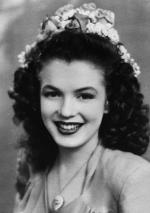 Portrait envoyé à sa soeur Berniece Miracle:
Portrait sent to ehr sister Berniece Miracle: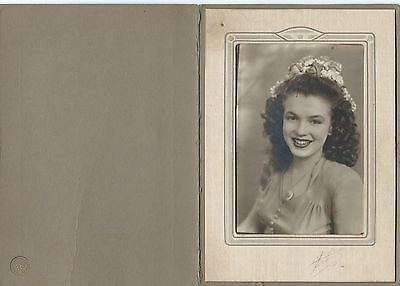 ---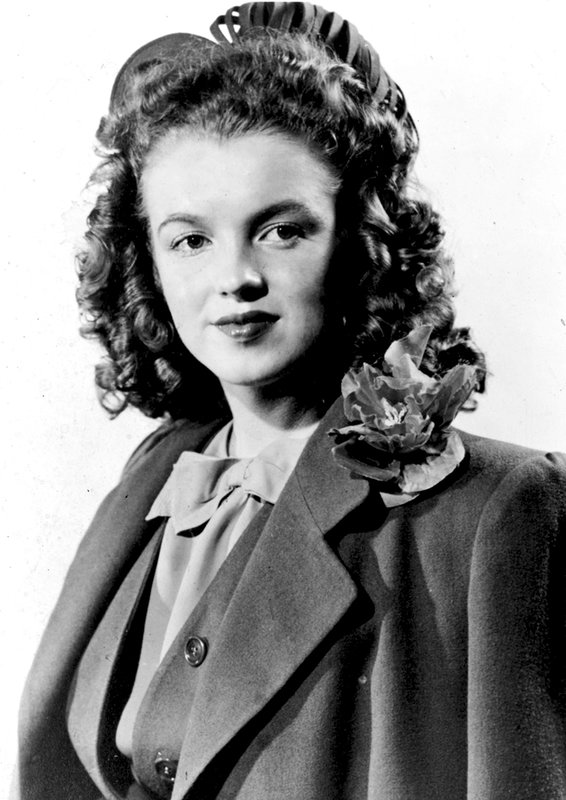 Portraits datant certainement de l'automne 1944
C'est dans cette tenue qu'elle rencontre sa demie-soeur Berniece
à Détroit, fin octobre 1944
(voir: Automne 1944, Detroit - Norma Jeane rencontre Berniece )
Portraits certainly dating from the fall of 1944
It is in this outfit that she meets her half-sister Berniece
in Detroit, late October 1944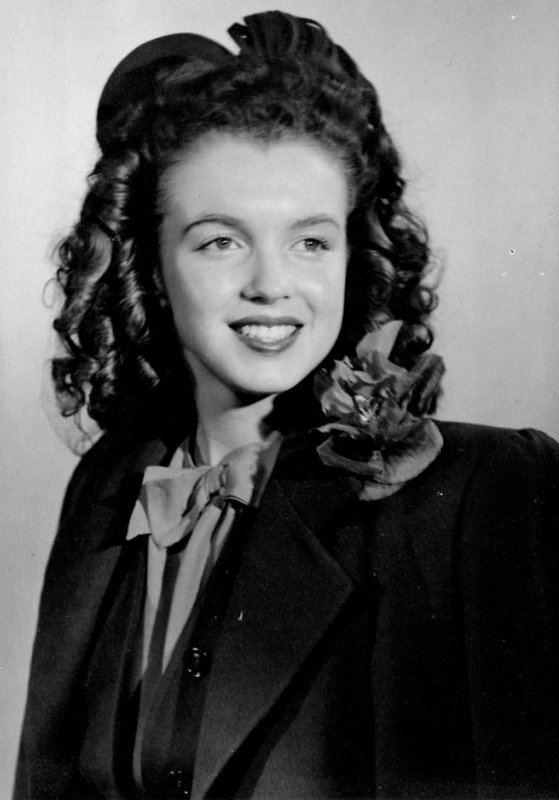 ---
© All images are copyright and protected by their respective owners, assignees or others.
copyright text by GinieLand.
Le 04 juin 1945, Norma Jeane Dougherty écrit deux lettres: une lettre adressée à sa demie-soeur Berniece Miracle et une lettre à son ancienne tutrice Grace Goddard.
On June 4, 1945, Norma Jeane Dougherty wrote two letters: a letter addressed to her half-sister Berniece Miracle and a letter to her former guardian Grace Goddard.
---
Lettre courte de 2 pages adressée à Berniece Miracle dans laquelle Norma Jeane lui raconte être désormais mannequin (depuis le printemps, elle pose en effet pour plusieurs photographes comme David Conover, Potter Hueth, M.O Schwartz, John Randolph) et est donc très occupée. Se retrouvant seule suite au départ de son mari Jim Dougherty en mission dans le Pacifique (il ne revient que de courtes périodes), Norma Jeane s'est d'abord installée chez ses beaux-parents Dougherty puis, comme elle le dit dans sa lettre, elle est ensuite partie vivre chez "Tante" Ana Lower. Elle parle brièvement de leur mère Gladys (exprimant sa joie de savoir que leur mère va mieux) et fait part de son désir de voir Berniece et sa famille (elle est mariée avec Paris Miracle, avec qui elle a une fille Mona Rae), venir s'installer en Californie.
Short 2 page letter to Berniece Miracle in which Norma Jeane tells her that she is now a model (since the spring, she has posed for several photographers such as David Conover, Potter Hueth, M.O Schwartz, John Randolph) and is therefore very busy. Finding herself alone following the departure of her husband Jim Dougherty on a mission to the Pacific (he only comes back for short periods), Norma Jeane first moved in with her Dougherty in-laws and then, as she says in her letter, she then goes to live with "Aunt" Ana Lower. She speaks briefly about their mother Gladys (expressing her joy that their mother is getting better) and expresses her desire to see Berniece and her family (she is married to Paris Miracle, with whom she has a daughter Mona Rae), come settle in California.

4 juin 1945,
Ma très Chère Berniece,
S'il te plaît excuse-moi de ne pas t'avoir écrit plus tôt, mais j'ai été tellement occupée.
N'est-il pas merveilleux que Maman aille beaucoup mieux, je suis si ravie et heureuse, je sais que tu dois l'être aussi.
Je vis chez Tante Ana et je fais des photos de mannequinat maintenant et c'est intéressant et très amusant, je t'écrirai plus plus tard, peut être dès demain.
J'éspère que toi et ta famille allez bien, j'éspère qu'un jour vous pourrez tous venir vivre ici.
Berniece, je pense tellement à toi et j'aimerai que nous puissions être ensemble au lieu de se voir une fois de temps en temps. Ma chère, je t'aime vraiment tendrement.
Jimmy veut te rencontrer, il est parti il y a deux semaines,
Avec Amour,
Norma Jeane
June 4th 1945
My Dearest Berniece,
Please forgive me again for not writing sooner but I have been so busy dear.
Isn't it wonderful that Mother is so much better, I'm so thrilled and happy and I know you must be to.
I'm staying with Aunt Ana also I'm doign photography Modeling now and it interesting and lots of fun, will write more later, perhaps tomorrow.
I hope you and your family are all fine, I do hope some time you could all move out here to live.
Berniece I think of you so much and wish we could be together at least where we could see one another often. For Dear I do love you very dearly.
Jimmy wants to meet you, he left two weeks ago.
Love
Norma Jeane
---
Longue lettre de 8 pages à Grace Goddard dans laquelle Norma Jeane raconte ses débuts de mannequinat. Elle explique avoir arrêté définitivement son travail à l'usine où elle y a rencontré le photographe David Conover, venu faire un reportage photo pour l'armée. Elle détaille ainsi le déroulement des événements qui l'ont amené à poser comme modèle. Elle ne pose en photo que lorsque son mari Jim Dougherty est absent, déclarant d'ailleurs que ce travail de mannequinat ne pose aucun souci à Jim. Elle promet à Grace de lui faire parvenir des photos où elle pose comme mannequin. Elle conclut par une marque d'affection à Doc Goddard (le mari de Grace qu'elle appelle "Papa") et la fille de celui-ci, Bebe. Elle parle d'un homme "Ray Wolfy" non identifié.
Long 8 page letter to Grace Goddard in which Norma Jeane tells her modeling beginnings. She explains that she definitively stopped working at the factory where she met photographer David Conover, who came to do a photo report for the army. She thus details the course of events which led her to pose as a model. She only poses for photos when her husband Jim Dougherty is absent, declaring that this modeling job poses no problem for Jim. She promises Grace to send her photos where she poses as a model. She concludes with a mark of affection for Doc Goddard (Grace's husband whom she calls "Daddy") and his daughter, Bebe. She talks about an unidentified man "Ray Wolfy".
4 juin 1945
Ma très Chère Grace,
Je suis affreusement désolée de ne pas avoir écrit avant mais honnêtement, j'ai tellement été occupée par mes déplacements, pour que Jimmy soit prêt pour son départ, et juste un million de choses à faire en même temps.
Je n'ai pas travaillé à la Radio Plane Company depuis janvier. Ils m'ont demandé de revenir mais
2
je ne veux plus vraiment faire ce genre de travail car cela me fatigue tellement, Je me fiche de tout quand j'ai cette fatigue.
Le jour où je suis revenue travailler, après le retour de mon dernier voyage avec toi, il y avait quelques photographes de l'armée et ils prenaient des photos pour l'armée.
3
La première chose que j'ai su est que la chef et le chef m'avaient fait sortir pour que l'armée prennent des photos de moi. Ils ont tous demandé dans quel service j'avais été cachée. Je leur ai répondu que j'étais de retour après une absence où j'étais avec les miens.
Ils ont pris beaucoup de photos de moi, et certains d'entre eux m'ont demandé des rendez-vous etc... (naturellement, j'ai refusé !)
4
Ils étaient tous des officiers de l'armée bien sympathiques. Après avoir fini de faire les photos, un capitaine de l'armée du nom de David Conover m'a dit qu'il était très interessé d'obtenir d'autres clichés de moi en couleur. Il avait un studio sur Sunset Boulevard, dans le quartiers des night clubs. Il m'a dit qu'il s'arrangerait avec mon chef intendant si j'accepterai donc je lui ai dit OK, il m'a dit quel vêtement porter,
5
quel fard à paupières et rouge à lèvre etc... ainsi les deux semaines suivantes, j'ai posé pour lui à différents moments, quand il pouvait revenir à l'usine. Il venait toujours de Culver City. Maintenant il fait parti de 1st Motion Picture Unit.
Un jour, il m'appela à l'usine tard dans la matinée, et m'a dit que toutes les photos étaient parfaites et il a dit aussi que
6
je devrais me lancer dans le mannequinat professionnel. Il m'a aussi dit que j'étais très photogénique et qu'il veut faire encore plus de photos. Ainsi, il m'a dit qu'il avait beaucoup de contacts vers lesquels ils voulaient m'orienter.
Je lui ai répondu que je ne préférerai pas travailler quand Jimmy sera là, donc il m'a dit qu'il attendrait et ainsi je m'attendais à
7
avoir de ses nouvelles. Il m'appela pas bien longtemps après, et m'a dit qu'il avait beaucoup de tirages pour moi.
Il est d'une gentillesse absolue, il est marié et ne parle strictement que de travail, ce qui me convient. Jimmy semble aimer l'idée que je fasse du mannequinat, donc je suis contente pour ça.
Je vais demander à David Conover quelques tirages en plus, et je t'en enverrai
8
quelques-uns.
Qu'as-tu entendu sur Ray Wolfy ? Penses-tu toujours que Papa peut arranger ça ?
Je serai tellement heureuse de te revoir ma chère, et de voir Daddy et Bebe, parce que je vous aime tous tellement.
Je t'écrirai encore demain, je te le promets !
Avec Amour,
Norma Jeane,
PS: S'il te plaît excuse-moi d'écourter la lettre mais je dois me dépêcher.
June 4th 1945
My Dearest Grace,
I'm awfully sorry I haven't writen sooner but honestly I have been so busy trying to get moved, getting Jimmy ready to leave and just a million things at one time.
I haven't worked at Radioplane Company since January. They keep asking me to come back but

2
I don't really want to do that kind of work anymore because it makes me so darn tired, I just don't care about anything when I'm that tired.
The day I went back to work, after my trip back East with you, thay had some Army photographers there at work and they were taking Moving Pictures for Army training.

3
The first thing I knew the leadlady and leadman had me out there having the Army taking pictures of me. They all asked where in the H... I had been hidding. I told them I had been back east on leave of absence with my folks.
They took a lot of moving pictures of me, and some of them asked for dates etc. (Naturaly I refused !)

4
They were all nice army officers and men. After the finished with some of the pictures, a army Cpl by the name of David Conover told me he woud be very interested in getting some color still shots of me. He use to have a studio on "the strip" on Sunset. He said he would make arrangments with the Plant superintendent if I would agree so I said okay he told me what to wear and

5
what shade lipstick etc. so the next couple of weeks I posed for him at different times, when ever he could get over to the plant.
He had to come from Culver City each time. He is now with the 1st Motion Picture Unit.
He called me at the plant one morning later and said that all the pictures came out perfect also he said that

6
should by all means go into Modeling prof. He also said that I photographed very well and that he wants to take a lot more. Also he said he had a lot of contacts in which he wanted me to look into.
I told him I would rather not work when Jimmie was here so he said he would wait, so I'm expecting to hear

7
from him most any time again. He called not long ago and said he had a lot more prints for me to keep.
He is awfully nice and is married and is strictly business, which is the way I like it. Jimmy seems to like the idea of me modeling so I'm glad about that.
I'm going to ask David Conover for some more prints and I'll send you

8
some.
What do you hear from Ray Wolfy ? Do you still think that Daddy can fix it up okay ?
I shall be so happy to see you again dear and to see Daddy and Bebe, because I love you all so much.
I'll write again tomorrow, I promise !
With Love,
Norma Jeane
P.S. Please excuse my writing because i'm in a hurry.
---
source Lettre à Grace vendue aux enchères en 2011 par Julien's Icons & Idols Hollywood
---
© All images are copyright and protected by their respective owners, assignees or others.
copyright text by GinieLand.
C'est par l'intermédiaire de l'agence de mannequin Blue Book qui lui fait signer ce premier contrat pour lequel Norma Jeane travaille comme hôtesse d'acceuil / réceptionniste dans une foire organisée par la compagnie industrielle Holga Steel au Pan Pacific Auditorium de Los Angeles les 5 et 6 septembre 1945. Elle est payée 10 Dollars la journée.
Emmeline Snively, directrice de l'agence Blue Book, racontera alors: "Je ne pense pas que cette enfant ait jamais été dans un hôtel de première classe auparavant dans sa vie … elle n'arrêtait pas de regarder autour d'elle comme si c'était un nouveau monde."

It was through the Blue Book Model agency that make her sign this first assignment for which Norma Jeane works as a hostess / receptionist at a fair organized by the industrial Holga Steel company at the Pan Pacific Auditorium of Los Angeles on 5 and 6 September 1945. She is paid 10 Dollars a day.
Emmeline Snively, director of the Blue Book agency, will then say: "I don't think that kid had ever been inside a first-class hotel before in her life... she kept glancing around at things like it was a new world."