L'été 1943, James Dougherty s'engage dans la marine marchande et militaire: pour sa première affectation, il est envoyé sur l'île de Santa Catalina sur les côtes de la Californie, à Avalon, la grande ville de l'île. Sa femme Norma Jeane le rejoint l'automne et le couple va y rester près d'une année et demie, habitant dans un appartement (sur l'avenue Descando).
La vie semblait être plutôt agréable et paisible pour Norma Jeane: le couple avait des amis (le couple White et la famille Gaddis - dont Jim était le parrain de leur bébé James Edward Gaddis), Norma Jeane promenait son chien Muggsie, pratiquait du sport (faisant de l'haltérophilie avec Howard Corrington, ancien champion olympique; nageant dans l'océan avec Jim), faisait des sorties (visite du zoo consacré exclusivement aux oiseaux en janvier 1944; allait assister aux matchs de base-ball de l'équipe locale), et faisait parfois du babysitting en gardant le bébé des voisins (pour gagner un peu d'argent).
In the summer of 1943, James Dougherty enlisted in the merchant and military navy: for his first assignment, he is sent to Santa Catalina Island on the coast of California, to Avalon, the island's big city. His wife Norma Jeane joins him in the fall and the couple stay there for nearly a year and a half, living in an apartment (on Descando Avenue).
Life seemed to be pretty nice and peaceful for Norma Jeane: the couple had friends (the White couple and the Gaddis family - to whom Jim was godfather to their baby James Edward Gaddis), Norma Jeane walked her dog Muggsie, played sports (weightlifting with former Olympic champion Howard Corrington; swimming in the ocean with Jim) , went on outings (visiting the zoo devoted exclusively to birds in January 1944; went to watch the local team's baseball games), and sometimes did babysitting keeping the neighbours' baby (to earn a little money).
---
- Portraits de Jim Dougherty en uniforme de la marine marchande -
- Portraits of Jim Dougherty in Marine Merchant uniform -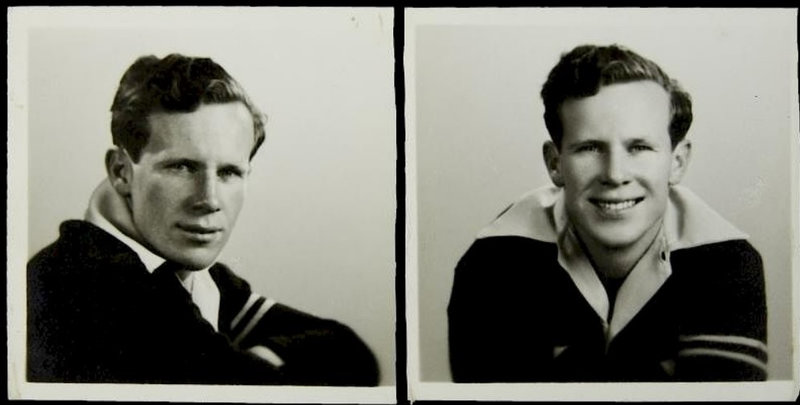 ---
- Sur la plage d'Avalon -
- On Avalon Beach -

---
- en arrière plan, le Casino d'Avalon -
- in background, the Avalon Casino -
---
---
Norma Jeane & Jim Dougherty
- en arrière plan, le Quai de Verdure -
- in background, the green pleasure pier -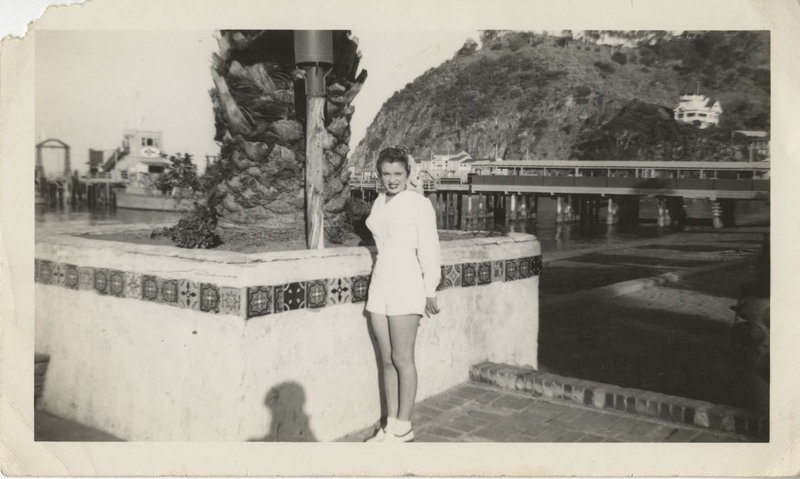 ---
Norma Jeane et le bébé du couple White
Norma Jeane with the White's baby
---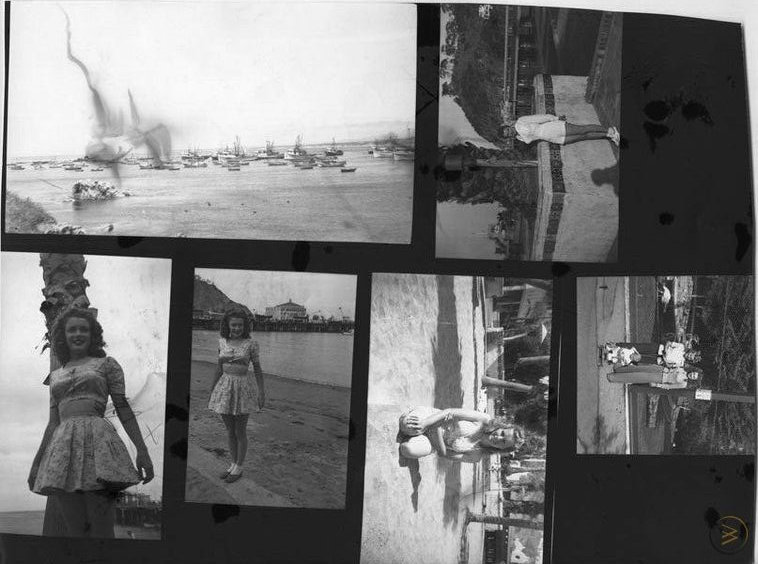 ---
> sources:
- Livres: Marilyn, sa vie en images de Martin Howard
---
© All images are copyright and protected by their respective owners, assignees or others.
copyright text by GinieLand.