Carte postale écrite par Norma Jeane (Marilyn Monroe) à son amie de Los Angeles Jeanette Cox, postée le 28 octobre 1944 de Chicago, où s'est rendu Norma Jeane pour rendre visite à Grace Mc Kee.
Postcard written by Norma Jeane (Marilyn Monroe) to her Los Angeles' friend Jeanette Cox, posted on October 28, 1944 from Chicago, where Norma Jeane travels to visit Grace McKee.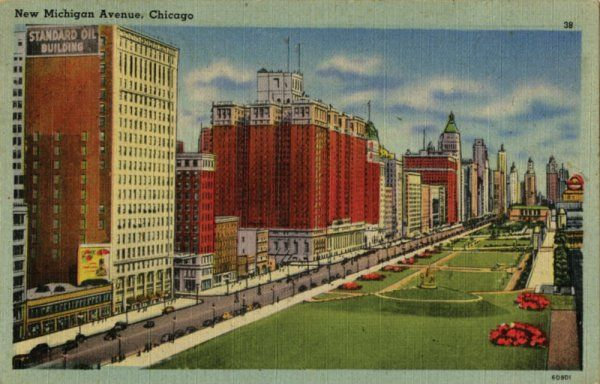 Traduction de la lettre:
Très Chère Jeanette,
Je suis désolée, je ne t'ai pas vu avant de partir, mais toutes les choses semblent se passer si vite.
Je passe quelques temps à Chicago,
Espérant te revoir vite,
Avec Amour,
Norma Jeane
Letter transcription:
Dearest Jeanette,
I'm sorry I didn't see you before I left, but everything seemed to have happened all of of sudden?
I'm having a grand time in Chicago,
Will be seeing you soon,
Love,
Norma Jeane
---
© All images are copyright and protected by their respective owners, assignees or others.
copyright text by GinieLand.