Lettre de 4 pages datée du dimanche 3 décembre 1944, écrite par Norma Jeane Dougherty (Marilyn Monroe) à son ancienne tutrice Grace McKee Goddard.
Elle remercie Grace qui lui a envoyé une robe noire qui lui appartenait. Norma Jeane se sent gênée de ce geste, car c'est une robe de qualité, d'un prix onéreux.
On apprend aussi que Norma Jeane envoie de l'argent à Grace.
Elle lui parle de son voyage de retour de Chicago en train: en octobre, Norma Jeane avait pris le train de Los Angeles pour aller en Virginie rendre visite aux Goddard (Doc qu'elle surnomme "papa", le mari de Grace, et la fille de celui-ci Bebe Goddard), puis elle alla voir pour la première fois sa demie-soeur Berniece qui vivait à Détroit, pour terminer son périple par Chicago pour aller voir Grace. Elle n'oublie pas de remercier encore Grace qui avait été l'initiatrice de ce voyage en organisant la rencontre entre les deux soeurs.
Elle parle aussi toujours de l'absence de son mari Jim Dougherty, parti dans le Pacifique, et de faire part de l'amour qu'elle lui porte.

Letter of 4 pages dated on Sunday, December 3, 1944, written by Norma Jeane Dougherty (Marilyn Monroe) to her former guardian Grace McKee Goddard.
She thanks Grace who sent her a black dress that belonged to her. Norma Jeane feels embarrassed by this gesture, because it is a quality dress, at an expensive price.
We also learn that Norma Jeane sends money to Grace.
She tells her about her return trip from Chicago by train: in October, Norma Jeane had taken the train from Los Angeles to go to Virginia to visit the Goddards (Doc whom she nicknames "daddy", Grace's husband, and the daughter of this one Bebe Goddard), then she went to see for the first time her half-sister Berniece who lived in Detroit, to end her journey by Chicago to see Grace. She does not forget to thank Grace again who had been the initiator of this trip by organizing the meeting between the two sisters.
She also always talks about the absence of her husband Jim Dougherty, gone to the Pacific, and to share the love she has for him.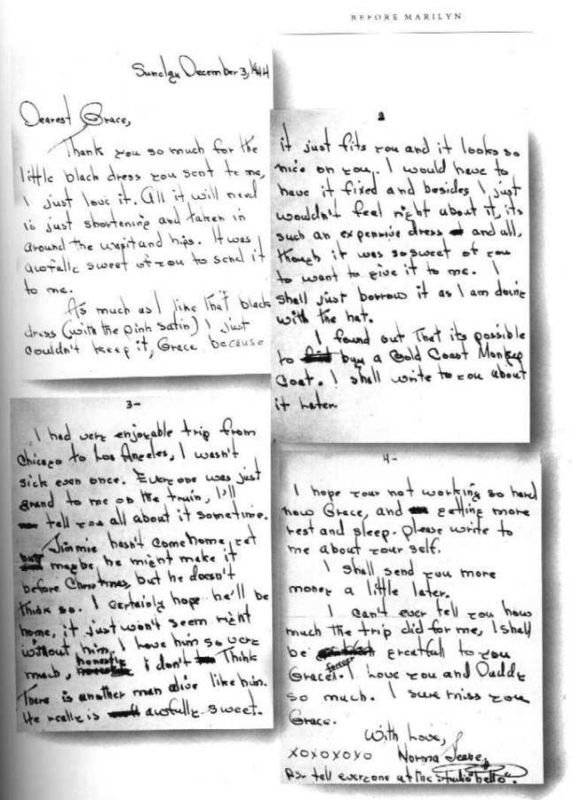 Traduction de la lettre:
Ma très Chère Grace,
Merci beaucoup pour la petite robe noire que tu m'as envoyée, je l'adore. Tout ce dont elle a besoin, c'est d'être raccourcie et réajustée aux hanches. C'est vraiment adorable de ta part de me l'avoir envoyée.
Comme j'aime cette robe noire (avec le satin rose). Je ne pourrais pas la garder Grace, elle t'allait tellement bien et tu étais jolie avec cette robe. J'aurais dû l'arranger mais c'est juste qu'au lieu de ça, je ne me sentirais pas très bien, c'est une robe qui coûte tellement chère et pourtant c'est tellement adorable de ta part de me la donner. Je te l'emprunterai juste, comme avec le chapeau.
J'ai découvert qu'il est possible d'acheter un manteau de singe à crédit. Je t'expliquerai plus tard.
J'ai fait un voyage très agréable de Chicago à Los Angeles, je n'ai pas été malade une seule fois. Tout le monde a été grandiose avec moi dans le train, je te raconterai ça la prochaine fois.
Jimmy n'est pas encore rentré à la maison, il devrait peut être revenir avant Noël, mais il n'est pas encore sûr. J'éspère vraiment qu'il rentrera, tout me semble ne pas aller bien sans lui. Je l'aime tellement, hônnetement je ne pense pas qu'il existe un autre homme comme lui. Il est vraiment terriblement adorable.
J'éspère que tu ne travailles pas trop durement Grace, et de te prendre du bon temps et du repos. S'il te plaît écris moi plus de choses sur toi.
Je t'enverrai plus d'argent un peu plus tard.
Je suis incapable de te dire à quel point ce voyage me fit du bien, je te serai reconnaissante Grace. Je t'aime tellement toi et Daddy. Tu me manques Grace.
Avec Amour,
Norma Jeane,
PS: Dis "bonjour" à tout le monde au studio.

Letter transcription:
Dearest Grace,
Thank you so much for the little black dress you sent to me, I just love it. All it will need is just shortening and taken in around the waist and hips. It was awfully sweet of you to send it to me.
As much as I like that black dress (with the pink satin). I just couldn't keep it, Grace because it just fits you and it looks so nice on you. I would have to have it fixed and besides I just wouldn't feel right about it, its such an expensive dress and all, though it was so sweet at you to want to give it to me. I shall just borrow it as I am doing with the hat.
I found out that its possible to buy a bold coast monkey coat. I shall write to you about it later.
I had very enjoyable trip from Chicago to Los Angeles, I wasn't sick even once. Everyone was just grand to me on the train, I'll tell you all about it sometime.
Jimmie hasn't come home yet, maybe he might make it before Christmas but he doesn't think so. I certainly hope he'll be home, it just won't seem right without him. I love him so very much, honestly. I don't think there is another man like him. He really is awfully sweet.
I hope you not working so hard now Grace, and getting more rest and sleep. Please write to me about yourself.
I shall send you more money a little later.
A can't ever tell you how much the trip did for me, I shall be greatfull to you Grace. I love you and Daddy so much. I sure miss you Grace.
With Love,
XoXoXoXo
Norma Jeane
PS. tell everyone at the Studio "hello".
---
La robe noire au corsage de satin rose que Grace a envoyé à Norma Jeane
Photographie de Grace portant la robe;
et photographie de Norma Jeane portant la robe le 16 mars 1945 au Coconut Grove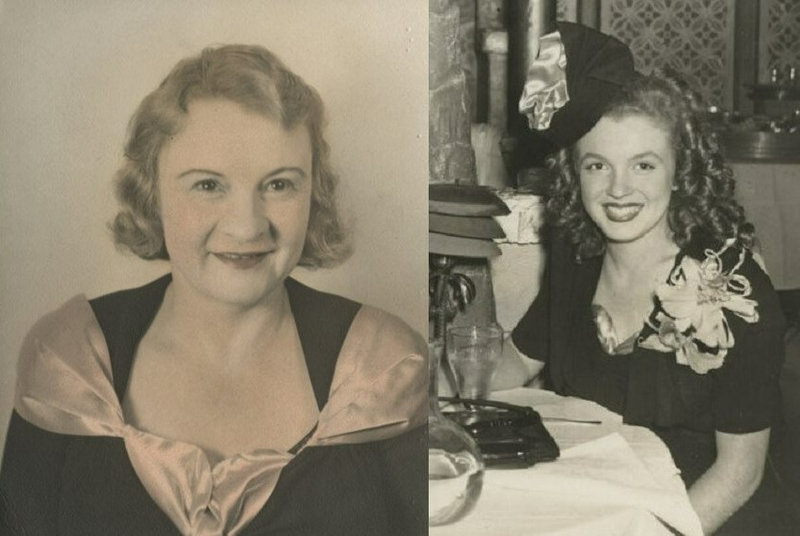 The black dress with the pink satin bodice that Grace sent to Norma Jeane
Photograph of Grace wearing the dress;
and photograph of Norma Jeane wearing the dress on March 16, 1945 at Coconut Grove
---
© All images are copyright and protected by their respective owners, assignees or others.
copyright text by GinieLand.