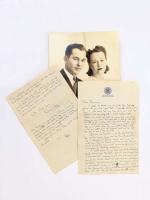 Lettre de 3 pages du 2 février 1944, écrite par Norma Jeane Dougherty (Marilyn Monroe) qui vit à Catalina Island, à sa demie-soeur Berniece Miracle (qui vit à Détroit).
Elles connaissent l'existence l'une de l'autre depuis l'année 1938 et correspondent par lettres, s'échangeant parfois des photographies - comme ici, Norma Jeane remercie Berniece pour la photo d'elle et son mari Paris Miracle envoyée dans sa précédente lettre; elles ne se sont jamais encore rencontrées (cette rencontre se fera à l'automne 1944).
On ressent une grande joie de la part de Norma Jeane d'avoir une soeur: elle a notamment exposé en évidence la photographie de Berniece et Paris dans son appartement et déclare être fière d'expliquer aux gens qu'il s'agit de sa soeur. Elle compare aussi leur ressemblance physique avec leur mère. Et elle voudrait même qu'ils viennent s'installer en Californie, tentant d'inciter Berniece à y réfléchir par l'argument que Paris pourrait intégrer la Marine marchande (comme Jim Dougherty).
Le plus touchant est aussi un souvenir dont elle se remémore de son enfance avec leur mère -Gladys- qui l'avait emmené au Casino de Catalina quand elle avait sept ans; mais aussi, à travers cette anecdote, l'irresponsabilité de Gladys qui avait alors laissé la petite Norma Jeane dans un coin du dancing pendant qu'elle s'amusait.

3-page letter dated February 2, 1944, written by Norma Jeane Dougherty who lives in Catalina Island, to her half-sister Berniece Miracle (who lives in Detroit).
They have known of each other's existence since 1938 and correspond by letter, sometimes exchanging photographs - as here, Norma Jeane thanks Berniece for the photo of her and her husband Paris Miracle sent in her previous letter; they have never yet met (this meeting will take place in the fall of 1944).
A great joy on the part of Norma Jeane to have a sister can be felt: she has notably exposed the photograph of Berniece and Paris in evidence in her apartment and declares to be proud to explain to people that it is her sister on it. She also compares their physical resemblance to their mother. And she would even like them to come and settle in California, trying to encourage Berniece to think about it by the argument that Paris could integrate the Merchant Marine (like Jim Dougherty).
The most touching is also a memory she recalls from her childhood with their mother -Gladys- who had taken her to the Catalina Casino when she was seven years old; but also, through this anecdote, the irresponsibility of Gladys who had then left little Norma Jeane in a corner of the dance hall while she was having fun.

Traduction de la lettre:
Chère Berniece,
Je te remercie beaucoup pour la photo que tu m'as envoyé de toi avec Paris que j'ai reçu à la période de Noël. Je suis incapable de dire à quel point tu ressembles tellement à notre mère. J'étais tellement surprise, sans voix.
Les yeux de notre mère ne sont pas aussi foncés que les tiens mais tout le reste est vraiment pareils. Je ne savais pas non plus que Paris était aussi beau. Tante Ana dit qu'elle pourrait voir une légère ressemblance entre toi et moi et que tu ressemblais plus à notre mère que moi.
Pour ma part, j'ai les yeux de maman, ainsi que le front et la plantation de cheveux, mais tout le reste est comme mon père.
Mon mari Jimmy est dans le service maritime. Le service maritime entraîne les hommes à intégrer la marine marchande. Il a un poste à Catalina Island et je l'ai suivi. Jimmy ne voulait pas rentrer dans l'armée donc il a rejoint ce service dans lequel il fait parti maintenant du personnel, il est instructeur d'entraînement physique.
Je ne sais pas si tu as déjà entendu parler de Catalina Island, situé à l'est, c'était (en temps de paix) une très belle station balnéaire pour les vacances d'été et c'est situé à près de 30 miles de Los Angeles .
Ma mère m'y avait emmené pour l'été quand j'avais à peu près sept ans. Je me souviens avoir été au Casino et d'avoir été au dancing avec elle. Bien sûr je n'avais pas dansé, mais elle m'avait laissé m'assoir dans un coin pour la regarder et je me souviens que c'était peu de temps après l'heure d'aller dormir.
Bref, tout ça pour dire que pour la période de Noël, le service maritime a organisé un dancing dans le même casino et moi et Jimmy, nous y sommes allés. Ce fut l'un des plus amusant sentiment que de dancer sur le même sol plus de dix ans après, je veux dire que d'être assez âgée et tout ça, c'est difficile de t'expliquer le sentiment que j'ai ressenti. A ce propos, tu ne te souviens pas du tout de notre mère ?
Nous voyageons par bateau de l'île à la terre ferme à bord du "USS Avalon" et quel bateau! A chaque fois, j'ai été malade. Ils avaient ce même bateau sur les grands lacs il y a des années de ça, il avait chaviré, donc il a été réparé et amené ici et il peut se balancer et rouler sur l'eau quand il part en mer. Bien sûr ce n'est pas aussi tranquille comme sur terre comme je l'ai dit mais je peux apparemment être très malade quand je le prends.
Je souhaite vivement que toi, Paris et Mona Rae pourraient venir passer quelques temps ici. Je sais qu'une fois que tu auras mis un pied ici, tu ne voudras plus partir, c'est tout du moins ce que la plupart des gens disent. Et j'aimerai tellement vous voir tous, et je sais que mère l'aimerait aussi. Si Paris a toujours aussi peur d'être appelé sous les drapeaux, eh bien vous pourrez tous venir vous installer en Californie et là Paris pourrait rejoindre le service maritime et de devenir un employé du personnel et toi et le bébé seraient ensemble avec lui. Bien sûr c'est juste une idée mais j'éspère que tu y réfléchiras. Tu sais, le service maritime est très différent des autres services comme ceux de l'armée, de la marine etc. Une personne peut se désincrire honorablement de sa propre initiative et peut partir pour aller faire ce dont il lui semble de plaire. Bien sûr il devra porter un uniforme. Leurs uniformes ressemblent beaucoup à ceux de la Marine et des gardes côtes mais en plus joli je trouve.
J'éspère vraiment que tu m'écriras et que tu me raconteras pleins de choses sur toi. Je sais que je n'avais pas très bien poursuivie ma correspondance par le passé, mais j'ai la ferme intention de le faire bien dans le futur donc s'il te plaît écris moi et laisse moi savoir comment tu vas.
Avec Beaucoup d'Amour,
Norma Jeane.
P.S: Merci encore pour la photo, je l'ai mise sur l'étagère de la salle de séjour et toutes les personnes qui la voient me disent: "Qui est ce joli couple?" et bien sûr j'explique fièrement que c'est ma soeur avec son mari.
Quel âge a Mona Rae maintenant ? Je n'oublierai pas d'écrire.
Avec Amour,
Norma Jeane.

Letter transcription:
Dear Berniece,
I want to thank you so much for the picture of you and Paris that I received at Christmas time. I just can't tell you how much you look like mother. I was so surprised, I could hardly speak.
Mothers eyes aren't as dark as yours but your other features are very much the same. Also, I had no idea that Paris was so nice looking. Aunt Grace said that she could see a slight resemblence between you and I and that you looked more like my mother than I did.
I have me mother eyes and forehead and hairline but the rest of me is like my dad.
Jimmie, my husband, is in the Maritime Service.
The Maritime service trains men for the Merchant Marines. He is stationed at Catalina Island and I am here with him. Jimmie didn't want to go into the army so he joined this service and is now on personal ; he is a physical training instructor.
I don't know if you have ever heard of Catalina Island, being from the East, but it was (in peace time) a very beautiful summer resort its and island out have all by itself, about 30 miles from L.A. Harbor.
My mother brought me over for the summer when I was about seven yr old. I remember going to the Casino to a dance with her, of course I didn't dance, but she let me sit on the side and watch her, and I remember it was way after my bedtime too.
But anyway, what I'm getting at is that at Christmas time, the Maritimes service held a big dance at the same Casino and Jimmie and I went. It was the funniest feeling to be dancing on that same floor ten yrs later, I mean being old enough and everything. Oh it hard to explain to you the feeling I had. By the way, do you remember Mother at all ?
We travel by boat from the Island to the mainland on the "USS Avalon" and oh what a boat ! I get sea sick every time. They had that same boat on the great lakes years ago and the darn thine capsided so they fixed it up and brought it down here and oh can she rock and roll when she gets out to sea. Of course it isn't quite as bad as I say it is I guess but I can seemingly get quite sick on it.
I do wish so that you, Paris and Mona Rae could come out here for a little while anyway. I know that once you did get out here you wouldn't want to leave, at least thats what most people say. And I do want to see you all so very much and I know mother would too. If Paris is ever afraid of being drafted well you all could move to California and then Paris could join the Maritime Service and go on Personal and then have you and the baby with him. Of course that is just an idea but I wish you would think about it. You see, the Maritime Service is very different from any other service such as the Army, Navy, etc A person can disenroll honorably on his own accord and can go about and do pretty much the way he pleases. Of course he has to wear a uniform. Theu=ir uniforms are very much like the Navy and Coast Guards only nicer, I think.
I do hope you will write to me and tell me about yourself. I know I haven't kept up my correspondance in past very well, but I intend to do so in the future so please do write me and let me know how you are.
With Much Love,
Norma Jeane
P.S. Thank you again for the Picture. I have it sitting on top of my book shelve in the living room and everyone who enters ask, "Whos that nice looking couple ?" and of course, I explain proudly that is my sister and her husband.
How old is Mona Rae now ? Don't forget to write.
Loves
NJ
---
Photographie de Berniece et Paris Miracle
dont fait référence Norma Jeane dans sa lettre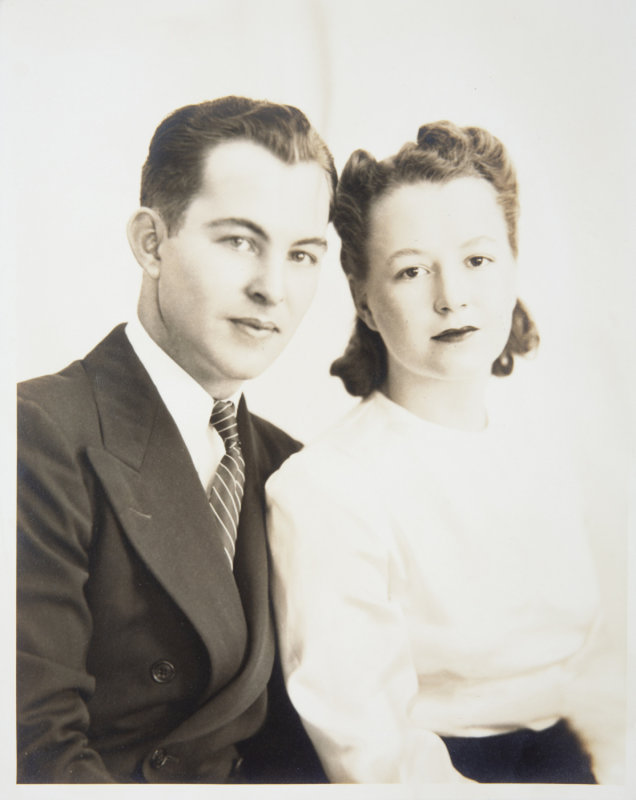 Photograph of Berniece and Paris Miracle
on which refer Norma Jeane in her letter
---
source Lettre vendue en 2019 aux enchères Julien's The Personal Property Of Goodman Basil Espy III

---
© All images are copyright and protected by their respective owners, assignees or others.
copyright text by GinieLand.