03 juin 2010
Norma Jeane Baker dans le quartier de Sawtelle (Ouest de Los Angeles),
où elle vivait avec Ana Lower - en 1940.
Photographie provenant des archives de la famille Muir
(Norma Jeane était alors amie avec un voisin, Bob Muir)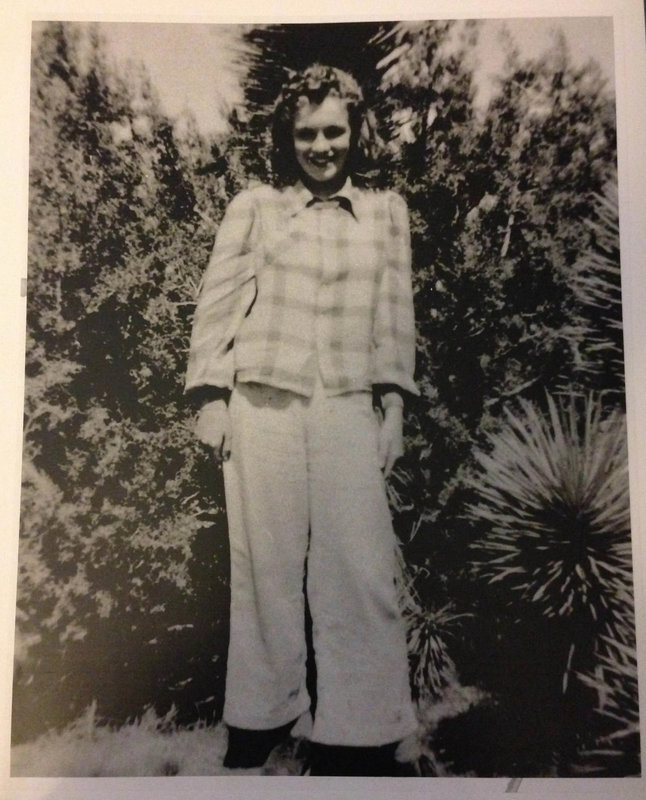 Norma Jeane Baker in the Sawtelle district (West of Los Angeles),
where she lived with Ana Lower - in 1940.
Photograph from the Muir family archives
(Norma Jeane was then friends with a neighbor, Bob Muir)
---
© All images are copyright and protected by their respective owners, assignees or others.
copyright text by GinieLand.

Norma Jeane âgée de 15 ans, à la plage de Santa Monica en Californie en juillet 1941: il s'agit des première images filmées de la future Marilyn Monroe, un film de famille filmé ici par la famille Howell, des amis et voisins de Grace Goddard.
Chester et Doris Howell ont trois filles: l'aîné et deux jumelles (Loralee et Doralee). Les films de famille montrent Norma Jeane avec la famille Howell, s'amusant à faire la roue sur le sable; à jouer dans les vagues de l'océan; à faire la ronde en marchant sur le sable.
Des années plus tard, Mme Howell témoignera dans un documentaire de cette période: "C'était une fille adorable et nous l'aimions. (..) C'était merveilleux de l'avoir à la plage avec nous. Elle était simplement une adolescente joyeuse, jouant dans l'eau, faisant juste des roues sur le sable, s'amusant vraiment. Nous avons acheté son premier maillot de bain, elle était vraiment douce."
Quand à Marilyn, elle racontera plus tard en interview: "J'adorais jouer avec les enfants du quartier".

Norma Jeane aged 15, at Santa Monica beach in California in July 1941: these are the first films footage of the future Marilyn Monroe, a home movie filmed by the Howell family, friends and neighbors of Grace Goddard.
Chester and Doris Howell have three daughters: the oldest and two twins (Loralee and Doralee). The Family home movies show Norma Jeane with the Howells, having fun cartwheeling on the sand; to play in the ocean waves; to go around walking on the sand.
Years later, Ms Howell will tell in a documentary, talking about this period: "She was a lovely girl and we loved to her. (..) It was wonderful to have her at the beach with us. She was just a happy tennager, playing in the water, just doing cartwheels on sand, really enjoyng herself. We bought her first bathing suit, she was soft real."
As for Marilyn, she will tell later in an interview: "I loved playing with children of the neighborhood".

---
HOME MOVIE 1
Norma Jeane avec les jumelles Howell et leur soeur aînée.
Dans le sable, elle s'amuse à faire la roue.

Norma Jeane with twin Howell's girls and their older sister.
In the sand, she has fun doing cartwheels.
- source: video sur Getty -
- video "home movie"-

---
HOME MOVIE 2
Norma Jeane en maillot deux pièces rouge avec des amis (famille Howell)
Elles surfent sur un matelas gonflable dans les vagues.

Norma Jeane in a two-piece red bathing suit with friends (Howell family)
They surf on an inflatable mattress in the waves.
- source: video sur Getty -
- video "home movie" -

---
HOME MOVIE 3
Norma Jeane fait la ronde sur la plage avec des amis (la famille Howell).
Elle tient la main aux jumelles Howell.

Norma Jeane walks around the beach with friends (the Howell family).
She holds the hands to the twins daughter of the Howells.

- video témoignage de Mme Howell -


---
© All images are copyright and protected by their respective owners, assignees or others.
copyright text by GinieLand.
Portraits photomaton de Norma Jeane vers 1941
Photo booth portraits of Norma Jeane - circa 1941
---
portrait retouché où Marilyn a dessiné au crayon sur la photo:
épaississement de sa chevelure, longs cils et rouge à lèvres accentué

retouched portrait where Marilyn drew in pencil on the photo:
thickening of her hair, longer eyelashes and accentuated lipstick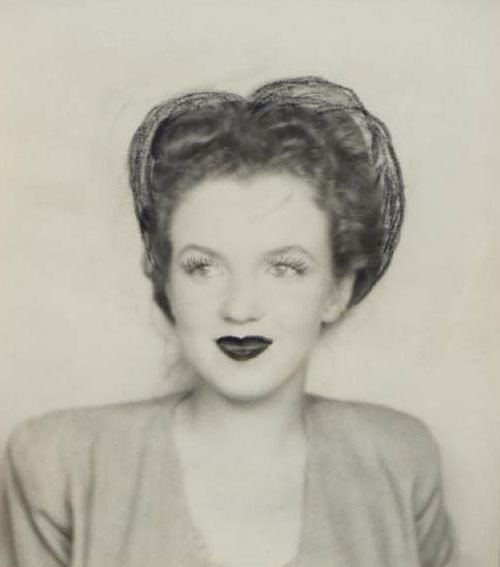 Dans une lettre, Eleanor 'Bebe' Goddard (la belle-fille de Grace McKee Goddard, qui a vécu avec elle pendant une courte période à la fin des années 1930), elle dit: "... Norma Jeane n'était pas satisfaite de la façon dont la photographie est sortie et (elle) a pris un crayon et a ajouté des cheveux et a changé ses lèvres."
In a letter, Eleanor 'Bebe' Goddard (Grace McKee Goddard 's step-daughter who lived with her for a short while in the late 1930s) she says: "...Norma Jeane was not happy with the way the photograph came out and (she) took a pencil and added hair and changed her lips."
source: vendu en 2003 par Christie's
---
© All images are copyright and protected by their respective owners, assignees or others.
copyright text by GinieLand.
Portraits de Marilyn Monroe pour les studios de la 20th Century Fox vers juillet 1947.
Portraits of Marilyn Monroe for 20th Century Fox studios circa July 1947.
---
- autographe -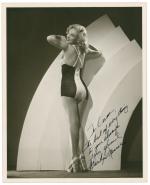 ---
- Dans la presse -
Dayton Daily News , 18/07/1947 - USA

---
- Magazines -
New Screen News - 05/1948 - Australia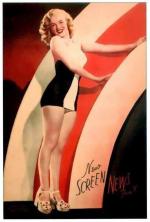 ---
© All images are copyright and protected by their respective owners, assignees or others.
copyright text by GinieLand.
Norma Jeane Dougherty probablement dans sa rue - vers 1943
Norma Jeane Dougherty probably in her street - circa 1943

---
- Devant le coupé Ford de son mari Jim Dougherty -
- In front of her husband Jim Dougherty's Ford coupe -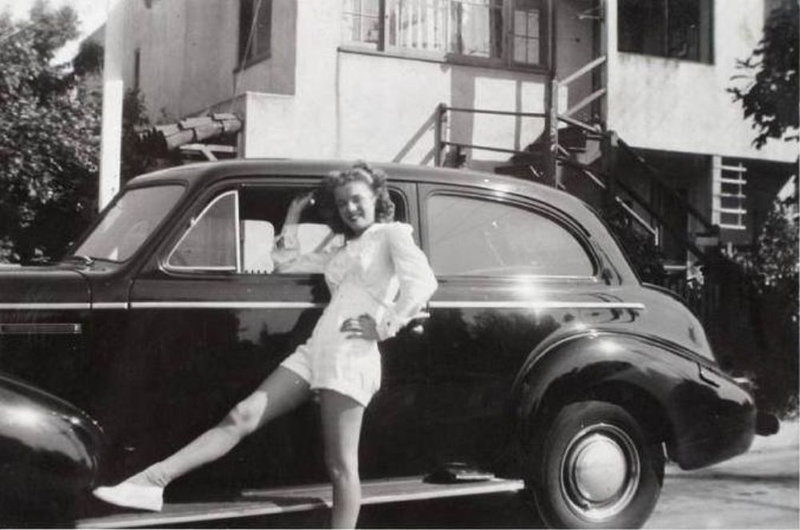 La maison pourrait être celle de Ana Lower
The house would be the one of Ana Lower
(-source: livre Before Marilyn - de Michelle Morgan)
---
© All images are copyright and protected by their respective owners, assignees or others.
copyright text by GinieLand.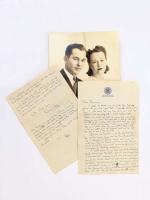 Lettre de 3 pages du 2 février 1944, écrite par Norma Jeane Dougherty (Marilyn Monroe) qui vit à Catalina Island, à sa demie-soeur Berniece Miracle (qui vit à Détroit).
Elles connaissent l'existence l'une de l'autre depuis l'année 1938 et correspondent par lettres, s'échangeant parfois des photographies - comme ici, Norma Jeane remercie Berniece pour la photo d'elle et son mari Paris Miracle envoyée dans sa précédente lettre; elles ne se sont jamais encore rencontrées (cette rencontre se fera à l'automne 1944).
On ressent une grande joie de la part de Norma Jeane d'avoir une soeur: elle a notamment exposé en évidence la photographie de Berniece et Paris dans son appartement et déclare être fière d'expliquer aux gens qu'il s'agit de sa soeur. Elle compare aussi leur ressemblance physique avec leur mère. Et elle voudrait même qu'ils viennent s'installer en Californie, tentant d'inciter Berniece à y réfléchir par l'argument que Paris pourrait intégrer la Marine marchande (comme Jim Dougherty).
Le plus touchant est aussi un souvenir dont elle se remémore de son enfance avec leur mère -Gladys- qui l'avait emmené au Casino de Catalina quand elle avait sept ans; mais aussi, à travers cette anecdote, l'irresponsabilité de Gladys qui avait alors laissé la petite Norma Jeane dans un coin du dancing pendant qu'elle s'amusait.

3-page letter dated February 2, 1944, written by Norma Jeane Dougherty who lives in Catalina Island, to her half-sister Berniece Miracle (who lives in Detroit).
They have known of each other's existence since 1938 and correspond by letter, sometimes exchanging photographs - as here, Norma Jeane thanks Berniece for the photo of her and her husband Paris Miracle sent in her previous letter; they have never yet met (this meeting will take place in the fall of 1944).
A great joy on the part of Norma Jeane to have a sister can be felt: she has notably exposed the photograph of Berniece and Paris in evidence in her apartment and declares to be proud to explain to people that it is her sister on it. She also compares their physical resemblance to their mother. And she would even like them to come and settle in California, trying to encourage Berniece to think about it by the argument that Paris could integrate the Merchant Marine (like Jim Dougherty).
The most touching is also a memory she recalls from her childhood with their mother -Gladys- who had taken her to the Catalina Casino when she was seven years old; but also, through this anecdote, the irresponsibility of Gladys who had then left little Norma Jeane in a corner of the dance hall while she was having fun.

Traduction de la lettre:
Chère Berniece,
Je te remercie beaucoup pour la photo que tu m'as envoyé de toi avec Paris que j'ai reçu à la période de Noël. Je suis incapable de dire à quel point tu ressembles tellement à notre mère. J'étais tellement surprise, sans voix.
Les yeux de notre mère ne sont pas aussi foncés que les tiens mais tout le reste est vraiment pareils. Je ne savais pas non plus que Paris était aussi beau. Tante Ana dit qu'elle pourrait voir une légère ressemblance entre toi et moi et que tu ressemblais plus à notre mère que moi.
Pour ma part, j'ai les yeux de maman, ainsi que le front et la plantation de cheveux, mais tout le reste est comme mon père.
Mon mari Jimmy est dans le service maritime. Le service maritime entraîne les hommes à intégrer la marine marchande. Il a un poste à Catalina Island et je l'ai suivi. Jimmy ne voulait pas rentrer dans l'armée donc il a rejoint ce service dans lequel il fait parti maintenant du personnel, il est instructeur d'entraînement physique.
Je ne sais pas si tu as déjà entendu parler de Catalina Island, situé à l'est, c'était (en temps de paix) une très belle station balnéaire pour les vacances d'été et c'est situé à près de 30 miles de Los Angeles .
Ma mère m'y avait emmené pour l'été quand j'avais à peu près sept ans. Je me souviens avoir été au Casino et d'avoir été au dancing avec elle. Bien sûr je n'avais pas dansé, mais elle m'avait laissé m'assoir dans un coin pour la regarder et je me souviens que c'était peu de temps après l'heure d'aller dormir.
Bref, tout ça pour dire que pour la période de Noël, le service maritime a organisé un dancing dans le même casino et moi et Jimmy, nous y sommes allés. Ce fut l'un des plus amusant sentiment que de dancer sur le même sol plus de dix ans après, je veux dire que d'être assez âgée et tout ça, c'est difficile de t'expliquer le sentiment que j'ai ressenti. A ce propos, tu ne te souviens pas du tout de notre mère ?
Nous voyageons par bateau de l'île à la terre ferme à bord du "USS Avalon" et quel bateau! A chaque fois, j'ai été malade. Ils avaient ce même bateau sur les grands lacs il y a des années de ça, il avait chaviré, donc il a été réparé et amené ici et il peut se balancer et rouler sur l'eau quand il part en mer. Bien sûr ce n'est pas aussi tranquille comme sur terre comme je l'ai dit mais je peux apparemment être très malade quand je le prends.
Je souhaite vivement que toi, Paris et Mona Rae pourraient venir passer quelques temps ici. Je sais qu'une fois que tu auras mis un pied ici, tu ne voudras plus partir, c'est tout du moins ce que la plupart des gens disent. Et j'aimerai tellement vous voir tous, et je sais que mère l'aimerait aussi. Si Paris a toujours aussi peur d'être appelé sous les drapeaux, eh bien vous pourrez tous venir vous installer en Californie et là Paris pourrait rejoindre le service maritime et de devenir un employé du personnel et toi et le bébé seraient ensemble avec lui. Bien sûr c'est juste une idée mais j'éspère que tu y réfléchiras. Tu sais, le service maritime est très différent des autres services comme ceux de l'armée, de la marine etc. Une personne peut se désincrire honorablement de sa propre initiative et peut partir pour aller faire ce dont il lui semble de plaire. Bien sûr il devra porter un uniforme. Leurs uniformes ressemblent beaucoup à ceux de la Marine et des gardes côtes mais en plus joli je trouve.
J'éspère vraiment que tu m'écriras et que tu me raconteras pleins de choses sur toi. Je sais que je n'avais pas très bien poursuivie ma correspondance par le passé, mais j'ai la ferme intention de le faire bien dans le futur donc s'il te plaît écris moi et laisse moi savoir comment tu vas.
Avec Beaucoup d'Amour,
Norma Jeane.
P.S: Merci encore pour la photo, je l'ai mise sur l'étagère de la salle de séjour et toutes les personnes qui la voient me disent: "Qui est ce joli couple?" et bien sûr j'explique fièrement que c'est ma soeur avec son mari.
Quel âge a Mona Rae maintenant ? Je n'oublierai pas d'écrire.
Avec Amour,
Norma Jeane.

Letter transcription:
Dear Berniece,
I want to thank you so much for the picture of you and Paris that I received at Christmas time. I just can't tell you how much you look like mother. I was so surprised, I could hardly speak.
Mothers eyes aren't as dark as yours but your other features are very much the same. Also, I had no idea that Paris was so nice looking. Aunt Grace said that she could see a slight resemblence between you and I and that you looked more like my mother than I did.
I have me mother eyes and forehead and hairline but the rest of me is like my dad.
Jimmie, my husband, is in the Maritime Service.
The Maritime service trains men for the Merchant Marines. He is stationed at Catalina Island and I am here with him. Jimmie didn't want to go into the army so he joined this service and is now on personal ; he is a physical training instructor.
I don't know if you have ever heard of Catalina Island, being from the East, but it was (in peace time) a very beautiful summer resort its and island out have all by itself, about 30 miles from L.A. Harbor.
My mother brought me over for the summer when I was about seven yr old. I remember going to the Casino to a dance with her, of course I didn't dance, but she let me sit on the side and watch her, and I remember it was way after my bedtime too.
But anyway, what I'm getting at is that at Christmas time, the Maritimes service held a big dance at the same Casino and Jimmie and I went. It was the funniest feeling to be dancing on that same floor ten yrs later, I mean being old enough and everything. Oh it hard to explain to you the feeling I had. By the way, do you remember Mother at all ?
We travel by boat from the Island to the mainland on the "USS Avalon" and oh what a boat ! I get sea sick every time. They had that same boat on the great lakes years ago and the darn thine capsided so they fixed it up and brought it down here and oh can she rock and roll when she gets out to sea. Of course it isn't quite as bad as I say it is I guess but I can seemingly get quite sick on it.
I do wish so that you, Paris and Mona Rae could come out here for a little while anyway. I know that once you did get out here you wouldn't want to leave, at least thats what most people say. And I do want to see you all so very much and I know mother would too. If Paris is ever afraid of being drafted well you all could move to California and then Paris could join the Maritime Service and go on Personal and then have you and the baby with him. Of course that is just an idea but I wish you would think about it. You see, the Maritime Service is very different from any other service such as the Army, Navy, etc A person can disenroll honorably on his own accord and can go about and do pretty much the way he pleases. Of course he has to wear a uniform. Theu=ir uniforms are very much like the Navy and Coast Guards only nicer, I think.
I do hope you will write to me and tell me about yourself. I know I haven't kept up my correspondance in past very well, but I intend to do so in the future so please do write me and let me know how you are.
With Much Love,
Norma Jeane
P.S. Thank you again for the Picture. I have it sitting on top of my book shelve in the living room and everyone who enters ask, "Whos that nice looking couple ?" and of course, I explain proudly that is my sister and her husband.
How old is Mona Rae now ? Don't forget to write.
Loves
NJ
---
Photographie de Berniece et Paris Miracle
dont fait référence Norma Jeane dans sa lettre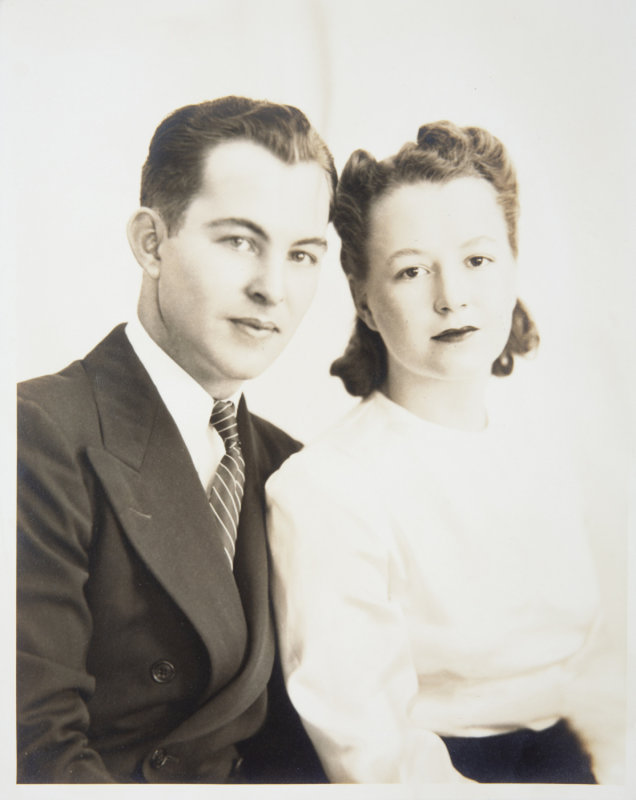 Photograph of Berniece and Paris Miracle
on which refer Norma Jeane in her letter
---
source Lettre vendue en 2019 aux enchères Julien's The Personal Property Of Goodman Basil Espy III

---
© All images are copyright and protected by their respective owners, assignees or others.
copyright text by GinieLand.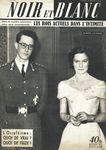 Le magazine français Noir et Blanc, n°381, paru le 11 juin 1952 contenait une photographiede Marilyn Monroe, légendée: "Marilyn Monroe a le sex-appeal n°1 de Hollywood. "Cela ne s'apprend pas, dit-elle, on naît comme cela..."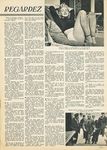 Le 19 juin 1944, les employés de l'usine Radioplane Company participent à un picnic au parc Balboa de San Diego, en Californie.

On June 19, 1944, employees of the Radioplane Company factory take part in a picnic at Balboa Park in San Diego, California.
---
- Norma Jeane et ses collègues de Radio Plane -
- Norma Jeane and her colleagues from Radio Plane -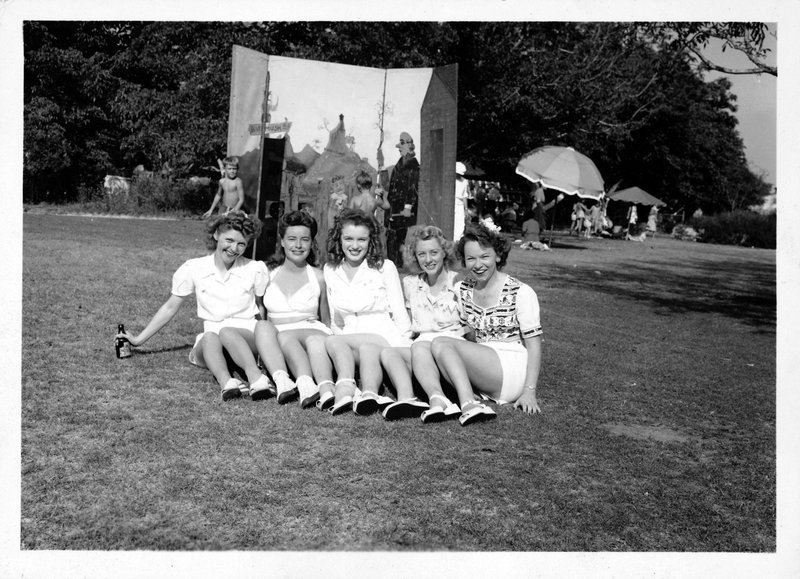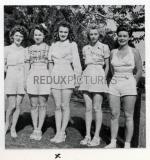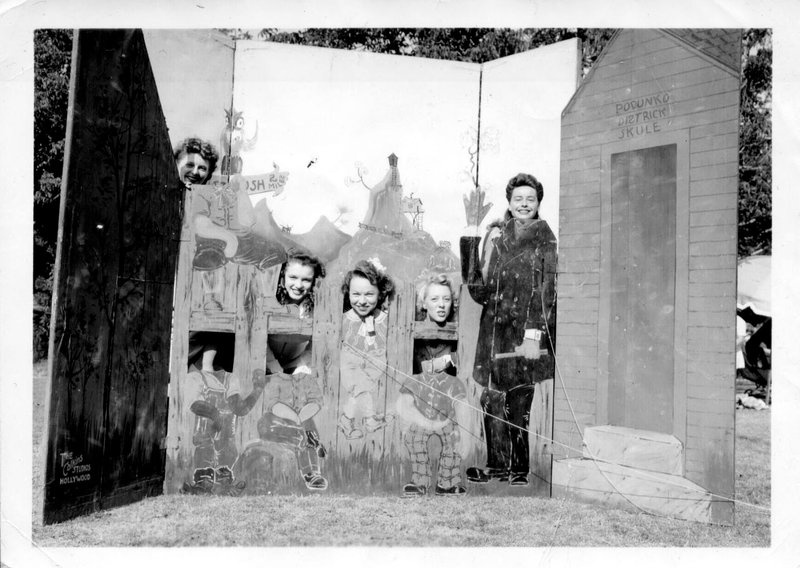 ---
Photographie annotée par un(e) collègue de Radio Plane
(et vendu aux enchères en 2003 par Christies ):
"Balboa Park / President Reginald Denny / Left to right:
1) Bernadette Walsh 2) Unknown
3) Norma Jean Dougherty [sic] (Marilyn Monroe)
4) Muriel Sundom 5) Marg Dolan"

---
- Norma Jeane avec sa belle-mère Ethel Dougherty -
- Norma Jeane with her mother-in-law Ethel Dougherty -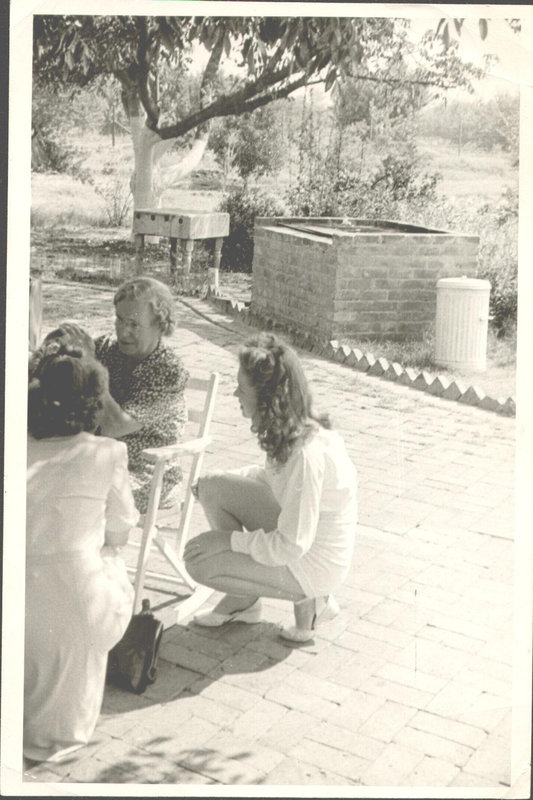 ---
© All images are copyright and protected by their respective owners, assignees or others.
copyright text by GinieLand.
Lettre de 4 pages datée du 15 juin 1944, écrite par Norma Jeane Dougherty à son ancienne tutrice Grace McKee Goddard.
Elle évoque des portraits photographiques qu'elle a du faire chez un photographe professionnel, et qu'elle lui en enverrait plusieurs.
Elle parle aussi de son mari Jim Dougherty qui est absent: parti dans le Pacifique depuis le printemps, Norma Jeane s'est installé chez les parents Dougherty et travaille à l'usine Radioplane depuis avril (un travail pénible, 10 heures par jour debout). On apprend qu'elle a cherché néanmoins de postuler ailleurs (dans l'Armée) mais effrayée de n'être entourée que d'hommes, elle y a renoncé, préférant rester à l'usine.
Elle évoque aussi son bonheur d'être mariée à Jim Dougherty et de l'amour qu'ils se portent mutuellement.

4-page letter dated June 15, 1944, written by Norma Jeane Dougherty to her former guardian Grace McKee Goddard.
She mentions photographic portraits that she had to do with a professional photographer, and that she would send her several of them.
She also talks about her husband Jim Dougherty who is absent: having left for the Pacific since the spring, Norma Jeane has moved in with the Dougherty parents and has been working at the Radioplane factory since April (hard work, 10 hours a day standing). We learn that she nevertheless tried to apply elsewhere (in the Army) but afraid of being surrounded only by men, she gave up, preferring to stay at the factory.
She also talks about her happiness to be married to Jim Dougherty and the love they have for each other.
Traduction de la lettre:
Ma très Chère Grace,
J'ai été très contente d'avoir de tes nouvelles. J'ai été si enthousiaste de lire ta lettre et d'apprendre toutes les choses que tu as pu faire.
Je t'enverrai ta photo très prochainement maintenant, je descendrai samedi pour en savoir plus. Je t'enverrai aussi pleins d'autres photos. J'ai trouvé que 10 sur 10 (c'était le format que tu voulais, n'est-ce pas ?) coûte exactement 5 dollars.
Jimmie est partit pour sept semaines et le premier mot que j'ai reçu de lui fut la veille de mon anniversaire. C'était un message cablé de la Western Union disant "Chérie, pour ton anniversaire, je t'envoie tout l'amour du monde". J'ai été simplement folle de joie d'avoir de ses nouvelles.
Je ne t'ai jamais réellement écrit ni expliqué comment était notre vie de jeunes mariés. Bien sûr je sais très bien que sans toi je ne me serais jamais mariée et je sais que je te dois beaucoup rien que pour ça, et parmi tant d'autres choses. C'est pourquoi je ressens le fait de t'en dire plus sur nous.
J'aime Jimmie plus que quiconque (à ma façon je suppose) et je sais que je ne serai jamais heureuse avec quelqu'un d'autre, aussi longtemps que je vivrai, et je sais qu'il ressent la même chose pour moi. Donc tu vois nous sommes vraiment très heureux ensemble ce qui est valable bien sûr, quand nous sommes ensemble. Chacun manque terriblement à l'autre. Le 19 juin, cela va faire deux ans que nous sommes mariés et nous menons vraiment une vie paisible et heureuse.
Je travaille 10 heures par jour à RadioPlane Co., à l'aéroport Metropolitain. Je mets de côté presque tout ce que je gagne (pour nous acheter une maison après la guerre). Le travail n'est pas facile du tout, je reste debout toute la journée et ne peut faire que quelques pas.
J'avais tous les papiers à jour pour faire le service civil dans l'armée, tout était en règle et prêt à être envoyé, mais là j'ai réalisé que je ne me retrouverai exclusivement qu'avec des gens de l'armée. J'y suis allée une journée, mais il y avait trop de dragueurs pour pouvoir bien travailler, il y en a déjà assez à RadioPlane , sans avoir affaire à une armée entière. L'officier responsable du personnel m'a dit qu'il m'aurait employée mais qu'il ne me le conseillerait pas dans mon propre interêt. Je suis donc plutôt contente d'être de retour à RadioPlane.
Eh bien je pense que c'est tout pour le moment.
Avec beaucoup d'amour,
Norma Jeane.
Letter transcription:
Dearest Grace,
I was so happy to hear from you. I was so thrilled to read you letter and learn of all that you have been doing able.
I will send you your picture very sortly now, I'm going down saturday to find out more about it. Also will send you lots of snapshots at the same time I send you the picture. I found out that a 10'x10' (that was the size you wanted wasn't it ?) cost exactly $ 5.00.
Jimmie has been gone for seven weeks and the first word I received from him was the day before my birthday. He sent a Cable Night Letter by Western Union saying "Darling, on your birthday, I send you a whole world of love." I was simple thrilled to death to hear from him.
I have never really written and told you of Jimmies and my married life together. Of course I know that if it hadn't been for you we not have ever been married and I know I owe you a lot for that fact alone, besides countless others. That is why I feel that I should let you know about us.
I love Jimmie just more than anyone (in a -?- way I suppose than anyone) and I know I shall never be happy with anyone else as long as I live, and I know he feels the same towards me. So you see we are really very happy together that is of course, when we can be together. We both miss each other terribly, we will be married for two years June 19th. And we really have had quite a happy life together.
I am working 10 hrs a day at Radioplane Co., at Metropolitan airport. I am saving almost everything I earn (to help pay for our future home after the war). The work isn't easy at all for I am on my feet all day and walking quite a bit.
I was all -?- to get a Civil Service Job with the army, all my papers filled out and everything set to go, and then I found out I would be working with all army fellows. I was over there one day, there are just too many wolves to be working with, there are enough of those at Radioplane Co. with out a whole army full of them. The Personal Officer said that he would hire me but that he wouldn't advice it for my own sake, so I am back at Radioplane Co. pretty contented.
Will I guess that is about all for now.
With much love,
Norma Jeane

---
© All images are copyright and protected by their respective owners, assignees or others.
copyright text by GinieLand.