06 juin 2010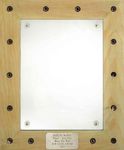 En (juin) 1954, Marilyn Monroe reçoit le prix "New Faces Award" de l'année 1952, après avoir été élue numéro un par le magazine The Detroit Free Press. C'est la journaliste de potins d'Hollywood, Hedda Hooper, qui lui remit le prix. Marilyn porte l'un des costumes du film 'La Joyeuse Parade': le prix lui fut sans doute remis sur le tournage.
In (June) 1954, Marilyn Monroe is awarded as the "New Faces Award" of the year 1952, after being elected leader by the magazine 'The Detroit Free Press'. This is the Hollywood gossip journalist Hedda Hooper, who gives her the award. Marilyn wears a costume from the 'There's no business like show business': the price hass probably been given on the set.
---
© All images are copyright and protected by their respective owners, assignees or others.
copyright text by GinieLand.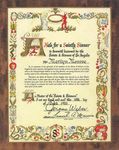 Le 16 avril 1953, Marilyn Monroe reçoit le prix "A Halo for a saintly sinner", pour son engagement à l'opération "Give Milk to children" ('Donnons du lait aux enfants') des mains de Jerome Weber et Jester Samuel A Mauuis. Marilyn est alors en tournage de How to marry a millionaire, et reçoit son prix vêtue d'un maillot de bain, tenue de promotion du film.
In April 16, 1953, Marilyn Monroe is awarded "A Halo for a saintly sinner" for her involvment in the campaign of "Give milk to children" by Master Jerome Weber and Chief Jester Samuel A Mauuis. Marilyn is here on the set of the movie How to marry a millionaire, and receives her award wearing a swimsuit to promote the film.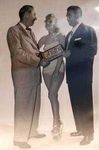 ---
© All images are copyright and protected by their respective owners, assignees or others.
copyright text by GinieLand.
Marilyn Monroe participe à la remise du prix du Studio League ChampionShip d'un match de base-ball organisé par les techniciens de la Fox de Los Angeles. Marilyn pose avec les joueurs et avec leurs épouses. Marilyn porte la même robe à pois qu'en 1952 à Atlantic City lors de la rencontre des femmes militaires : la coiffure de Marilyn est légèrement différente, et elle porte ici une chaîne avec un pendentif.

>> La balle signée par toute l'équipe, mais aussi par
Joe DiMaggio et Marilyn Monroe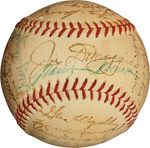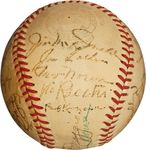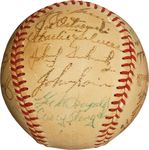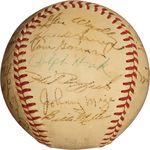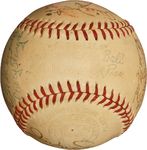 Willy Rizzo
(1928 - 2013)
photographe italo-français
Originaire d'une famille de Naples, Willy Rizzo réalise ses premiers clichés dès l'enfance, en photographiant ses camarades de classe à l'aide d'un Box Agfa offert par sa mère. En 1944, il achète un Rolleiflex et, soutenu par le photographe Gaston Paris, il pénètre dans le monde du cinéma, fréquentant les studios de Billancourt et Joinville. Il photographie les vedettes qui s'enthousiasment pour lui. Engagé par Point de Vue, il réalise ses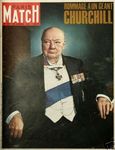 premiers reportages. Partie en Tunise pour un reportage sur les carcasses de chars, Life achète ses clichés.
Il voyage aux États-Unis. Après la guerre, il travaille pour France Dimanche, couvre le premier Festival de Cannes. Quand il rentre en France en 1949, il est embauché à la création de Paris-Match, pour lequel il réalise la première couverture en couleur avec une photographie de Winston Churchill.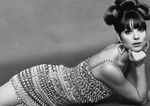 En 1968, après avoir épousé l'actrice et mannequin italienne Elsa Martinelli, il part vivre à Rome et commence une autre carrière en tant que designer, d'abord pour ses besoins personnels. Il parvint à créer sa propre collection, influencé par de grands noms comme Le Corbusier. Il crée sa propre société, qui a compté jusqu'à 150 salariés. Une dizaine d'années plus tard, il délaisse son activité de designer pour rentrer en France et retourner à sa première passion qui est la photographie. Il est très proche de l'acteur Jack Nicholson.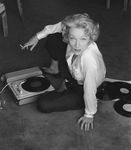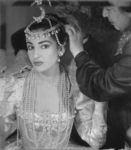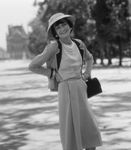 Marlene Dietrich ; Maria Callas ; Coco Chanel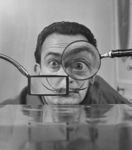 S.Dali ; P. Picasso ; Y. Saint Laurent et P. Cardin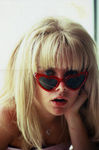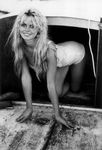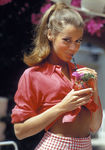 Sue Lyon ; Brigitte Bardot ; Jane Fonda

Willy Rizzo a photographié les plus grandes célébrités du monde, de 1945 à aujourd'hui, et de tous les arts:
Du milieu du cinéma: Micheline Presle, Raimu, Jean Marais, Arletty, Michel Simon, John Wayne, Gregory Peck, Gary Cooper, Marlene Diectrich, Marlon Brando, Robert Mitchum, Brigitte Bardot, Jane Fonda, Catherine Deneuve, Françoise Dorléac, Jean-Paul Belmondo, Jean Seberg, Audrey Hepburn, Gene Kelly, Fred Astaire, Gina Lollobrigida, Sophia Loren, Jayne Mansfield, Marilyn Monroe, Tony Curtis, Sue Lyon, Elsa Martinelli, Shirley MacLaine, Sean Penn, Jack Nicholson, Bruce Willis, Gong Li, Monica Bellucci...
Du milieu de la musique: Sylvie Vartan, Maria Callas...
Du milieu de la mode: Yves Saint Laurent, Coco Chanel, Christian Dior, Pierre Cardin, Milla Jovovich, Adriana Karembeu...
Du milieu de la peinture et architecture: Pablo Picasso, Le Corbusier, Salvador Dali...
Du milieu littéraire: Françoise Sagan, Jacques Prevert, Jean Cocteau, Marguerite Duras, Eugène Ionesco, Sacha Guitry...
Le photographe meurt à Paris, le 25 février 2013, à l'âge de 84 ans.
---
Willy Rizzo ne photographia Marilyn Monroe que lors d'une unique séance en février 1962. Des portraits en couleurs et en noir et blanc d'une Marilyn au regard triste mais au sourire radieux.
>> Voir les photos de Marilyn par Willy Rizzo
Commentaires de Willy Rizzo sur Marilyn Monroe:
"Juillet 1962. Ce jour là, toutes les plus belles femmes du monde étaient devant moi, réunies en une seule personne: Marilyn Monroe."
"Le corps, les cheveux, la peau, le regard, la démarche, les plus belles photos d'elle que j'ai vues sont en dessous de la réalité. Elle est magique."
"Marilyn Monroe était un cas à part. Dans la famille Difficile, on demandait Marilyn et on était sûr d'être bien servi. Caprices, retards, sautes d'humeur, absences, rien ne manquait à la panoplie de la star la plus célèbre du monde."
"Elle est adorable mais lointaine, triste. Elle est d'une douceur et d'une docilité étonnantes, à des années lumière de son image publique."

---
>> sources web:
Site officiel willyrizzo.com
Biographie sur wikipedia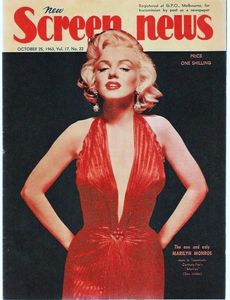 Le magazine Screen News du 25 octobre 1953, Vol. 17, Nr 22, consacrait sa couverture à Marilyn Monroe et un article intérieur de deux pages intitulé The Best of Marilyn, publiant les photos de ses plus grands films.