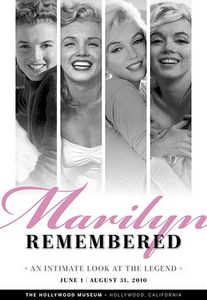 Du 1er juin au 31 août 2010, une exposition exceptionnelle "Marilyn Remembered" exclusivement sur Marilyn Monroe se tient à Hollywood, en Californie, aux Etats-Unis au Hollywood Museum.

Contenu de l'expo:
Des photographies: des photographes André DeDienes, Georges Barris, Milton Greene...
De l'art: par l'artiste Ludvic
Des effets personnels: provenant de six collectionneurs privés, incluant les collections de Scott Fortner et de Greg Shreiner

Pour la première fois, des effets personnels seront exposés en public:
-Les chaussures que Marilyn Monroe porta à son mariage avec Joe DiMaggio et aussi lors de sa tournée en Corée en 1954.
-La blouse Pucci verte que Marilyn porta lors de sa dernière séance photo en juin 1962.
-Un manteau de fourrure de Marilyn, qu'elle reçut en cadeau par Arthur Miller.
Les autres effets personnels de l'expo:
-Des costumes de films de "Let's Make Love" et "The Prince and The Showgirl." Des robes créées spécialement pour Marilyn par le costumier William "Billy" Travilla pour ses rôles dans "How To Marry A Millionaire," There's No Business Like Show Business," et "Gentlemen Prefer Blondes."
-Plusieurs tenues portées par Marilyn lors de séances photos.
-Des vêtements de la garde-robe personnelle de Marilyn: des tenues de soirées, des tenues décontractées, et des fourrures (notamment sa toute première fourrure).
-Des scénarios et scripts personnels de Marilyn des films "Niagara," "There's No Business Like Show Business," et "How To Marry A Millionaire" parmi tant d'autres.
- Des accessoires personnels, du mobilier, du maquillage, des livres de sa librairie et d'autres affaires de sa dernière résidence de Brentwood.
- Des documents personnels, comme une carte de membre du Screen Actors Guild, des relevés et reçus de banques, des amendes et factures, dressant ainsi un panel de détail sur la vie privée de Marilyn Monroe.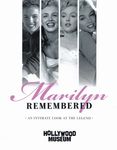 >> Vidéos présentant l'exposition